Once you start getting a hang of bread making, you do want to practice your newly acquired skill more often. This gives you confidence and helps you recognise the errors and iron out small difficulties. Going on this idea, we decided to make some tutti fruti scrolls. These soft and pillowy candied fruit buns pull off in concentric layers that make it so fun.
What is tutti frutti ?
Tutti frutti (or tooti frooti) is colourful candied raw papaya bits. These were so popular during our childhood that it is still the one that wins me over than the funfetti or sprinkles. You can buy them easily in an Indian grocery (look for ones that are coloured naturally) or make some by boiling the raw papaya bits in a double strength sugar solution with some added food colouring.
If no tutti frutti, then what can I add?
Preserved or candied fruit if any type will work in this recipe. You can choose, from raisins, dried blueberries,  candied orange peels or blackcurrant in its place. You can swap over to some chocolate chips too.
The dough method for this bun
Since we are practising the basic yeast dough to make the blackcurrant loaf, we have used the same method to make these buns.  Moreover, I wanted a chewier scroll than a fluffier one, hence the yeast-based one with bread flour was perfect.
How to prevent the tutti-frutti from falling off?
The tutti frutti is kneaded into the dough after first proofing. This ensures that they are not just at the surface and so will not fall off. Again the flattened dough is rolled and folded over multiple times to create layers. So it is pretty stuck and doesn't fall off.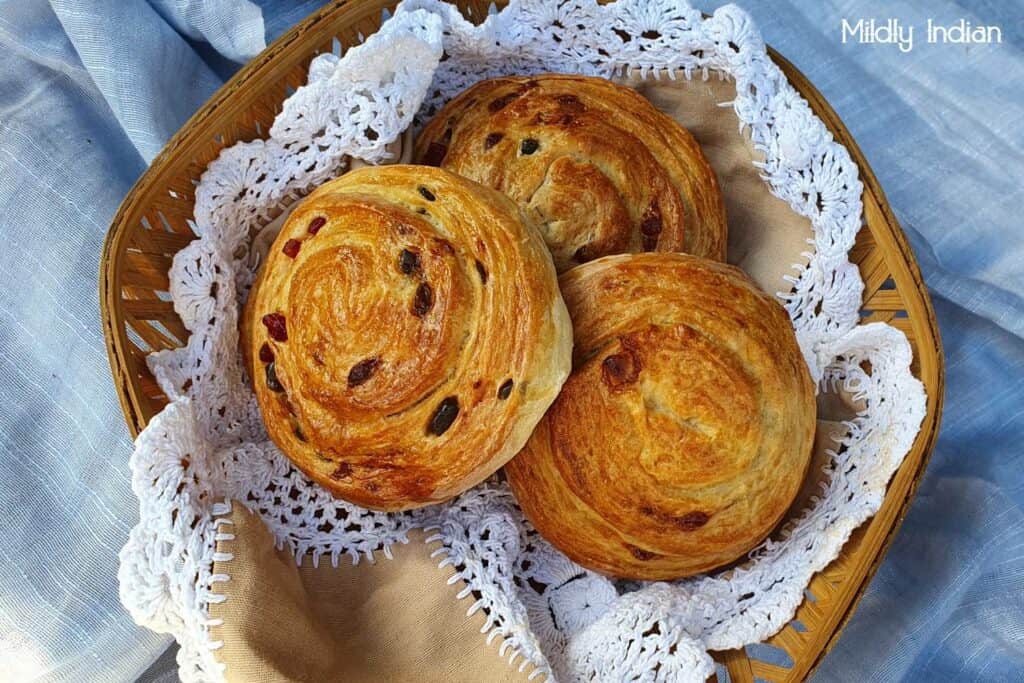 Does the tutti fruit easily burn?
If you have calibrated your oven and set the temperature correctly the tutti frutti should not burn off. In addition, place your buns on the middle rack so they are not too close to the heating element. This should take care of the baking without burning. If you still sense the burning turn the oven down by 5 degrees and continue watching the time. Before you bake a second time don't forget to calibrate the oven again.
Are these scrolls sweet?
The scrolls are lightly sweet and not in a sweet bun. However, you can glaze the buns like we have to make them as a sweet treat. If you are looking for a savoury bread to bake try our wholewheat focaccia bread recipe.
The details of the recipe and the step by step guide is here in this recipe card. You can save this for later by pinning it from here.
Tutti frutti scrolls
Equipment
measuring cups and spoons

mixing bowl.

baking trays
Ingredients
3

cups

bread flour

7

grams

yeast

3

tsp

unrefined sugar

2

tsp

salt to taste

330

ml

drinking water

1

tbsp

butter

2

tbsp

candied fruit

1

tsp

sugar
For the glaze
1

small

egg white

discard the yolk

1/4

tsp

icing sugar
Instructions
Into the mixing bowl add the flour, sugar, salt and yeast.

Mix well and add the lukewarm water.

Mix with a K hook for 3 minutes till it forms a sticky mix and further for another 5 minutes till the gluten develops and the dough is smooth.

If kneading by hand, mix till t forms a sticky mix, then, using flour-dusted hands, knead the dough till it becomes smooth and much easier to handle.

Transfer to a flour-dusted bowl and cover with a damp kitchen towel and let it rise in a warm corner of the kitchen till it doubles in volume ( this time taken varied depending on the weather, mine took two hours on a cloudy day ).

Remove the dough and knead again.

Flatten the dough on a floured board.

Fold the dough over in half and flatten again.

Now spread the butter again and fold in half.

Spread the dough again and add the candied rinds ( tutti frutti).

Roll the dough to form a log.

Slice the log into an inch thickness.

Flatten and shape these pieces into scrolls.

Pace them on a greased baking tray and cover them again for 20 minutes for it to rise gain.

Preheat the oven to 200 degrees Celcius fanforced ( 0r 220 degrees Celcius) for 10 minutes.

Whisk up the eggwash and brush over the scrolls.

Bake for 20 minutes till they are golden.

Remove and cool the scrolls.

Enjoy as a dessert or breakfast.
Do you like recipe videos?
We have attempted to create some recipe videos on our channel. Though it may not cover all the recipes we have on our blog, we have a few good ones for you.  Take a look, like and subscribe as you go through.
Stay connected
When you try out this bread recipe or find some interesting bread ideas, stay connected with us. Here are the links to our Instagram, Facebook and Twitter. More than anything,  subscribe to this blog newsletter so we can update you regularly (not every day!). Don't miss to take a bite of these pretty scrolls before you hand them all out- while the kids are working hard at their, the brain eats up most of the food anyway! If you haven't had a chance to visit our youtube channel, try this little snippet.
Pin this recipe for later use and leave us a rating and comment when you bake these scrolls. 
See you in the next post.