Whenever I talk about Kerala, I feel like I have words pouring out of my ears,and nose too to the speed I am unable to keep up. This time it is about the huge relief to see Kerala get back on its feet after massive flood destruction. It is still in need of rebuilding and your help if possible is needed.
You can use these portals to contribute whatever you feel worthwhile toward this largescale attempt.
 To this recipe
Kootu curry js one of the most simple and flavourful side dish from Kerala. The use of water laden vegetables in the kootu curry, along with the masala paste made with roasted coconut makes this curry aromatic.  Since I have been moving countries for a while and finding wintermelon or snake gourd means a lot of travel, I have learned to use watermelon rind effectively in these situations. Of course, it is a part of the waste not! want not! policy.
Check out the watermelon rind chutney version here.
The combination of lentils and the mixed masala with coconut makes this nonspicy side dish popular among all ages.  You can prepare this recipe for the Onam/Vishu sadhya menu too.
Variations
If you prefer a coconut free version of this recipe use almonds as the swap, just like I have done with the papaya erisherey.
The same recipe can be made with vegetables like wintermelon, snake gourd, ridge gourd squash or zucchini.
Shh cooking challenge
Renu is my partner for this month's Shh cooking challenge based on Kerala. An amazing blogger with a variety of recipes under her hat, Renu's website is tongue tickling.
Here it is for you to explore
Since we, both have similar concerns about living abroad and accessing Indian ingredients so she gave me two wonderful ones to incorporate. The lentils and turmeric that she gave me were appropriate for what I had at hand. Added to that, the huge watermelon we picked up at the farmers market served its purpose well too.
 So here we go with this recipe and watching Kerala arise like the pheniox bird. When you make this recipe, please send me a picture of it with your review. Catch up with us here on
or pin your favourites here
Catch you next month with more festivities, stories and recipe updates.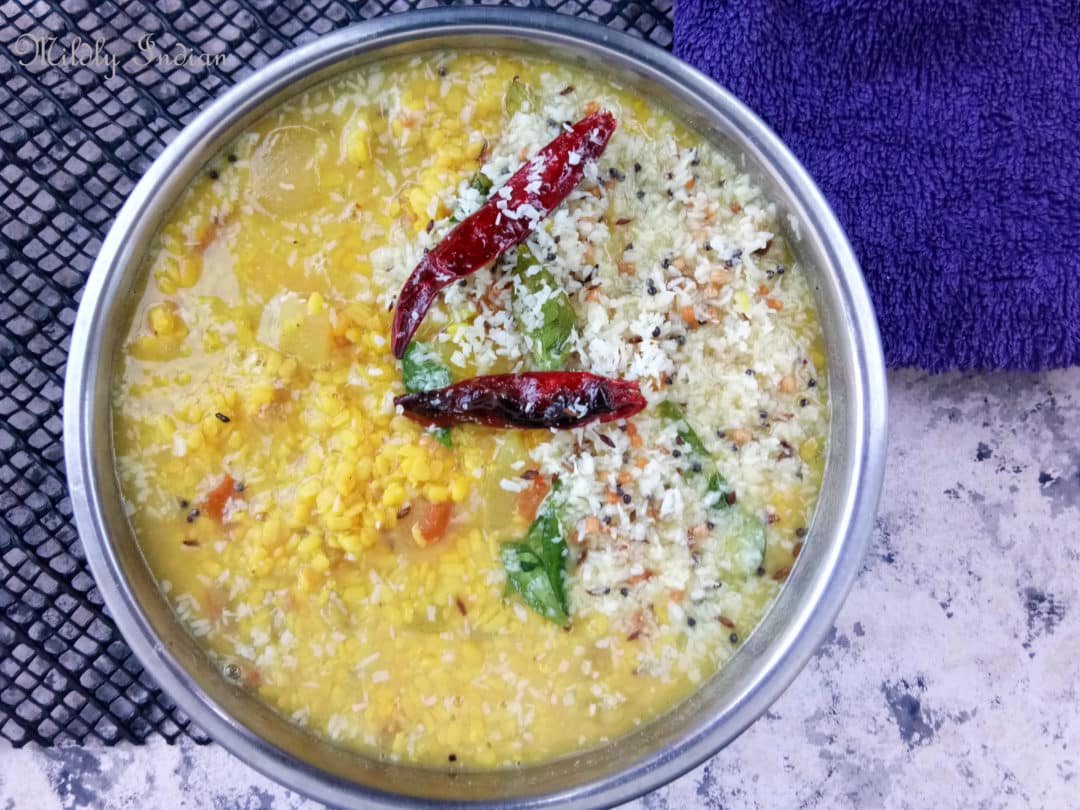 Varuth aracha kootu curry
with water-laden vegetables
Ingredients
For cooking together
1/2

watermelon

(small)

1

cup

Moong dal

pasiparippu / green gram dal

drinking water

as needed

salt to taste

1/4

tsp

turmeric powder
for the masala paste
1/2

cup

grated coconut

1

small

dry red chilli

1/4

tsp

cumin seeds

1/4

tsp

Black pepper

1

tsp

Urad Dal

skinned black gram

1/2

tsp

Split bengal gram

drinking water

as needed
for tempering
1

tsp

coconut oil

(swap to any neutral oil )

1/2

tsp

mustard seeds

1

tsp

cumin seeds

1

tsp

Urad Dal

2

tbsp

grated coconut

10

curry leaves

1

pinch

Asafoetida

2

whole

red chilli
Instructions
Wash, cut and remove the juicy pink sections of watermelon. Save it for eating, juicing or slushie ( recipe is available on this blog)

Remove the green outer portion of the rind and save all the white portion.

Dice the white portion from half a water melon to get about 2 and 1/2 cups of white portion dices as 1 to 2 cm cubes.

Into a cooking pot add the moong dal, two cups of water, turmeric and bring to a boil.

Bring this to boil and simmer till the dal is cooked. to test this remove a few bots of dal and crush gently. if they yield it is cooked.

Now add the watermelon rind diced, salt and mix well. Add a bit more water if you need. ( remember the watermelon will release a lot of water.)

Cook on a low heat till the rind is translucent.

Mean while in a Pan roast the urad dal, channa dal, red chilli, black pepper, cumin , till the dals turn golden brown.

Now add the coconut and gently roast till it turns aromatic.

Add this masala mix into a spice blender and powder when it is a bit cooler.

Add a touch of water and grind to a smooth paste.

Add this mixture together to the watermelon lentil mix which is cooking and simmer for about 7-10 minutes.

Check on the water level and do not miss to keep stirring as it may catch at the bottom.

Now for the tempering, In a small pan add 1 tsp oil, mustard seeds, cumin seeds, urad dal and allow them to crackle.

Add the red chilii, curry leaves and a pinch of asafoetida and saute till they roast well.

Add the coconut grated and roast till it is golden brown

Add this to top the curry which has just finished cooking. Keep it covered for another 5 minutes allowing the tempering to infuse.

Serve hot with rice, breads or on nachos( my kids love this)
Notes
You can omit the red chilli totally if you want a nonspicy version.
Nutrition
Calories:
96
kcal
Carbohydrates:
9
g
Protein:
3
g
Fat:
6
g
Saturated Fat:
5
g
Polyunsaturated Fat:
0.1
g
Monounsaturated Fat:
0.4
g
Trans Fat:
0.001
g
Cholesterol:
3
mg
Sodium:
369
mg
Potassium:
87
mg
Fiber:
2
g
Sugar:
2
g