In the middle of a hot, humid summer in India you will find us calmly sipping piping hot tea. This tea is not one for the warmth of the cuppa but rather one that helps to keep your thoughts aligned. these can be the masala chai, dairy free nimbu chai or malabar sulaimani. On a cooler day, we swap over to black pepper tea or adrak chai. Since chai is an everyday thing, there is always a variation possible. Recently,  I got hooked on pudina chai.
What tea is best for pudina chai?
During our India travel, we picked up a pack of Assam tea. Assam is a full-bodied black fermented tea that makes a delicious cup of Indian tea. Needless to point out the tea is grown on Assam hill slopes, in the northeastern part of India. The green tender tops are collected and withered. Then slightly crushed in the tea factory to release the sap. This is then fermented, to aid the oxidation that makes that black tea flavour.  These curled leaves are then dried and graded. These leaves also form the base of earl grey and English breakfast. The tea dust that is the powdered tea leaves form a stronger decoction.
What type of mint leaves is good for tea?
There is a variety of mint plants. Some with savoury notes and some a bit sweeter and milder. For making pudina chai, the milder tea leaves with that dessert feel are better. These are the peppermint and the spearmint. Personally,  I find peppermint leaves better to make freshly chocolate and spearmint leaves simmering perfectly into this Indian mint tea.
Mint being more a hardy plant is easy to grow in a pot in your kitchen window sill to have fresh leaves all year around.
Can I use dried mint?
Yes, dried mint works fine to make this tea. Since the dried mint is a bit more intense in flavour I would reduce the quality of mint used to get that delightful flavour.
Ingredients to make pudina chai
Tea leaves: as discussed above Assam tea leaves are the best chai infusions. However, the alternative options are English breakfast, Nilgiri tea or orange pekoe.
Water: a large part of any tea is water. For pudina chai, I prefer the water-to-milk ratio of 2: 1
Mint leaves: the fragrant spearmint leaves are the ones used to make this tea.
Milk: milky chais are a popular Indian tea. The full cream milk works best, however, you can use skim too. If so, bring down the water-to-milk ratio to 1:1.
Sweetener: Indian teas are always sweetened, but mostly mine are an exception. You can stir in some sugar, stevia or honey to make the tea sweeter.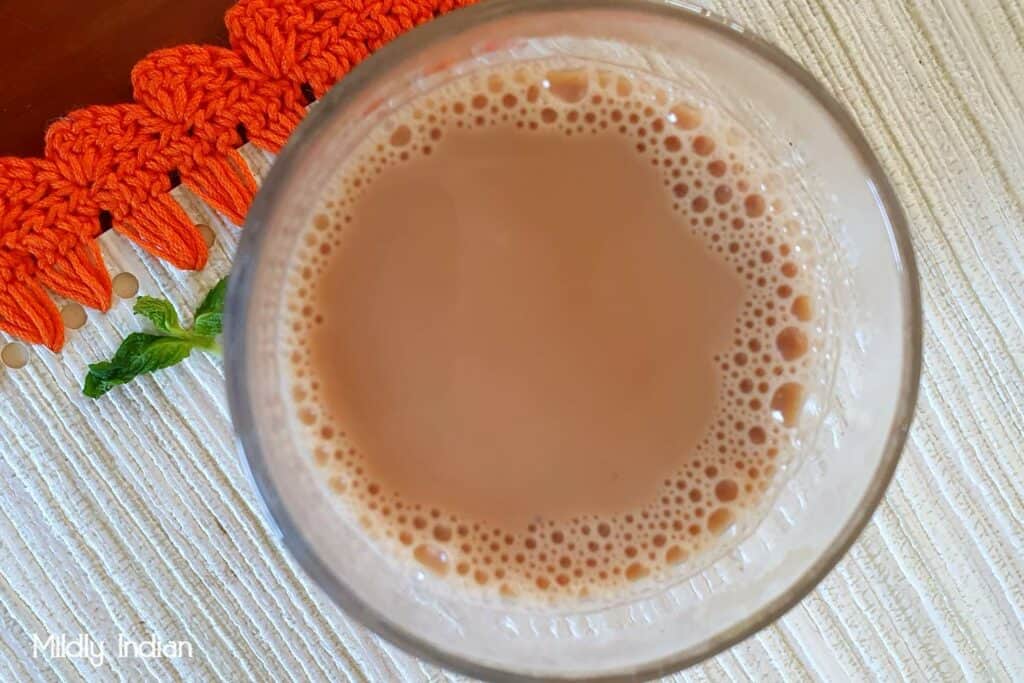 The step-by-step details are on this recipe card. Let us know in the comments when you are making it. 
Indian mint tea
Sip through the fragrant warm of indian mint tea. Enjoy the warmth and refreshing beverage.
Ingredients
2

cups

drinking water

15

leaves

mint leaves

or 1/2 tsp dried mint.

2

tsp

black tea leaves

Assam tea

1/2

cup

milk

sweetener

or jaggery if needed
Instructions
Bring the water to a boil in the sauce pan.

Now add the fresh mint leaves and let them boil till the mint extrcts into the tea.

Add the tea leaves and let it boil for another couple of minutes.

Now add the milk and let it bubble.

Remove from heat and strain the tea.
What to serve with pudina chai?
Chai is never served by itself in Indian households. Invariably there is something sweet and savoury to go with it. You can serve small portions of these recipes along with this pudina chai. Click on each name to take you to the respective website.
Stay connected
Forget the chai lattes and enjoy a soothing cup of this Indian mint tea for your winter tea cravings. As I am sipping through this beautiful beverage, let us know what you like about our blog in the comments below. You can check our newest updates on our Instagram, Twitter or Facebook. Feel free to reach out to us.
Stay safe and see you at the next post.