Get a cup and a spoon and get mum to come over coz you are going to treat her to the quickest, eggless, moist eggless chocolate mugcake mum approves of. With just a few ingredients in your pantry make the moist, soft microwave chocolate cake in a mug.
Coming to Mother's Day, my mother is one of the primary reasons I enjoy cooking. It is her fearless use of ingredients she grows, that makes me love food and dream about every little ingredient differently. Of late not a day goes by when I wonder if she will really like the multicuisine nature that I have adapted to. I often wonder if she will say "That's good " or turn up a little smirk to say "Hmmm don't push it!" To her, I have always been that helper in the kitchen. When she is around it is only the chopping, grating coconut or washing dishes that I take into my list of things to do. I certainly have hung around in the kitchen along with her to watch her add a bit of this and that from her million little glass bottles to make that tasty outcome.
There is however one thing I know I do well enough and that she will actually enjoy. A microwave chocolate cake. Since she gave away her oven a long while ago, and doesn't do much baking, an easy simple recipe is what works for her. So here is an eggless chocolate mug cake.
Ingredients for making the chocolate mug cake 
The eggless chocolate mugcake is a straightforward simple recipe made with some of the most basic pantry ingredients.
Whole wheat flour – I prefer using whole wheat flour for this recipe. Atta or stone ground flour works well. To this add, 1/4 tsp of baking powder ( check the notes below).  You can use self-raising flour too.
Chocolate- The chocolate element is what makes it the best chocolate cake. I have made this same recipe with cocoa powder (Hershey's, Nestle), drinking chocolate and shredded chocolate bars. Each adds its own unique flavour to the mugcake. 
Sugar- This is the treat part. I have just used unrefined sugar as that's what I have at home. I am sure powdered jaggery ( pilocinno) will also work in this recipe. However, maple syrup or honey may not work as they add more liquid to the mix and it may not microwave well.
Milk – Regular full-fat or any vegan milk will be fine for this recipe. 
Oil – Neutral-smelling oils work well here. Sunflower oil or if you like the flavour of coconut oil that works well too.
Vanilla – The chocolate always smells great with vanilla. I have used scrapped seeds from the vanilla pod as it has so much better fragrance than the vanilla extract.  
Let's make the quick microwave mug cake
This recipe for the single-serve microwave chocolate cake is a recipe that is all in that one mug (Thank me later for less washing up).
To make the cake batter: To start with I like to whisk up the wet ingredients and then add the dry ones in. So into the cup goes, milk, oil, scraped vanilla, and sugar. Give this a good whisk till the oil looks like it is emulsified. To this sift in wholewheat flour, rising agents and add the cocoa powder. this is gently mixed in. Don't forget to scrape the bottom of the cup for those hiding stubborn flour that doesn't want to mix. Scrape down the sides of the cup and you are ready to make the mugcake. 
In the microwave: firstly, know your microwave settings as you may need to adjust the timings based on this. My microwave oven is at 700W and the cake was done in 90 seconds. Check the tips below and read the little note on teh rubbery cakes to understand a bit more about why the timing is important. 
Tips for making a better microwave mugcake
The microwave mug cakes are not the prettiest mug cakes to look at but are the most functional warm moist cake bite. The earlier lemon blueberry mugcake we made was the same, plain and simple-looking cake, but a flavour bomb.
Know when your mug cake is done
A soft moist cake that you can scoop into is what you are looking for when you make chocolate mugcakes. Set the right timing:  As soon as the microwave beeps ready, lightly touch the surface of the cake (carefully, it will be hot). It will be soft and slightly sticky to the touch. This is the right stage as your cupcake will continue to cook after you take it out for a minute or two.
Choose the right chocolate: the richness of this chocolate mug cake is as good as the chocolate you use. You can choose dark cocoa to give the best result. However, if you are not a huge fan of the dark, go for a lighter milkier cocoa.
The halfway-up rule: As a rule, always fill your cup a little less than halfway. This gives enough rising space to the cake. This works everything, cooks evenly and has no spills and messes.
Choose your mug wisely: I have seen images of mugcakes in narrow tall cups. I haven't had any success with such cups. I do find they don't cook evenly and the base is gooey. Microwave does rely on surface area, so a decent-sized rounded microwave-safe cup will work for this chocolate mugcake recipe.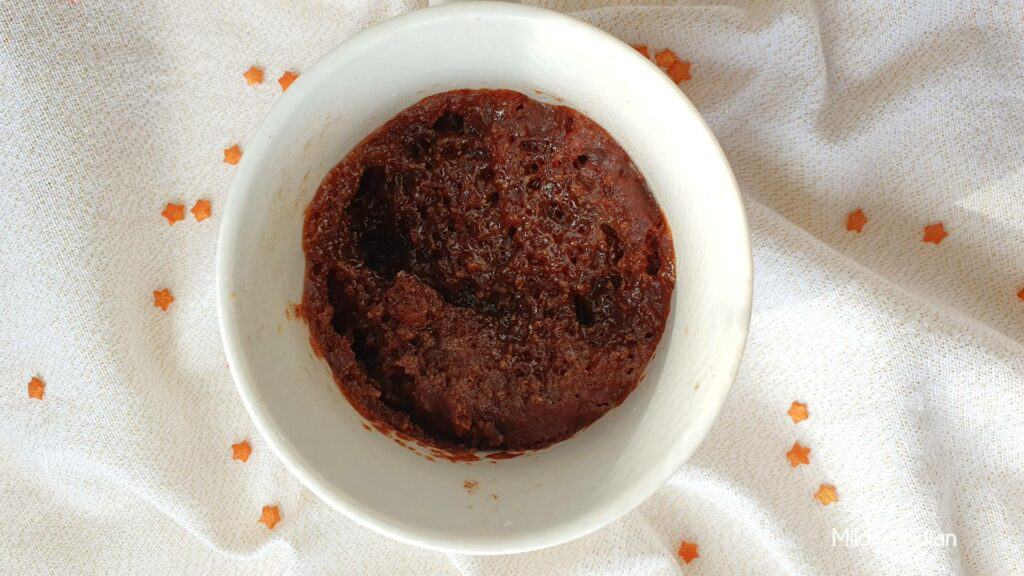 Eggless chocolate cake
Get a cup and a spoon and get mum to come over coz you are going to treat her to the quickest, eggless, moist eggless chocolate mugcake mum approves of. With just a few ingredients in your pantry make the moist, soft microwave chocolate cake in a mug.
Equipment
microwave safe mugs

measuring spoons

microwave
Ingredients
3

tbsp

milk

soymilk for vegan version

3

tbsp

cooking oil

sunflower or coconut oil

1

pinch

vanilla

3

tbsp

Sugar

unrefined sugar

4

tbsp

whole wheat flour

or self raising flour.

1/4

tsp

baking powder

Avoid if using self raising flour
Instructions
Wet ingredient mix
Into the microwave-safe cup, add the oil and milk.

Scrape in a bit of the vanilla pod and mix well.

Add the sugar and whisk till the sugar dissolves.
Dry ingredient mix.
Sift in the flour and baking powder and then the cocoa.

Mix the dry ingredients into the wet ones.

Scrape down the sides of the cup.
Making the mugcake
Microwave for 1.5 minutes at 700W

Enjoy topped with wipped cream or icecream
Why does my microwave cake become rubbery?
The Mugcakes are as easy as stir and zap. To a regular baker, this doesn't seem like enough work, hence we tend to overcook it a bit longer. The resultant cake is therefore a bit rubbery. Another reason is too much baking powder. This makes the microwave cupcakes rubbery so slightly lesser is better for the microwave cakes. 
Meal prep and lunch box
Nah! Not this microwave chocolate cake. There isn't anything to prep, everything happens so fast that you can easily do this in less than 7 minutes. This recipe is not suitable for lunch boxes too as you have to eat it as fast as you make it to keep it moist and soft. So just share it and enjoy those few lovely minutes savouring this quick dessert.
Some easy microwave recipes from our blog
Stay connected
Muns have that string pull on our hearts that's why you always make it a bit extra special for her. Hope you and Mum love this quick microwave chocolate cake. Share with us the fond memories with your mum. If you are making this recipe, rate it for us in the comments. 
Stay subscribed or connect with us on Twitter, Instagram or facebook.