The easiest satisfaction to the addictive Indian sweet tooth is a 10-minute bread ladoo. Yes, you heard me right!! 10 minutes and you have the beautiful dessert at hand with the  last few bits of the loaf which was quite not making to a sandwich.
The origin
There is a particular set of fond memories to this recipe. When my kids were quite small, I had very few ideas for the snack box, mostly it was fruit and some kind of a roll-up. The little one was so fond of  "Chota Bheem" a cartoon series which ran popularly in the telly at that time demanded that she gets ladoos for her snack box. The superhero in this particular series..did have some kind of ladoo that powered him up. Now this left me in trouble, the only kind of ladoo I knew to make at that time was the maaladoo., being a powdery crumbly one was not the perfect choice for a snack box.
I did have this intimate conversation with my then neighbour and a mum of kids of similar age. She kind of mentioned… She has heard of bread ladoo but hadn't tried it. Now I had a solution to my problem. So I did the bread ladoo for the first trial exactly the way I do the maaladoo.
It was a snack box success and for the first time I saw it come home clean, probably it was licked clean!!!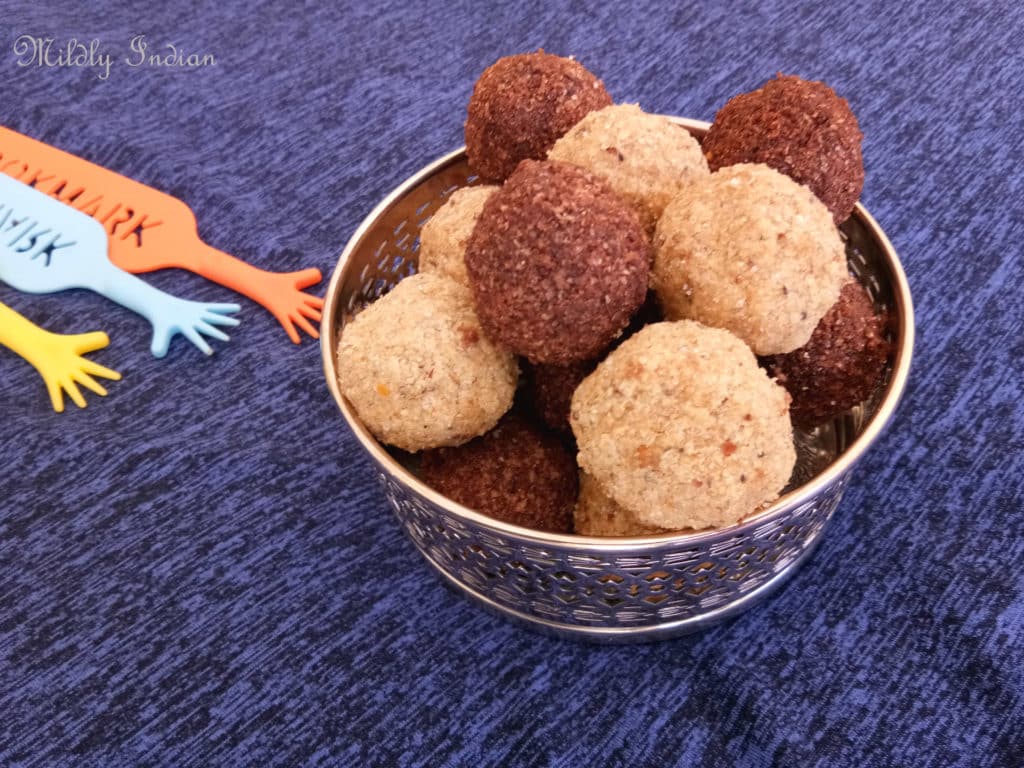 Now that 5-minute treat continues when I am in a terrible nostalgic mood. We have slowly graduated it to chocolate version or the dried rose flavour, but still the original one is the best demanded.
This recipe was recently reminded at an evening get together recently and I couldn't wait to put it back on the blog coz I had so many memories to share.
Take a look at how it is done
Here is a little clip of how to hold on to the powdery stuff to create a ball. Yes, you can see it cracks when I press hard so handle it gently but firmly.
So here is the recipe and enjoy the cuddles that you get..hold on to all those mischevious smiles and enjoy.
Similarities
The traditional Maa ladoo recipe is the one I did as a guest post for Lathiya's blog. It was kind of fun, running through my fathers love for sweets and his roots.
Here are some easier to do snack box foods you may want to try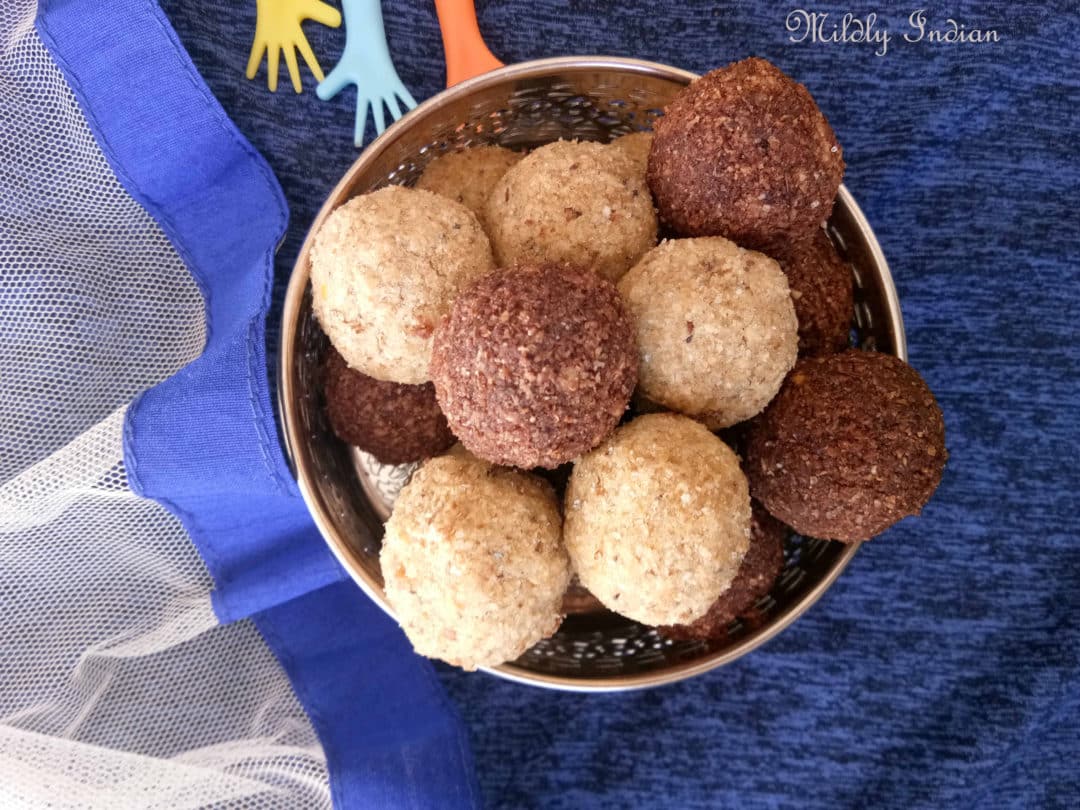 Bread ladoo.
5 minute sweetened Bread bundles
Ingredients
for making the bundles
2

tbsp

ghee / clarified butter

or coconut oil
Instructions
Tear the bread into pieces

Add the jaggery,cardamom seeds and the bread into a dry blender/ spice mill/ food processor and pulse till you get fine crumbs.

Melt the ghee and keep it warm.

Add small quantity of ghee at a time and roll into a tight bundle as in video.

The bundles will be extremely soft initially and then harden up as they sit for a while.
Notes
You can use honey or maple syrup to create these bundles. Omit the ghee and refrigerate them for a hile to help the hardening process then.
Nutrition
Serving:
50
g
Sodium:
91
mg
Sugar:
2
g
Fiber:
1
g
Potassium:
57
mg
Cholesterol:
9
mg
Calories:
91
kcal
Monounsaturated Fat:
0.3
g
Polyunsaturated Fat:
0.2
g
Saturated Fat:
3
g
Fat:
5
g
Protein:
2
g
Carbohydrates:
9
g