The northern part of Karnataka and parts of Maharashtra have a typical fiery cuisine well tipping more to the beans and protein.  One of the key ingredient adding the fuel to the cuisine is the chilli.
Traditionally thecha is a green chilli blend served in small quantities as a condiment on a plate of Bakri, Kalu curries and amti. This stunningly spicy preparation is quite difficult for a mild spice preferring a person like me.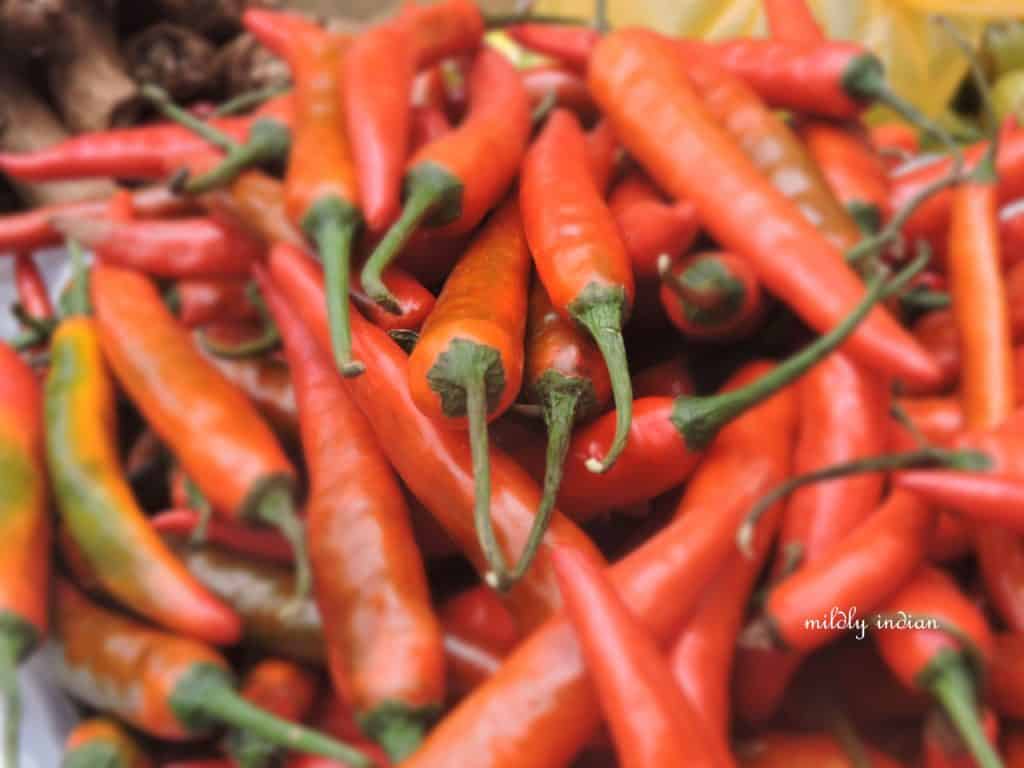 It was during one of our visits to Belgaum, a friend introduced me to an easier version.  Fiery, no doubt but much tamer than the green thecha.The addition of the peanuts to red chilli thecha ingredients makes it more subtle and mellow. Because the oiliness of the peanuts and the creamy texture as you chew makes the chilli  component milder
It is a very easy preparation to keep in your refrigerator for all those who love a bit of spiciness to the food.  Now, there are days when we indulge in a soft peanut-laden sandwich with this fiery perpetration to have as lunch or snack. This is my instant go to if I do have to get something fast on the plate. So steamed veggies topped with a generous amount of thecha goes well with rice, roti or Bakri.
Check out the recipe for an easy kick to the otherwise boring weekdays.
Try out these easy to keep for the week chutneys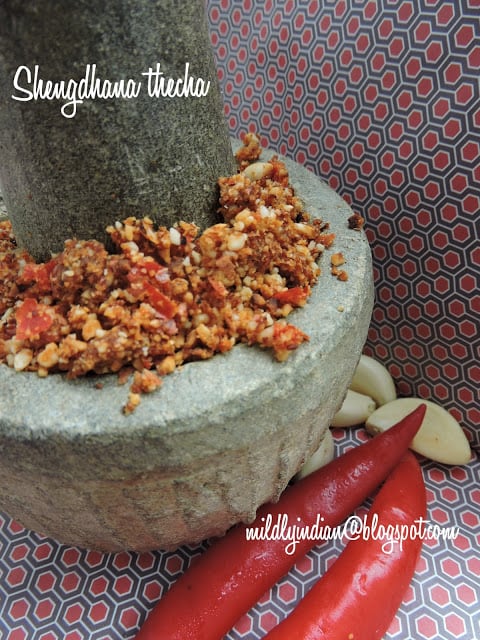 Shengdhana thecha
Fiery Maharashtrian chutney
Ingredients
0.5

cup

fresh peanuts

5-7

red chillies

fresh

4-5

cloves

garlic

salt to taste
Instructions
Wash and clean the chillies and remove the stalk.

Into the mortar and pestle add the ingredients a little at a time.

Pound till coarse mixture is formed.

Remove and mix well. Store in a clean airtight conatiner in the refrigerator.
Notes
Use the chilli with the heat that suits you.
I wouldn't definitely recommend doing this with habanero!!!