With the fast approaching Vishu, I drool just for the sake of the varieties of payasam that feature up on the sadhya menu
Vishu the beginning of the new year as per the Kerala calendar began with a grand prosperous viewing of "the kani." Arranged by the eldest in the family, late at night after everyone had slept was the secretive element of the festive which keeps children so attached to it.
To view the country vegetables, mangoes and jackfruit with pots of rice and pulses all  laced beautifully with the added yellow hue of "Kani Konna" (cassia) flowers was even more enhanced by the light from the oil lamp and its reflections on the mirror, the water and the gold and silver all creating a magical feeling of richness and instant happiness early in the morning.
As much as we loved these as children, we eyed the coins which often become the "Vishu Kaineetam" which came as the only pocket money for the whole year. Eagerly we would meet any older members of the family that day and shower them with the most pearly smile to receive this extra bit of blessing for all the pickled gooseberries and mangoes or orange candy we could buy later.
Lunchtime
The next best thing after the Kai neetam to look forward to this day was the sadhya.
The most happening element on the sadhya menu is ofcourse the dessert…payasam
The payasam experience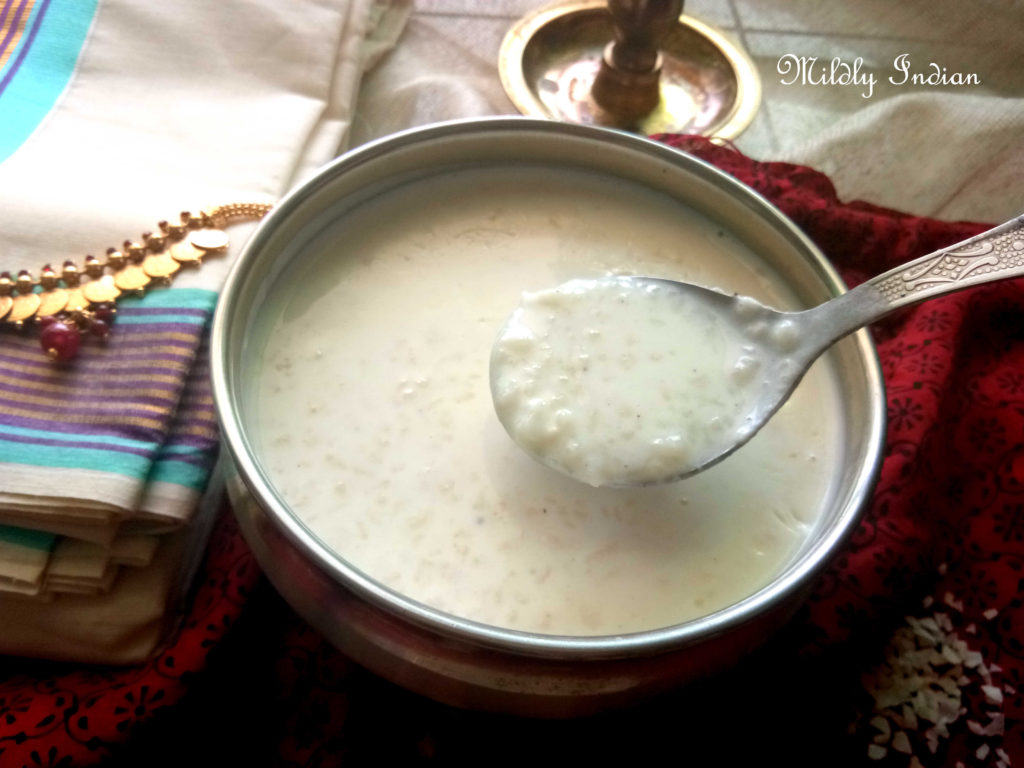 Since mom used to make rice based payasam very often..it as quite a fancy to look forward to the pale rose coloured  prathaman payasam with bits of glisening cooked ada shinig like a mosaic in the paalada payasam.
Expecting this beauty and knowing my mom cannot any longer handle this in the sweltering heat I ordered small quanity of the paalada prathaman when I was back home for a visit. Well, I did totally ignore my parents warning…that it will be quite unlike the old one. And the inevitable happened. I got a gooey mix …yuck with added colour and over sweetened muck.
I am sure you could feel my anger in there. Thats the time i decided to master this mess and get back to the old beautiful version.
My mom's treasure had some handmade ADA (rice based pasta style broken bits). She also told me I could try this in the pressure cooker.
So here we are with the easy pressure cooker version of the Paalada Prathaman for this Vishu season.
Wish you all a very Happy Vishu season with prosperity and fun while I am figuring out how to get my hands on some Cassia flowers.
Here are most of the  sadhya elements from my fellow bloggers and me  to help you create the sadhya magic.
Print Recipe
Paalada prathaman-
Yum
easy pressure cooker/ instapot payasam.
Soak the Ada in warm water for 10 minutes to start with.

Peel the cardamom and collect the seeds. Powder the cardamom seeds with a tbsp of sugar

Cook for two whistles or in a instapot medium for 10 minutes. Let the pressure release naturally and gently open the lid.

Add sugar, cardamom powder and stir well.

In a small pan, Heat the ghee on a low heat and roast the cashewnuts