Indian cuisine has so many regional variations.  Maharashtrian cuisine is one I have experienced only through friends. Among the flavours I have tasted with them, an item that you won't miss to be served every meal is the dal curry. Often it is varan (the simple nonspicy dal) or amti (with spicy masala and some souring agent). The one I remember the most when it is amti is the one friend's mother made while visiting her. This was my first introduction to moth bean too. The runnier amti was a delicious combo with koshambir and steamed rice. The mother's hand, the simplicity of the food and the flavours etched that memory strongly into my food brain. This is the recipe we have for you today.
Gather these first for the sprouted moth bean curry
The matkichi amti is a unique experience of simple Maharashtrian food. though simple needs a few special ingredients and a bit of prep.
The moth bean sprouts – the best moth bean is when it is sprouted. Pronounced as "mot beans ", this is otherwise known as Turkish bean, mat bean or dew gram. We have sprouted moth bean in a salad that tops our masala papads. yet to experience moth beans in its real cuisine inclusion you need to try it in amti. Smaller than moong bean and cowpeas, a bit brownish-skinned matki ( moth bean) has a high content of fibre and a good amount of proteins. To sprout the moth bean, wash and soak the beans in water for about 10 hours. drain the beans after soaking and tie them up in a cheesecloth. place this in a dark container with the lid on. the sports will appear in 24 to 48 hours. 
Kokum- a unique souring agent popular in Maharashtrian cuisine is kokum. The fruit peel of Garcinia cambodiga, which is dried is a strong souring agent. When soaked in water, the kokum imparts a pink colour and sourness into the liquid. Along with Goda masala, kokum creates the uniqueness of this cuisine. If you have no kokum, you can try tamarind pulp. though the flavour will vary, it is the closest I can think of. 
Matkichi amti
Ingredients
to sprout the moth beans
1/2

cup

moth bean

matki

2

cups

drinking water
kokum juice
2

pieces

kokum

1/2

cup

warm water
for the amti
1

tbsp

cooking oil

1/2

tsp

mustard seeds

1

small

Onion

thinly sliced

4-5

cloves

garlic

1

green chilli

1

tsp

goda masala

1/4

tsp

turmeric powder

1/2

tsp

red chilli powder

1

tsp

jaggery

grated

salt to taste

1

pinch

Asafoetida
To garnish
1

tbsp

coriander leaves

chopped
Instructions
To make the sprouts
Wash and soak the moth beans overnight.

Drain the bean in the morning and place them in a cheese cloth.

Tie the cheese cloth into a tight bundle and place this in a dark box.

Cover and leave the beans to ferment for a day or two.
To extract kokum juice
Soak the pieces of dry kokum in warm water for 1 hour.

Squish the softened kokum and strain the juice.
To make the amti
Set the instant pot in saute mode.

Add the oil and mustard seeds.

When the mustard crackles add the onions, curry leaves, garlic and green chilli and saute till onions are translucent.

Add the turmeric, chilli powder, asafoetida, goda masala and saute for another minute.

Add the sprouts and mix well.

Pour the kokum juice and stir well, add salt to taste.

Now change the mode to pressure cook manual mode.

Set for 20 minutes of pressure cook.

Let the pressure release naturally.

Open the instant pot lid once the safety valve is down.

Stir the curry and add the chopped coriander leaves.

The curry is now ready to serve.
Amti is not sambhar!!
Very often I hear the comparison,  amti is Maharashtrian sambhar! No way! My foodie's brain disagrees.  The souring agent and the spices are all different so they are not the same. The flavours are far apart. Even if they are served almost the same way, they are not the same. 
Serve the matkichi amti
The amti is usually served with plain steamed rice. Since the recipe is a bit spicy, a simple cucumber salad on the side is delicious. Don't forget to add a small dollop of ghee (toop) to the rice as it makes everything better.
Meal prep the moth bean curry
Amti is a lovely recipe that stays in the fridge for up to a week. Keep in an airtight food-safe container.  If you want it longer, you could freeze it, but the flavour of the fresh matkichi amti is better. the sports have been cooked so they will freeze well.
More Maharashtrian recipes to try
We don't have a vast collection of Maharashtrian recipes,  but a few tasty ones together can make a platter with this moth bean curry and steamed rice.
Batata rassa baaji
Shengdhana thecha
Sweet banana sheera
Bajra roti
Collaboration
When I talk about friends who have helped me experience authentic Maharashtrian food, I cannot miss mentioning Poonam who introduced the most mouthwatering misal pav experience at her place while we were residing in Penang. When Poonam called for Maharashtrian cuisine on the Shh cooking secretly challenge, I was surprised and thrilled.  You have to check our Poonam's blog for the classic Maharashtrian dishes. My partner for this theme is Kalyani, who has the spicy kholapuri mixed veg curry ready. Since the ingredients chosen were kokum and garlic, I looked no further than matkichi amti as my post.
Stay connected
I hope you have subscribed to our blog to receive regular updates. We thank you for staying with us and encouraging us at every step. We would love to have you visit the Youtube channel that we recently updated. Please subscribe, like and share these videos and recipes and let us know what you like and dislike about them. Rate our recipes or join our discussion below to tell us how you would adapt this moth bean curry recipe.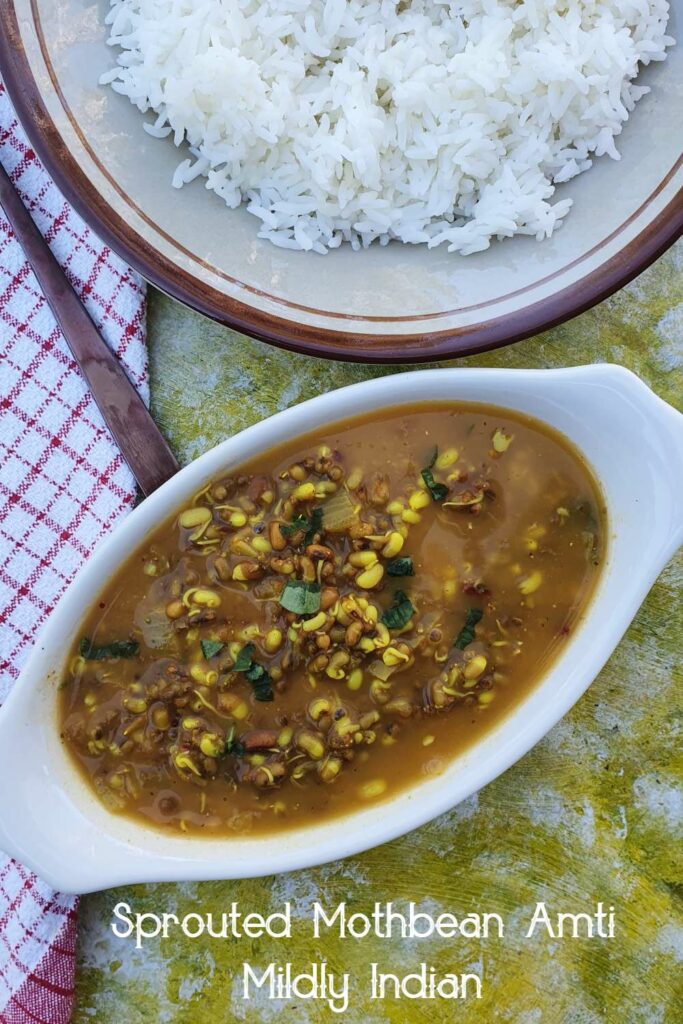 See you at the next post.