People don't believe when you say moving countries actually is tough Here are my reason, You are moving your home from a familiar zone to new beginnings. In this process, you are removing the familiarity factor and introducing alienation. To top it off, you are not a tourist, so there is no going back home. I have come to this realization after moving my household to a few countries. Saying this, There are perks too. You can slow explore the new country, learn ways means and of course, recipes, you make new friends and memories. 
This post was originally written when we had moved to Penang, Malaysia and it captures a bit of our life at that time. I am updating the content and images of this recipe, yet keeping the relevant memory part intact. The recipe however has been unchanged though I have moved again. 
Rewind to Malaysian years
Moving to Malaysia was a big decision with two little kids at the same time it was one of the most needed. I don't really believe we thought so much about the logistics or how it is all going to come together. Well, that's how we are as we believe none of our long-term plans sticks around. We rather are evolving with time. When it came to Penang, we loved the place at the very first sight. The endless ocean view was the only one that we wanted when we looked for a house. God bless, that island had many houses just by the sea, or should I say, we picked one jutting into the sea. 
Moving houses is a tricky process. It is very exciting to go house hunting. But finally when it comes to all the packing, heavy lifting and more. It really gets so hectic, tiring and mentally exhausting. In spite of the fact that you may have labelled the boxes well,  unpacking is another daunting task.  Every time I have to move I say never again and then repeat it all over the very next time. It is the paradox of life, isn't it?
I like the feel of that empty kitchen in the new house. it looks pristine clean and like a hotel before I infuse it with all my old bits of colour from the pots and pans. During this process, we feel hungry all the time. It's at these times I love to have a calorie-dense dish on the table to grab a bite each time we pass by. 
Put the avocado on the plate
The avocado is the easiest that you can make a dip with. Not much of work there, a bowl a knife and a fork with a few bits of flavouring work the avocado to perfection. With some crusty bread, some crunchy papadums, cut fruits or a bunch of salad veggies makes literally the share-platter ready in minutes. with the least amount of wash up and hungry kids are taken care of, you can get on with what you were set to do. 
The curried avocado dip, I should say, is an Indianised version of guacamole. Just a few touches that make us not feel very far away from the comfort of your own country. The avocado dip recipe was prepared by accident, the first time. I had avocados getting ready for a freeze and cooking at the same time. Quite by accident, poured in the tempering into the avocados. Since I couldn't really waste all that avocado decided to go that route and see how it worked. It did work like magic, even to the two not so mushy food liking people in my house.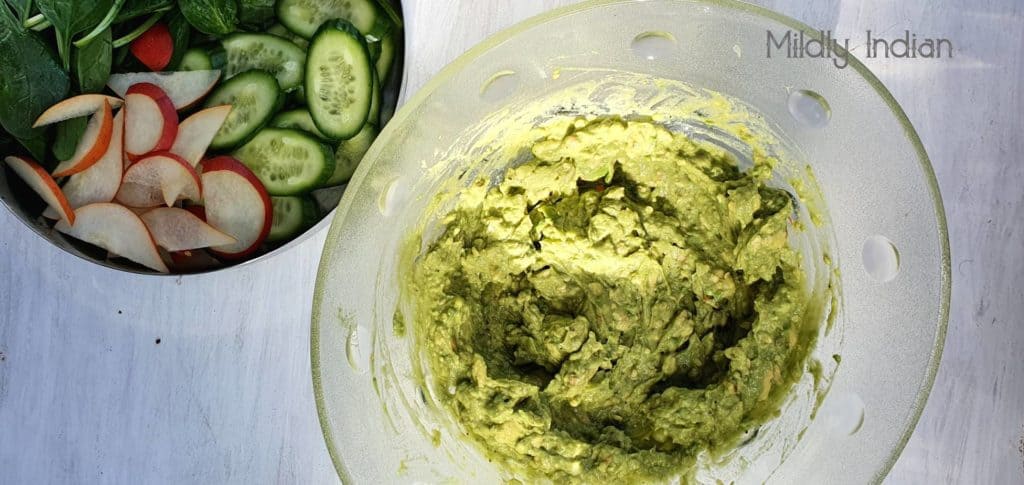 Let me get back to the unpacking, while you check out more of the blog. When you have friends over-  place this along with spicy tomato dip, chips, nuts and all the other nibbles on your charcuterie board and enjoy the raving reviews. 
Curried avocado dip
Gluten free, nut free, nightshade free appetizer dip
Ingredients
for the main ingredients
2

avocado

medium sized

3

tbsp

Lemon juice

1

tbsp

coriander leaves

chopped fine

salt to taste
for flavourings
1

tsp

olive oil

use any kind you are fond of

1/2

tsp

mustard seeds

1

tsp

Skinned black gram

optional

1 - 2

small

dry red chillies

broken into bits or use chilli flakes

1/2

tsp

rasam powder

1

sprig

curry leaves
Instructions
to prepare the dip
Wash and chop the coriander leaves.

Wash, cut and remove the seed of the avocado. Scoop out the flesh with a spoon into a bowl.

Add salt, chopped coriander and a generous squeeze of lemon to this and mash with a fork. Set aside till the tempering is ready
to prepare the tempering
The unique flavours to the dish are provided by the tempering.

Into a small wok, add a tsp of oil followed by mustard seeds and set on medium heat.

As the splutter add the urad dal and broken bits of the chillies.

When the dal turns golden add in the curry leaves to crackle and the rasam powder and remove from heat. The rasam powder gets roasted and the aroma comes out.

Add this into the prepared bowl of avocados and mix well... its ready to serve with crusty bread, pita chips, fruit and veggie cuts or pappadams
Notes
The key flavour is a good quality rasam powder and this when added to the oil burns real fast. So be careful to remove from heat as soon as the rasam powder is added and pour it into the avocado which will cool it down.
Here are a few more avocado-based recipes you don't want to miss
While you are browsing, save the pins for the recipe you like from our pinboards. 
Follow us on Instagram or Facebook with the links below
This post has updated content and images and has been added to the foodies redo post collection for the #foodieredoingoldpost28. As bloggers, we constantly keep improving the quality of your readership. Hope you like the new images and will try out this recipe. Use it for all your game night gatherings and the binge-watching night with the girls.
Stay safe and see you again.