I was a bit under the weather and shaking off a runny nose and a gruff throat.  There was a serious craving for something sweet and honey like. And yes, I am tired of tea and honey water… That's when in thought I should distract my mind and check on some task I have to get done.
The Recipe swap challenge…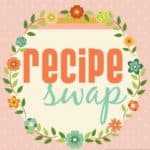 Thr recipe swap challenge is a blogger collaboration where we partner up with a fellow blogger and test out a recipe from their gallery. This planned event is every blogger's dream of getting done for the one you get your recipe tested and it adds so much variety through another photographers eye.
Here is a previous one I did for the challenge
Partnering this time
It is an exciting partnership this month with a time-tested blogger, Priya. Imagine, 10 years in blogging and solid as a rock, her recipe gallery is endless.
Check it out
The kids were at home when I was scrolling through her blog and they went, I want that, I want that, I want that too… For all the snacks they saw. Yes you will do that too when you see the exhaustive gallery list
Now among the list, one short name caught my eye, Baesook, pears cooked with peppercorns.
I have had this before, the soothing tea like a sweet prep. I swooped down on this recipe. It ticked my boxes for the day, warm, soothing and sweet.
Baesook
This Korean style dessert made with nashi pears is one I had a long while ago a restaurant. I remember the name but honestly not the taste, never knew it was pear too.
The pears simmer and release all their flavour. The resultant juice is what is tasty, not the pear pieces.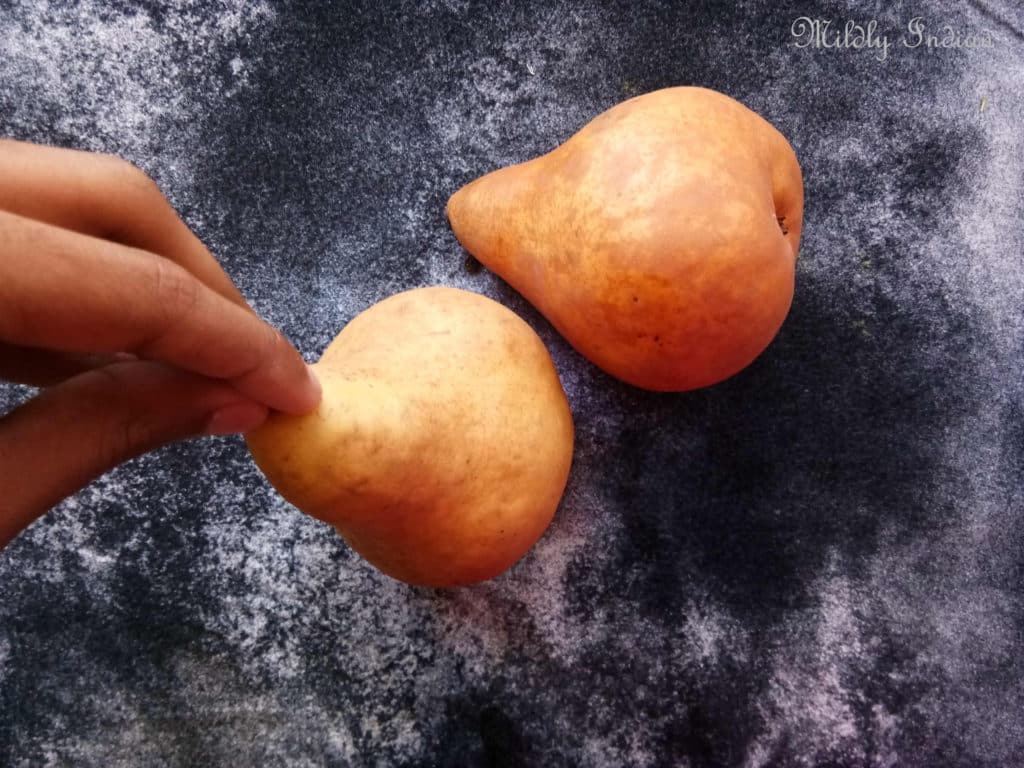 I had these beautiful Australian pears at hand. They are much softer than the crisp nashi pears, but for now, they will have to do. This poached pear recipe works well if you stuff in the ingredients and steam it too with a lesser ripe pear.
No wonder this is a royal recipe, it is hard to figure out the ingredients from just the nectar. Now you know the secret and it really helped me soothe the rough throat. Enjoy the recipe and tag the ones who need a soothing home remedy today.
Here are two more adorable recipes with pears.
and for the hunger pangs
See you next week with more interesting recipes and I am going to rest a bit more with this.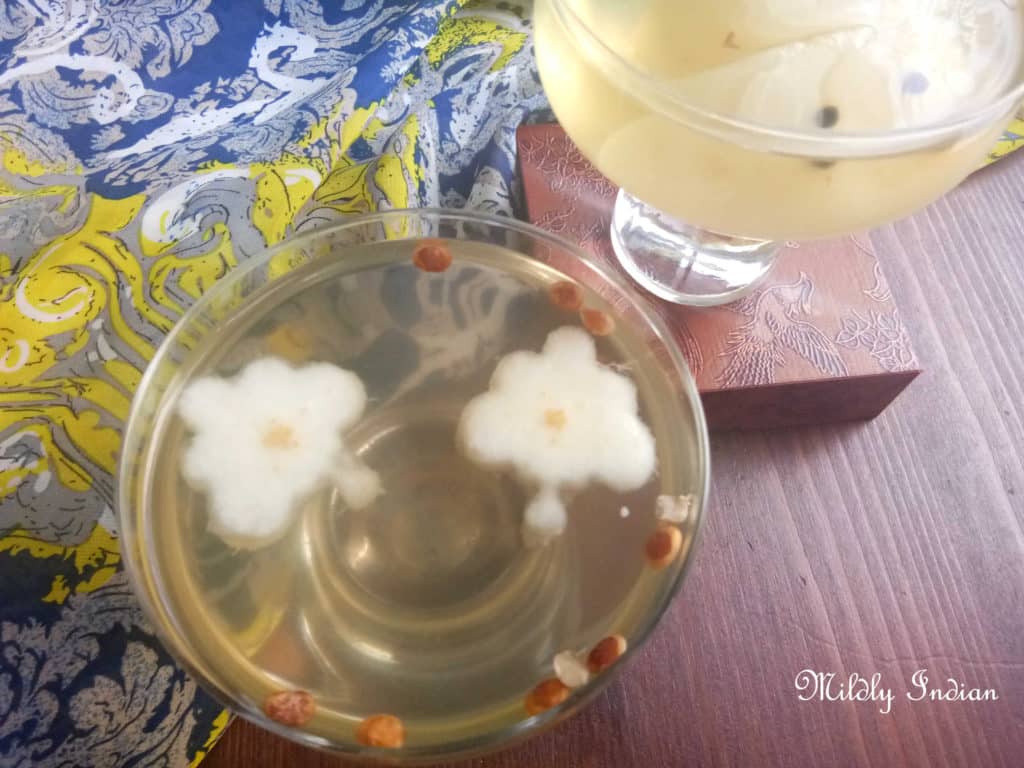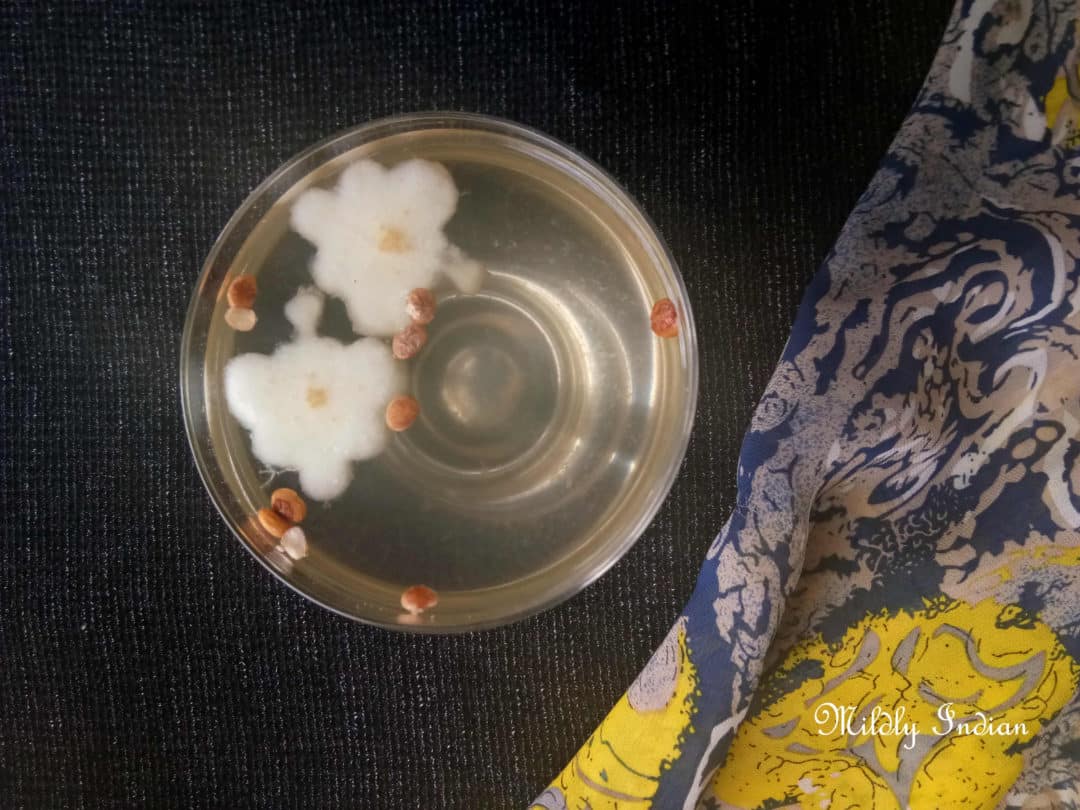 Baesook from the Korean royal court
Ingredients
The fruit
400

gram

pear

Nashi pear if available

10-20

Black pepper
For the syrup
3.5

cups

drinking water

15

gram

fresh ginger root

3

tbsp

Sugar/brown sugar
to garnish
pear

a few fresh slices

1

tbsp

pine kernels

pine nuts
Instructions
Peel and slice the Pears.

Pierce a few peppercorns into each slice.

Into a saucepan, water, rawsugar and ginger and bring it to a rolling boil

Reduce the heat and add the pear slices.

Simmer for 10 minutes till the pear infuses the syrup

Remove from heat and serve warm.

Garnish with fresh pear slices and pinenuts to serve.
Notes
The pears will not carry much taste. So choose to have or not as per your taste.
You could serve this chilled on any warm day.. it is delicious.