The chickpea flour-based savoury pancake-style cheela is the quickest protein-packed breakfast you will find among the Indian breakfast gallery. With little pre-preparation needed,  this recipe is a go-to one when you need a quick snack, a lunch roll-up or a warm breakfast. Typically made with moong dal (green gram ) this preparation is much lighter than the chickpea one. Nevertheless, the ease of the chickpea flour goes unquestioned. Resembling a quick vegan omelette, cheela is a protein-rich breakfast you can absolutely enjoy on any weekday. 
The versatility of chickpea flour
Chickpea flour is extensively popular in vegan and Indian cuisine. Being a flour it is easy to mix and get the desired thickness to add to any gravy. It is also a popular ingredient in baking for gluten-free or paleo dishes. The fact that it adds protein to the dish than carbs boost its use among the health watchers. It is far easier to store and use than the bean or the cooked canned ones. Saying this, storing the flour in the freezer is more advantageous if you use it less frequently. This will prevent any bitter taste forming in the flour or the flour going mouldy.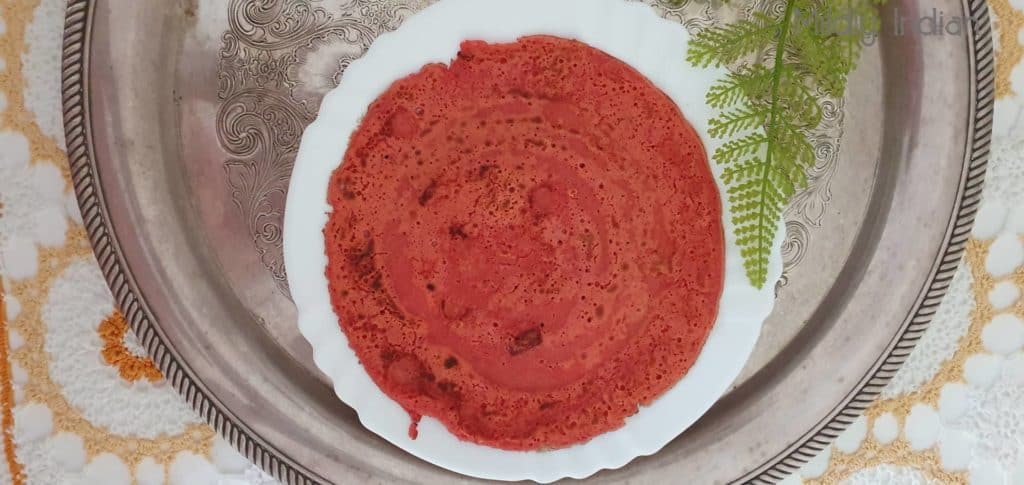 This beetroot cheela
The beetroot cheela is a fun way of getting that boring repetitive bread out of the way and bring in some colour for the breakfast.  A quick mix with some beet juice a great pan to cook them in is all you need. To pair with this recipe looks and tastes fantastic with green chutney.  Scroll down for the recipe and make it your breakfast staple. 
Here is another protein-rich recipe which needs a bit more prep but is a brilliant post-workout snack as well – Andhra Pesarattu- green gram crepes.
Once you have tried this recipe, do let us know how you like this recipe.  Check on our social media handles and follow to get regular updates. We will love to hear the successes and the goof-ups in the recipes we create. Here is our Instagram follow link – Instagram Handle – Mildly Indian
See you on the next post. 
This post has been updated with newer images and small changes to the content. The recipe however has not undergone any change. Hope you enjot these new images as much as we enjoy learning and adapting to improve at every step.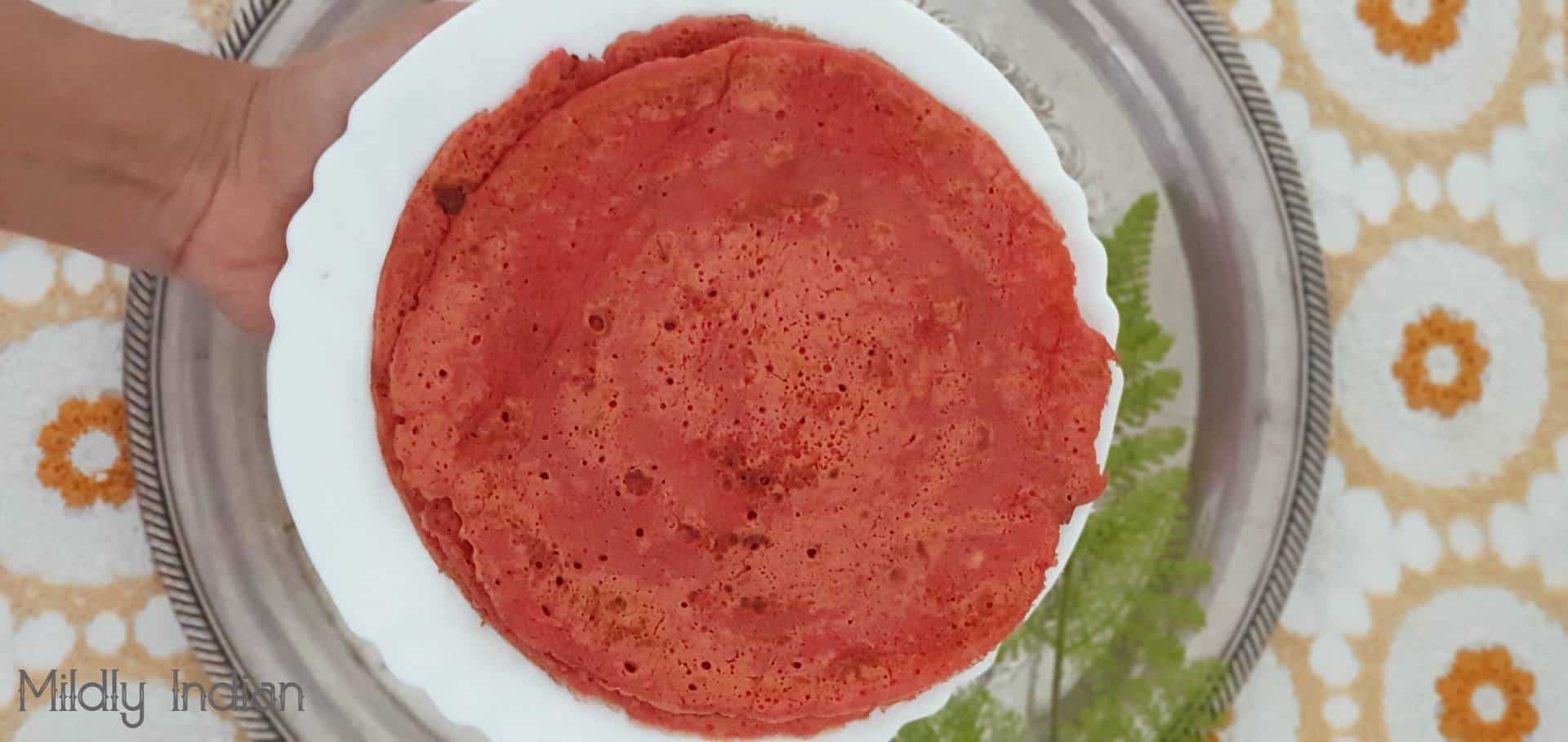 Beetroot cheela
savory chickpea pancake
Ingredients
for batter
1

cup

chickpea flour

(besan/ kadalamaav)

3

tbsp

beetroot

grated or juiced.

1/4

tsp

red chili powder

1

pinch

Asafoetida

salt to taste

1/2

cup

yogurt

2

cup

drinking water
Instructions
Peel and grate a small beetroot on a fine grater and set aside

Into a mixing bowl add one chickpea, with the spice mixes.

Mix well and add the grated beetroot and yogurt and mix.

Add a bit of water at a time and whisk to form a smooth lumpless batter

Set a flat pan on medium heat and spray oil to form a nonstick surface

When the pan is hot add a ladle ful of the batter and allow it to spread a bit

Cook on one side and then flipover and cook the other side.

Stack the pancakes and serve hot with green chutney or ketchup
Notes
To prepare a vegan version I would simply swap the yoghurt in the recipe to mashed soft tofu or coconut yoghurt.
Forgo the chilli powder and the hing if you are making for the younger kids for it gives a sweeter taste from the beets.
Slice up the leftover cheela and toss them in a salad for a protein spike.
I have added some mint and coriander too to some of them.