On the cold monsoon nights when the power (electric supply) decides to bewitch the dark night by a no show, mum used to serve simple matters rice kanji(rice soup). Under the watchful eye of flickering candlelight, appa will start to tell us stories of his childhood. One of the repeated stories I liked to hear was about the paal kanji in a silver bowl. Coming from a humble background, I guess his attraction was the silver bowl that his uncle had the pack kanji. For me, it was the curiosity of the taste of paal kanji. Either way,  it made memories for us right away.
My turn to taste the paal kanji.
My turn comes up!! Following my first pregnancy, I had developed severe joint aches. Came to mum, as usual, for all home remedies. Amma promptly put me on a diet plan, guess what was on the menu -paal kanji. Paal kanji with the indigenous Navara rice was my lunch for so many days.
Served with thoran (stirfry or a warm salad ), roasted papadam, manga chammandi (mango condiment) and non-oily lemon pickle. Unlike popular expectations, this is not a dessert or sweetened in any way. It is as simple as thin rice gruel cooked with milk. The meal was very filling and nourishing for the lactating times and the joint aches vanished.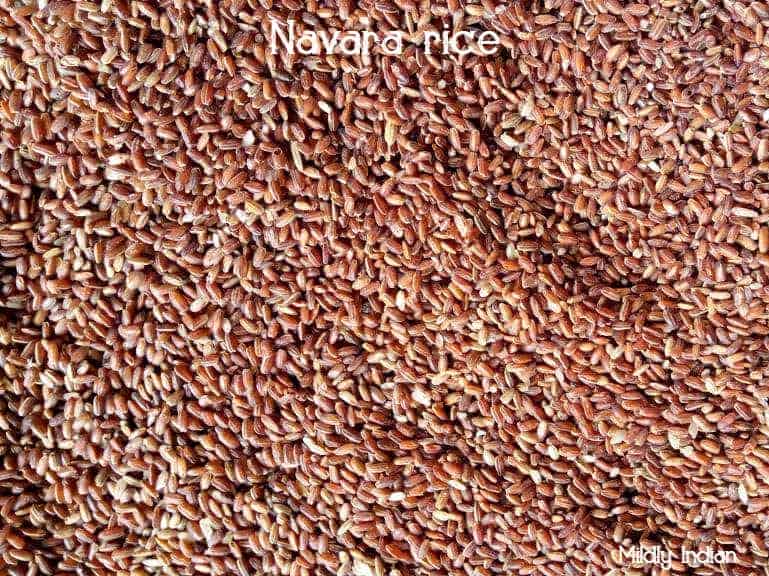 The Navara rice
Amma cooked the paal kanji with the navara rice indigenous to Kerala. Growing in the Palaghat district, navara rice is a protected red rice variety. Navara rice has its citations in ayurvedic text and is used in medicinal treatments. Navara comes in white glumed variety  and black glumed variety. ( source) As a rice variety, it has fibre rich complex carbohydrates. For the glycemic index, navara stays at 60. This in comparison with the popular matta rice from Kerala is lower.
This cooked rice form has shown a significant reduction in stomach ulcers and improvement of gut health. It has been used for low weight babies to gain weight and for removing neuromuscular issues. (source)
Navara usage in Karkidagam
Navara rice paal kanji is made during karkidagam month. During the monsoon months, the wet times bring forth a lot of stomach ailments. So during this period, people rely on nourishing health care regimes and prayers. A month of light gruel and soups enriched with medicinal plants and grains prepares the body to endure the work-life balance for the rest of the year.
Rice variations for paal kanji
If I am not in Kerala, I hardly am able to find the navara rice. I still do paal kanji with hand-pounded red rice or the high bran Srilankan red rice. The paal kanji with these also turns out tasty. The paal kanji can be cooked in a rice cooker, pressure cooker, instant pot or in a saucepan. If cooking with Navara, it is best with instant pot or pressure cooker as the bran is harder to break.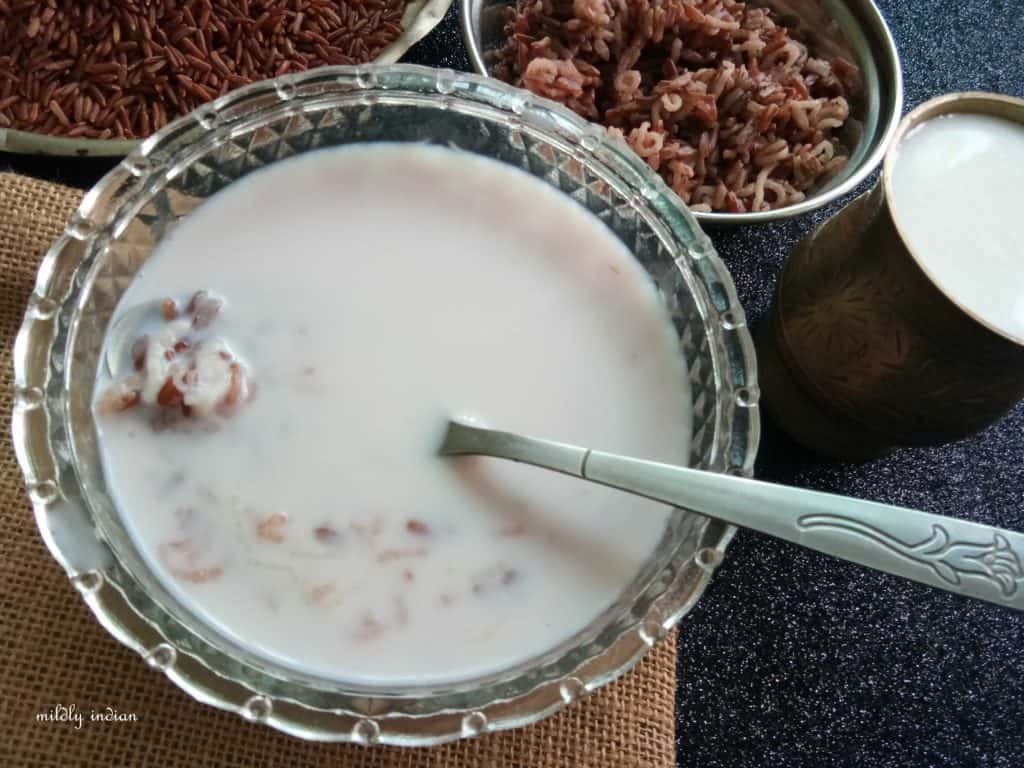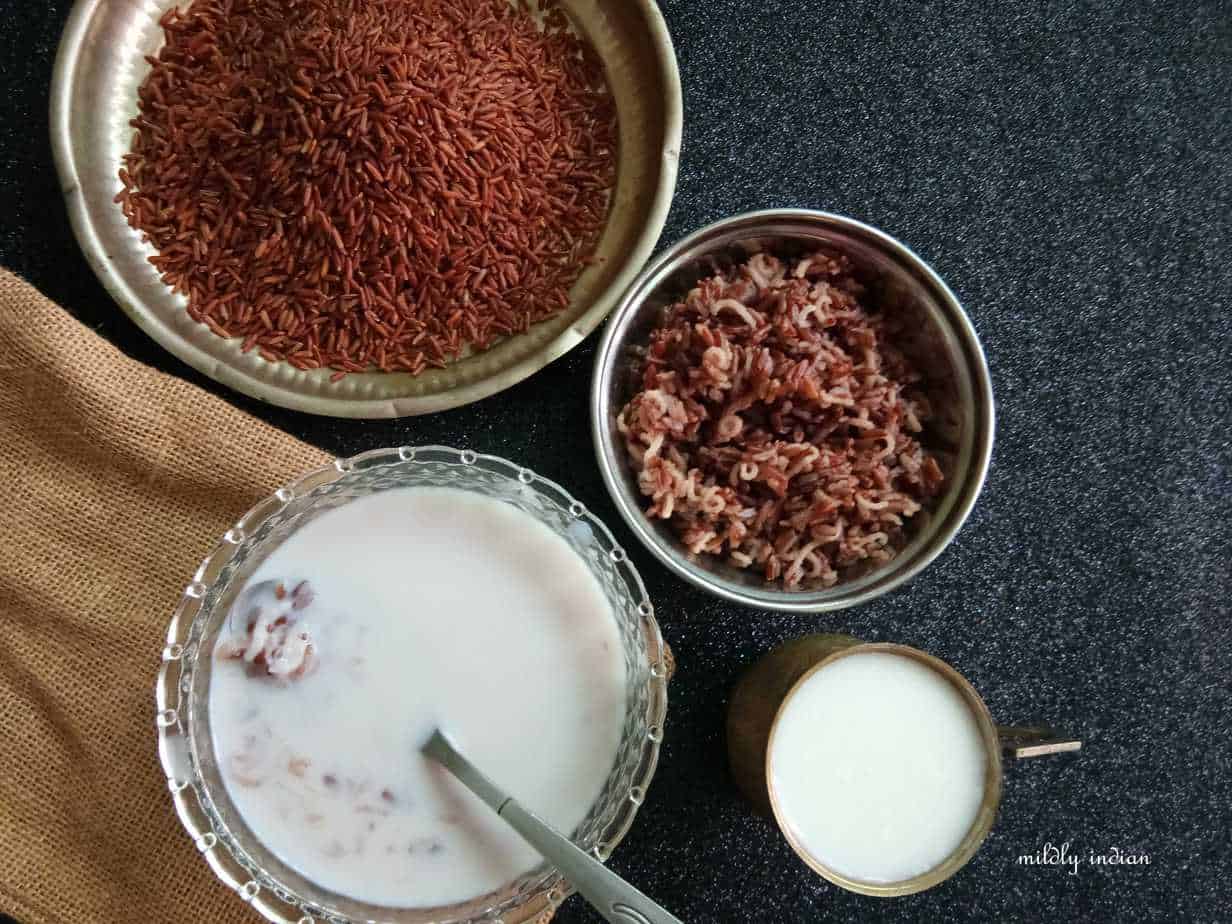 Paal kanji
A delicious rice soup made with Navara rice ( red rice) cooked in milk.
Ingredients
To cook the rice gruel
1/4

cup

Red rice

(use navara rice as far as possible)

2

cups

drinking water

2

cups

low fat milk
To garnish
4

tsp

grated coconut

(optional)

1/4

tsp

roasted cumin powder
Instructions
Wash the one cup of rice well and soak in the two cups of drinking water and set aside for 10 minutes
Pressure cooker method
Into the pressure cooker add the soaking rice with the water and one cup of milk

Pressure cook for three whistles and simmer for 20 minutes

Once the pressure is released naturally, open the pressure pan and stir and mash the rice well.

Add the remaining cup of milk and boil to a pouring consistency.
In the instant pot
Place the washed rice with the water and one cup of milk in the instant pot

Close and lock the lid, turn the steam release valve to sealing position.

Press the porridge option. Once the pressure builds it will count down to 20 minutes.

After 20 minutes, switch to keep warm mode, the pressure will reduce naturally.

once the valve floats to down position, Open the steam valve wait for a few minutes.

Then open the lid, mash the rice gently and add the extra cup of milk.
To serve
Scoop the gruel into a bowl and top with a pinch of roasted cumin powder and a tsp of freshly grated coconut.
Nutrition
Calories:
229
kcal
Carbohydrates:
43
g
Protein:
8
g
Fat:
3
g
Saturated Fat:
1
g
Polyunsaturated Fat:
0.1
g
Monounsaturated Fat:
0.4
g
Cholesterol:
6
mg
Sodium:
56
mg
Potassium:
196
mg
Fiber:
2
g
Sugar:
6
g
Simple recipes like these are absolutely simple and easy to prepare. Keeping a month aside to take care of ourselves is really important for us to perform at our best.
Stay connected
It has been a long while since these memories have been dusted. I am so glad the content of this post is finally updated. Thanks to the Foodies redoing old posts group of bloggers for the prompt to work on this paalkanji posts. 
I hope you have subscribed to our blog to receive regular updates. We thank you for staying on with us and encouraging us at every step. We would love to have you visit the youtube channel that we recently updated. please subscribe, like and share these videos and let us know what you like and dislike about them. Here is one of our latest recipes that you can use with this paal kanji.
xxx
When you make our recipes especially this paal kaanji, tag us @mildlyindian or add #mildlyindian so we can be involved in your fun ideas. Thank you again for Staying on. See you at the next post.