Adai is one of the savoury crepe breakfasts that is a favourite in a lot of South indian homes. Made with lentils or dals and rice, the adai dosai is a preferred breakfast that keeps one full much longer than usual. The usual adai recipe is flavoured with red chillies and curry leaves. Towards the cooler winter months, the adai dosai that is made has no red chillies added. Instead black pepper and cumin seeds are used to flavour the adai. This is jeera milagu adai.
Making millet crepe( adai) for the festivals
It was with a little story that most celebrations or the offerings for celebrations are introduced. This is the story my maternal grandmother told us.
When you leave your parental house after marriage, your brother still protects and supports you. So symbolically during this festival the girls in the family, light lamps and make food for the brother. The brother is signified by an elephant. (I guess this is to show the gentleness while comparing the majestic strength) hence the lamp-lit is an elephant lamp (Gaja vilakku). The adai is made with darker colours to potray the footprint of the elephant and kept to about the same size.
Hope you enjoyed the little snippet that accompanied our times with grandma.
Unique ingredients in this thinai adai
Towards the months of Nov and December,  the weather is much cooler and the preference to choose the spices as home remedies to adjust to the weather change starts. It is at this time the festival of Karthigai deepam is celebrated. Hence this millet crepe, jeera milagu adai is made during this time.
The main ingredients for this adai are rice and black gram. The whole black gram gives the characteristic colour and lentil base needed for this recipe. I have however swapped the rice for thinai or foxtail millet. You can totally make this recipe using rice and it will be equally tasty.
To flavour the adai further use fresh curry leaves, asafoetida along with crushed black pepper and cumin.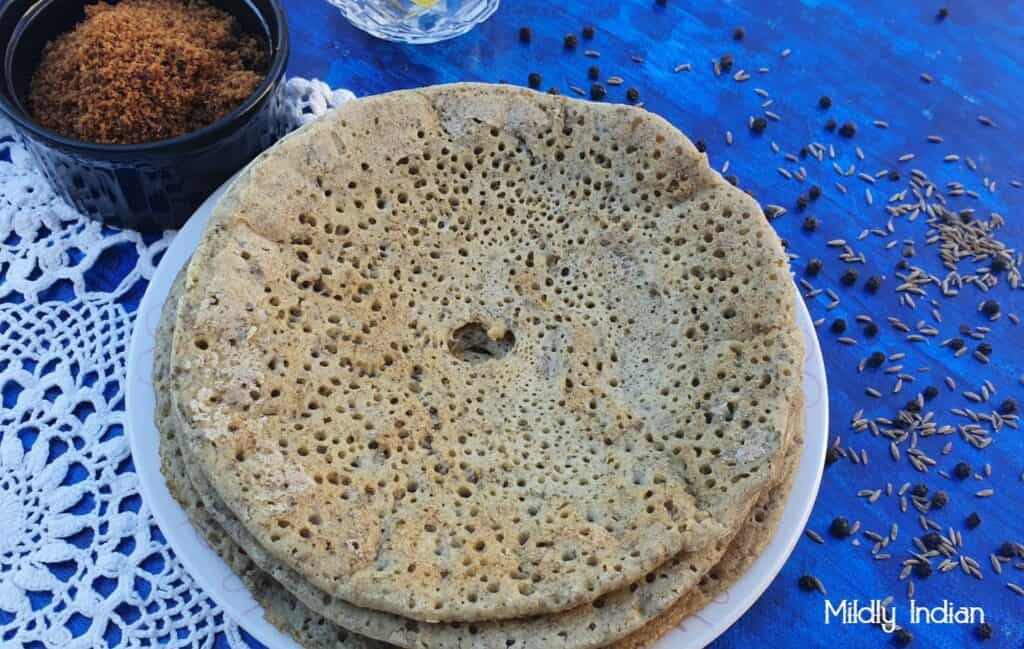 Jeera milagu adai.
Typically made at Karthigai deepam this jeera milagu adai is a tasty, savory, gluten free, crepe that is perfect for breakfast or as a soft wrap.
Equipment
frying pan

Mixie or fine grinder
Ingredients
For the batter
1

cup

Foxtail millet

Thinai. Check notes for rice.

1/4

cup

black gram

1/2

teaspoon

salt
For the spice mix
1

tablespoon

crushed black pepper

2

teaspoon

cumin seeds

10

curry leaves

1

pinch

Asafoetida

1

tbsp

coconut

flesh sliced thin, check recipe notes below.
Instructions
For the batter
Wash and soak the fox millet and black gram for 6 hours.

Grind this mix to a fine paste.

Add the salt and mix well.
for the spice mix
Gently roast the cumin and black pepper on a low heat

Cool and powder it with asafoetida.

Add the mix to the prepared batter.

Add the coconut slices and mix the batter well.
To make the adai.
Heat a flat pan ( dosai kallu) on medium heat.

Grease the pan with 1/2 tsp of sesame oil.

When the pan is heated place a large ladleful batter at the centre.

Spread the batter a bit so that it can cook evenly.

Make a hole in the centre and add half a tsp of sesame oil.

Drizzle a few drops of oil around the dosa too.

Cook on medium heat When the side is cooked, it will easily remove to be flipped.

Flip over and cook on the other side too.

Remove from the pan when both sides are cooked.

Serve with aviyal or jaggery.
Notes
For using rice, try Ponni rice or  Sona masoori rice. Both are short-grain rice varieties.
The coconut flesh sliced is an optional ingredient. It adds a tasty bite for the unfermented adai.
Tips and tricks to get the thinai adai perfect each time
Unlike the dosa recipes, the batter is usually not fermented to make the adai during the festivals. Hence cooking is to be done on medium heat to get the soft wrap like crepes.
For other times,   fermenting the batter for 6 hours improves the flavour and digestibility of this thinai adai.
What to serve with the adai?
Adai, as a meal pairs wonderfully with aviyal which is a mixed vegetable curry with a coconut sauce. Traditionally adai also pairs with pounded jaggery. You could try this adai with pudina chutney, imli chutney or almond chutney.
Other dosa recipes
Dosa is one of the house favourites. Though we make a lot of varieties, I realise now that I have only uploaded a few recipes on this blog. Here is a list of what we have so far.
Set dosa-thousand holed set dosa or sponge dosa is perfect to mop up soothing curries or chutneys.
Pesarattu- no grain, green gram dosas that are an andhra speciality
Southekayi dosa- sweet crepes with cucumbers and rice can be made as a breakfast or dessert.
Channa dal dosa- the and crispy channa dal flat breads with liquid batter is otherwise called chilka roti.
Kavuni kara adai -spicy adai recipe made with black rice.
Godhambu dosai-instant dosa recipe made with whole wheat flour is a tasty breakfast or a quick dinner.
Nadia pura chakuli pitha – not exactly a dosa, but this Odiya style pancake with coconut is an absolute must try.
Stay connected
We hope you will love to share with us your thoughts about or recipes and post. Take a moment to visit our youtube channel. Leaving you with our Facebook page  (click here) and Instagram (click here ) so you can take a peek. Don't forget to follow us as we update these to the best of our efforts. Subscribe, share, like and evermore come back
Stay safe and see you at the next post.