The Indian food thali always has a bit of pickle on the side. It seems incomplete to serve the meal without it. Depending on the meal and the curries on that are on the plate, spicy or nonspicy pickles are chosen. This provides variety and a bit of good lactobacteria needed for the best gut health. The fresh turmeric pickle is one such that has been voted by generations towards boosted immunity and better health. So among the selection of pickles from our blog, today we have the kachi haldi ka achar.
About fresh turmeric rizhome
The fresh turmeric that we use is not a root, but a Rhizome. A Rhizome is an underground stem that stores food for the plant. It helps in plant propagation as it has buds. So, yes you can grow a new batch of turmeric plants from the market bought fresh rhizome.
It is easy to find these rhizomes in Asian or Indian groceries during the season. The turmeric rhizome in cuisine has more flavour than the dried form, yet the intensity of the yellow colour from the fresh ones are lesser than the dried form. Most Indian cooking uses, dried and powdered turmeric than fresh as that has a better shelf life. However, you can use the fresh ones in curries, pickles and stirfries. Check below for a few more ideas using raw turmeric. 
To make this turmeric pickle
This raw turmeric pickle will be the easiest type of pickle that you make. Let's pick the ingredients.
Turmeric: the first ingredient you need to make this lactofermented pickle is the raw turmeric rhizome. Pick firm rhizomes that have lots of tender branches, not the thick stem ( that is woody and harder to chew). Wash and pat dry. Scrape off the scaly skin with a spoon and slice them thin. That is now ready to get soaked and pickled.
Salt: When pickling. mum taught me a rule, never use table salt. This is because of the minerals in sea salt and rock salt. Another reason is there are no anticaking agents in sea salt. So, for this recipe I used sea salt. I like the way it leaves a clear liquid than a cloudy one. 
Limes or lemons: Grab the big bag of lemon or lime to make this as there is no oil to be used as preservative. It is only soaking in the juice of the citrus. The taste changes slightly with limes and lemons, but hey!! the feature is turmeric.
Now, this is all you need to make this kachi haldi ka achar.  You can always add on a bit more. 
Ginger:  Add some peppy ginger root sliced to this mix. Add only one-fourth parts of ginger to the turmeric to get the flavour balance. 
Amba haldi or Mango ginger: With an earthy floral flavour this rhizome, otherwise called White turmeric makes a flavourful addition to this recipe. again add only one-fourth portion in ratio with the turmeric.  
Green chillies: Want to have the chillies a bit spiced up, slice up and add some serrano peppers or jalapenos as you add your ingredients. 
Mustard seeds: Marinated mustard seeds are a lovely pop. Just add a teaspoon of yellow mustard seeds to the mix.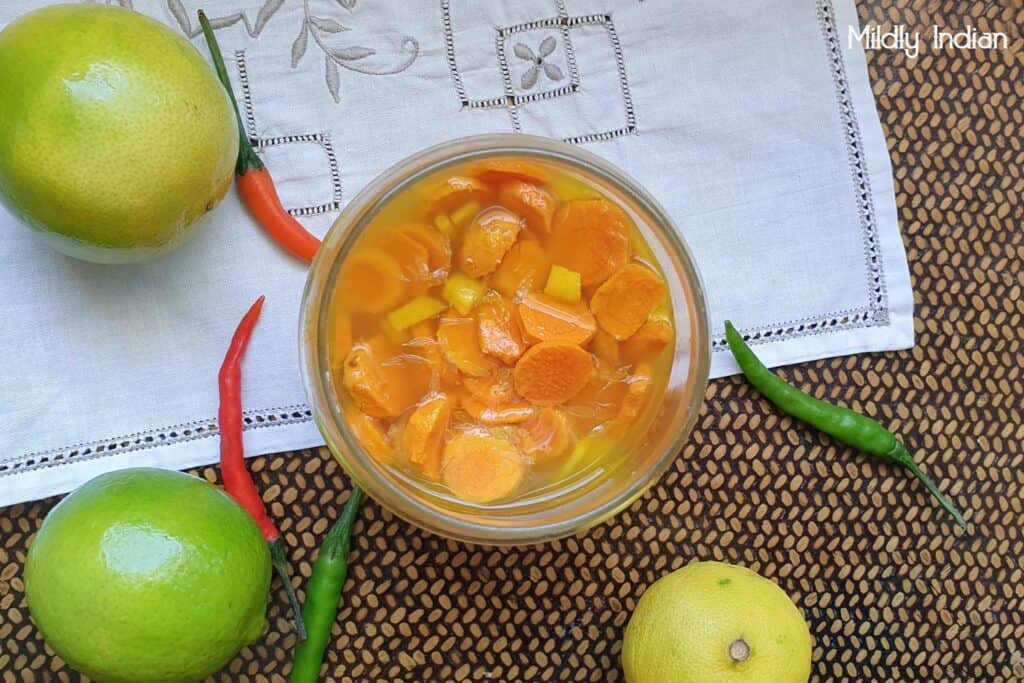 Use this kachi haldi ka achar in a meal. 
This easy fresh turmeric pickle pairs well with some curries to add to a great Indian dinner. I love the salty tangy bite of this kachi haldi ka achar when I make Channa masala or vindaloo and serve with Kalonji rice. At times, I add a few bits of this pickle juice and some of the chopped pickle bits to the kachumber or  South Indian carrot salad instead of lime juice. When I  make some wraps, rolls or toasties, a few bits of this raw turmeric pickle go well with a couple of pickled jalapenos ( nobody knows about these hidden healthy bits).
Fresh turmeric pickle.
Equipment
1 Cutting board

1 Knife

1 glass bottle

measuring cups and spoons
Ingredients
200

grams

fresh turmeric

3/4

tsp

Sea salt

4

large

lime
Instructions
Clean and wash the turmeric roots.

Pat dry and scrape of the scales.

Slice the turmeric and add to a clean sun dried bottle.

Squeeze in the lime juice, and add to this bottle of turmeric slices.

Shake the bottle well and set it aside.

Shake the bottle for two days.

The pickle is now ready to be consumed
Other recipes with fresh turmeric
We have a few other recipes on this blog that you can use for the fresh turmeric rhizome. The flavour of the fresh rhizome is very different from the dried one and these recipes carry it beautifully.
Nasi tumpeng- Indonesian turmeric rice
Turmeric cardamom custard
Manjal pongal -One-pot south Indian rice and lentils.
Morukaachiyathu- Kerala golden buttermilk curry
Some more pickles for your collection
Biryani achar – Pickled beetroot and dates.
Kambili naranga achar – pickled pomelo.
Stay connected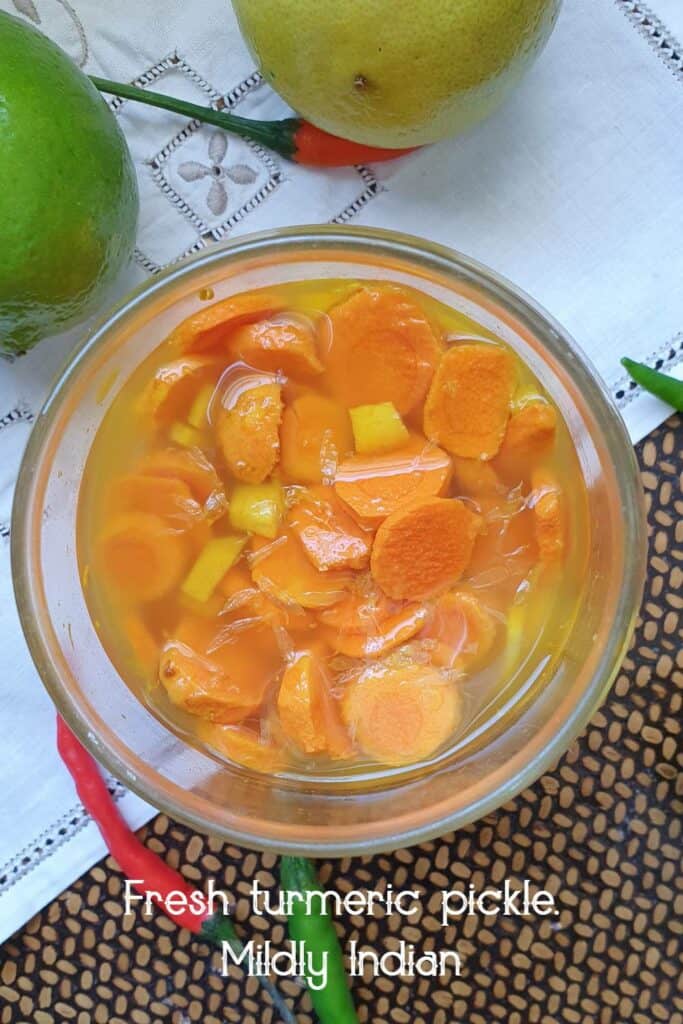 Collaborations
Fresh turmeric is haldi, a highlight in Indian cuisine, so here it is added to the A – Z Season 2.