The only fruit that comes packaged by nature is a banana. Living in the tropics explodes a variety of bananas to just overload you with its goodness.  Also a ridiculous number of ways you could add them to your menu. May it be raw, underripe or overripe there is always a way with this fruit and there is always the enticing street food style chaats.
The tough deal is where to stop with eating the bananas. Now that we are watching our carbs and I know a lot of my readers who prefer food-related to type 2 diabetes, this post is for you.
How much of a banana is a good banana?
When you are pre-diabetic or diabetic, you cannot afford to starve yourself. You will be in more trouble than you already are in, yet being carb rich you may have to watch out for the banana addiction too.
Banana is definitely good for diabetics. Having said this please don't gorge the whole bunch down… Have a bit of the good fibre content and have a low glycemic index. Now the overripe bananas are not the best as they have concentrated their sugars and can give you a sugar spike. So a semi-ripe one is perhaps a brilliant solution. Now we totally agree it doesn't taste as fantastic as the ripe one. So here is the deal. Have it in a form you have never thought of. This gets the good elements intact and satisfactory to the cheeky tongue. Try out this simple easy one for a snack. I know, its addictively tasty, but promise me you will repeat only a couple of times a week and do balance it out well.   The semi-ripe sweetness is super-enhanced by the intermingling flavours of the chaat masala making it feel absolutely sweet for the craving tongue, yet under control.
So here we go… with Kele Kachalu chaat
Here is a bit more to read on – Source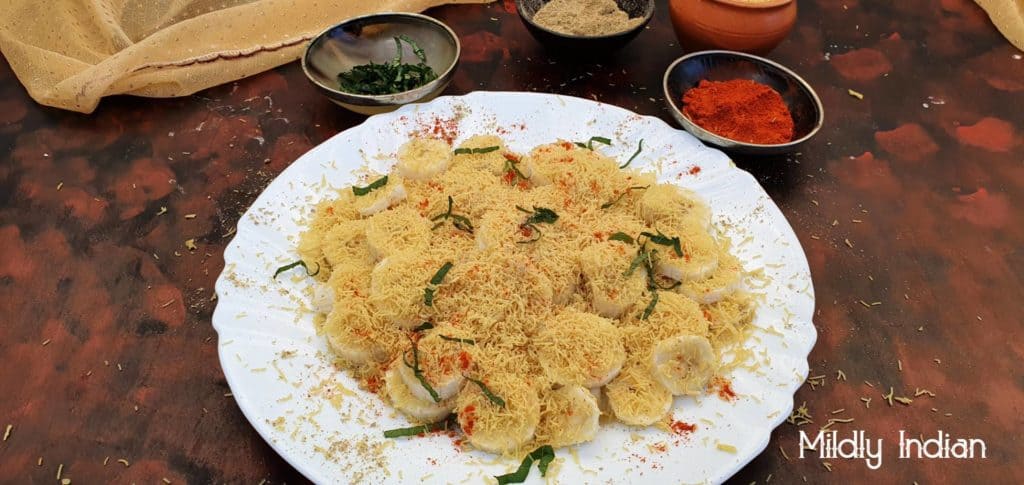 How to modify the chaat for the others in the family?
I do the same chaat recipe with ripe and overripe bananas for my kids. Works well with the natural sweetness enhanced by the chutneys and the saltiness of the sev. I add a bit of sweet chutney too for them or a bit extra dates, add pomegranate and papdi. Another addition I do is to toss in a handful of sprouts to add in a bit of crunch and protein.
You could try a bit of peanut, a touch of green chutney add up the colour with carrots or slice in some earthy potatoes to the simple mix. Whatever the addition be aware to count them into your control chart.
So check out the chaat recipe below and send me your favourite diabetic snack recipes.
Meanwhile, try out a few more easy snacks for the diabetic evening snack
Check more of diabetic-friendly recipes in this special platform
Stay hydrated.. and look out for more on this space. Keep in touch with us on our social media or write to us in the comment section. We read, research and will get the best information for your queries. 
Click below for our Facebook contact and Instagram contact, tag us with your creations or your tests on our recipes. 
Stay safe and keep visiting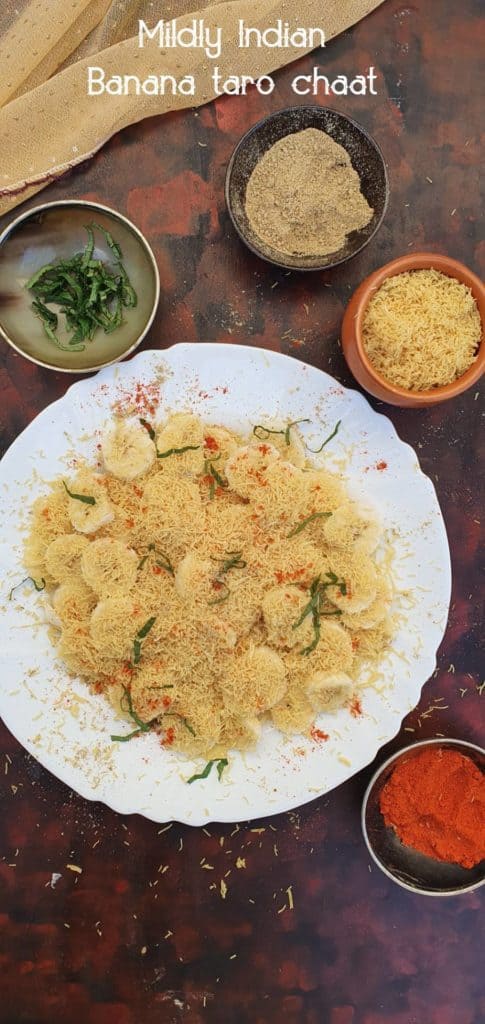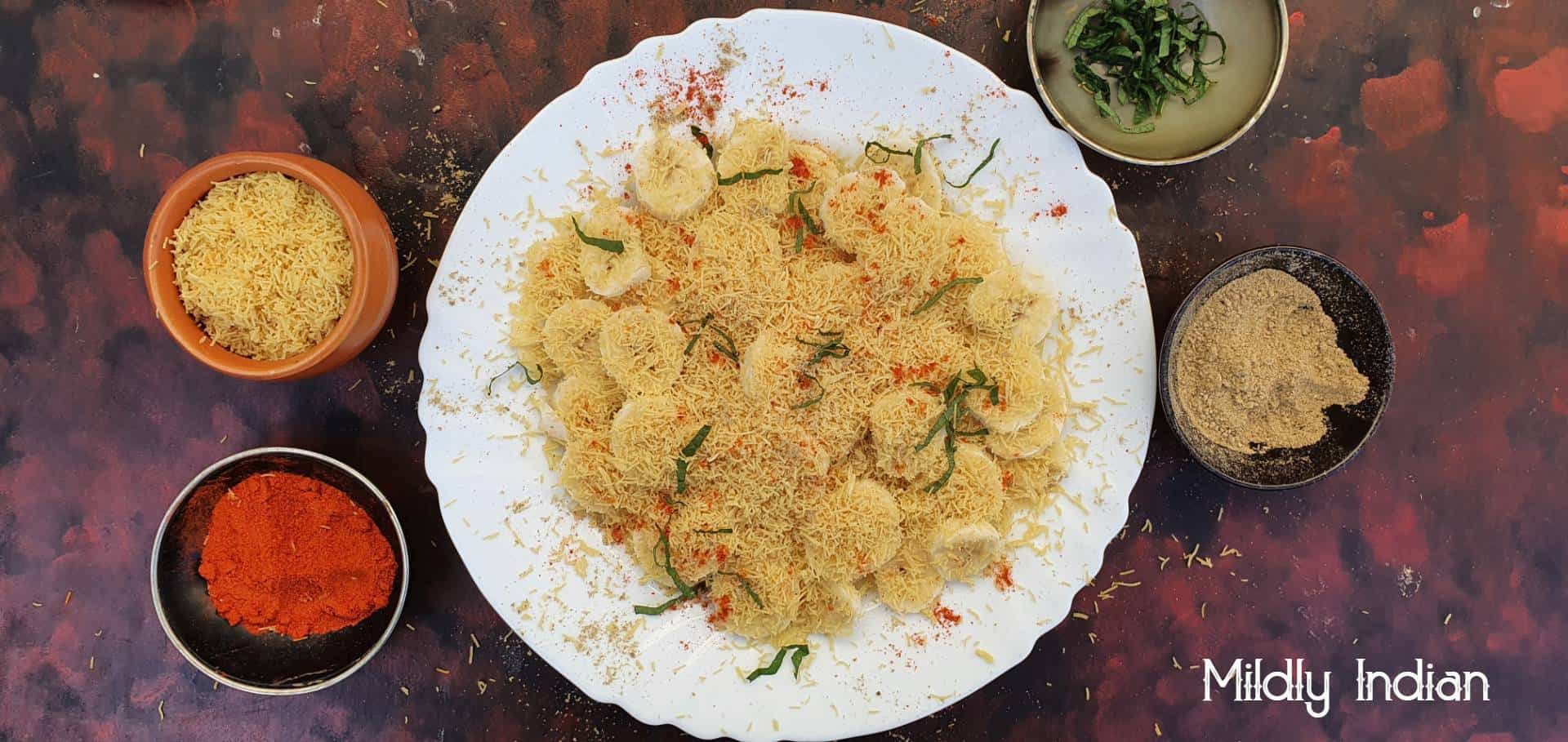 Kele ki Kachalu Chaat
banana chaat, street food
Ingredients
1

medium

Banana

ripe

1-2

pieces

colocasia

(arbi, taro root) boiled and peeled, optional, if you dont have use boiled potatoes

1/4

tsp

Lemon juice

1/2

tsp

chaat masala

2-3

pinches

roasted cumin powder

2-3

pinches

black salt

or pink rock salt

1

pinch

Kashmiri chilli powder

( optional)

1

tsp

mint leaves

Chopped

2

tbsp

sev
Instructions
Peel and slice the banana and boiled colocasia ( optional) into 1 cm roundlets.

Add this to a mixing bowl with lemon juice, chaat masala, mint leaves and blacksalt.

Toss well.
to serve
Divide the banana mixture onto two plates

Sprinkle the chilli powder and the roasted cumin powder.

Top it with a tbsp of sev each and serve immediately.
Notes
If adding dates or peanuts add it to the banana mixture and toss well so they get coated with the chaat masala too.
This portion that I have shown in the image is good for 4-6 people.