If you 5 have minutes to spare make this restaurant-style, creamy, delicious namkeen lassi that is the perfect accompaniment to those spicy curry bowls. With just 3 ingredients fix up a tall glass of this chilled summer-perfect, gut-friendly salted yogurt drink.
The moment we sit down at any Indian restaurant my husband and daughter will go "salt lassi" at the same time. The first couple of sips and we will be laughing over the mini moustaches while our choices arrive. Though it is a treat the namkeen lassi aka salt lassi is a simple recipe.  So this scorching 40-degree summer we made quick chilled ones to have as we dogged through the heat.
Exploring lassi
The traditional natural set yogurt (curd) is an integral part of Indian cuisine.  This probiotic-rich culture is set daily. Therefore drinks made with yogurt are common. One of the recipes highly popular due to its association with restaurants is lassi. The yogurt set in clay pots is churned using a wooden churner with just enough water to help the process. Further crushed fruit and sugar or spices herbs and salt are added to the mix to create varieties. This smoothie is lassi. It is thick, creamy and soothingly delicious.
Masala chaas, neer more and namkeen lassi
Though the idea is the same the masala chaas, neer moru or sambharam are thinned-down versions of traditional buttermilk. Whereas the namkeen lassi is a combination of natural set yogurt with just enough water to help it blend. The resultant salted yogurt drink is creamy and thick, with a milkshake-like consistency. The spices and flavouring used in each case vary too. Check out these posts to explore the other versions
Ingredients for salt lassi
The salted yogurt drink is probably the easiest of all lassi versions. However, if you have not had salted yogurt it will take some time to get used to it. The combination comes together with just 4 ingredients.
Natural set yogurt: This type of yogurt has the whey intact it is not strained out. This provides the right base for the yogurt consistency and the natural tangy flavour.
Water: chilled water is added just enough to provide to thin down the yogurt a bit and bring it to a milkshake consistency
If you have plenty of whey that will suffice.
Salt: that's what makes a salt lassi! The usual cooking salt is what I have used. If you prefer you can use pink salt or black salt to make the namkeen lassi more interesting.
Cumin:  roasted cumin powder gives the smoky aroma that is classic to the salt lassi.
Variations
You could blend mint leaves with the yogurt to make mint lassi. You can make a masala lassi by blending mint or coriander leaves, chaat masala and ginger. If you are not yet hooked on lassi, you have to start with mango lassi.
Let's make namkeen lassi
Roasted cumin powder: The process of making the lassi at home is very simple. However, you have to roast the cumin first. Add the cumin seeds to a thick-bottomed pan and place on low heat. Gently roast them and keep moving the seeds around the pan till they start to smoke. Remove them from the pan and powder them either with a mortar and pestle or a spice grinder.
Blend: Get that blender out, add the yogurt, some salt and the cumin powder and blend smooth and frothy. You could go for the traditional churner if you prefer, the frothy bubbles are better this way for sure as the cream floats up better. However, the quicker version is the blender.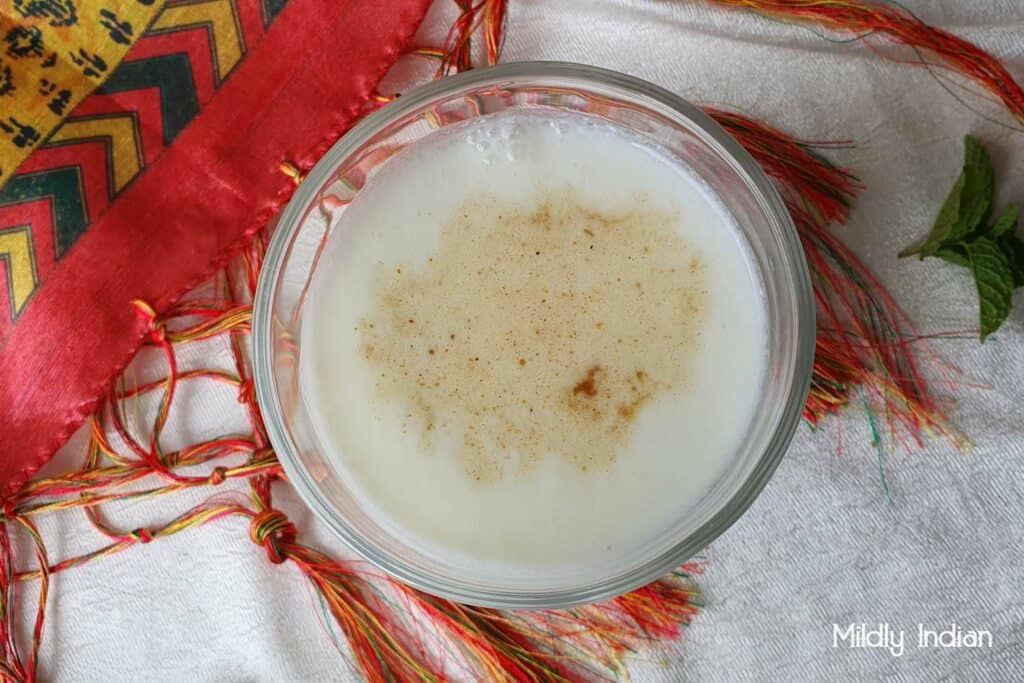 Namkeen lassi
If you 5 have minutes to spare make this restaurant-style, creamy, delicious namkeen lassi that is the perfect accompaniment to those spicy curry bowls. With just 3 ingredients fix up a tall glass of this chilled summer-perfect, gut-friendly salted yogurt drink.
Ingredients
1.5

cups

fresh yogurt

include the whey

0.5

cups

drinking water

or crushed ice

salt to taste

1/4

tsp

roasted cumin powder
Instructions
Into the blender add the yogurt, salt and cumin and blend smoothly for about 5 minutes

Pour into tall glasses and top with a pinch of roasted cumin.

Add a couple of ice cubes if you like or keep the blend chilled.
Can I use Greek yogurt to make lassi?
Greek yogurt is ok for the sweeter versions of lassi as the fruit juice adds liquid and flavour. If using Greek yogurt for salt lassi, adjust the water to suit the consistency. The flavour has slight differences from the natural setting.
Tips for the best salt lassi
Use fresh yogurt batches: the fresh yogurt batches are not overly sour. This is what we need for a good lassi.
Use full cream milk yogurt: you cannot achieve that moustache-making quality of salt lassi with low-fat yogurt. So go for the full-fat ones. Blend in the cream that settles on top while you make the lassi.
Do not use whey powder: Straining out the whey and then adding whey powder ruins the consistency and flavour of this lassi. That classic way is still tried and tested perfectly.
Collaboration
The recipe for namkeen lassi has been added to the collection of summer coolers from Shh cooking secretly a group of bloggers. The challenge initiative is by Sasmita and my partner who chose the ingredients is Preethi Tandon Shridar. she has made a delicious smoothie with grapes, do check it out.
Stay connected
We have grown this blog with your suggestions, feedback and encouragement. Many times the doubts you ask to prompt me to write a post. So, stay with us and share what er can do better for you. Subscribe, share and rate the recipe each time you check out a post or cook a recipe with us. Use our links to pin on your favourite boards. We could do a lot more with your support so connect on Insta or FB and share your thoughts.
Stay safe and see you in the next post.