There is nothing better than a luscious homemade deep dark chocolate to lick away the hot yet rainy holiday. This holidays we are experimenting different versions of paddle pops.  Fruits juices,  crushed whole fruit,  plant based milks, agar infused wobbly ones.. Literally we are trying one per day, desserts are becoming easy and non fatty.  I like it.
This time around we really have stepped it up.   Ditched the sugar totally. This particular one is really deep in chocolate flavour,  and so creamy.
Why dark chocolate ?
Chocolate is good for your health in many ways. When we say dark chocolate,  yes it's bitter, let's look for the one which has a high amount of cocoa, no added sugar and no milk products.  It's the additions which make it good, bad or worse  for your your health based on your choice.
Dark chocolate is useful :
When on a weight-loss program you would have noticed dark chocolate  for dessert.  This is because dark chocolate  is proven to satisfy the cravings for fatty food and also for sweets.  Make sure you choose the dark chocolate and not the milky sweet ones and don't forget moderation is the key.
Dark chocolate is slightly helpful in reducing blood  pressure  and hugely helpful in stress management. This is particularly  due to the presence of cocoa polyphenols.
Along with proper exercise  dark chocolate  is heart healthy. This is because of the high content of flavonoids.
How to start on dark chocolate?
If you are new to this.. You may want to start with 60 percent or 75 percent to ease you into it.  The 99 percent pure chocolate honestly was too better for me.  This is what I do then.  Unsweetened chocolate I flavour with sweetener of my choice… Just a bit.
Even more I like the bite of the cocoa nibs.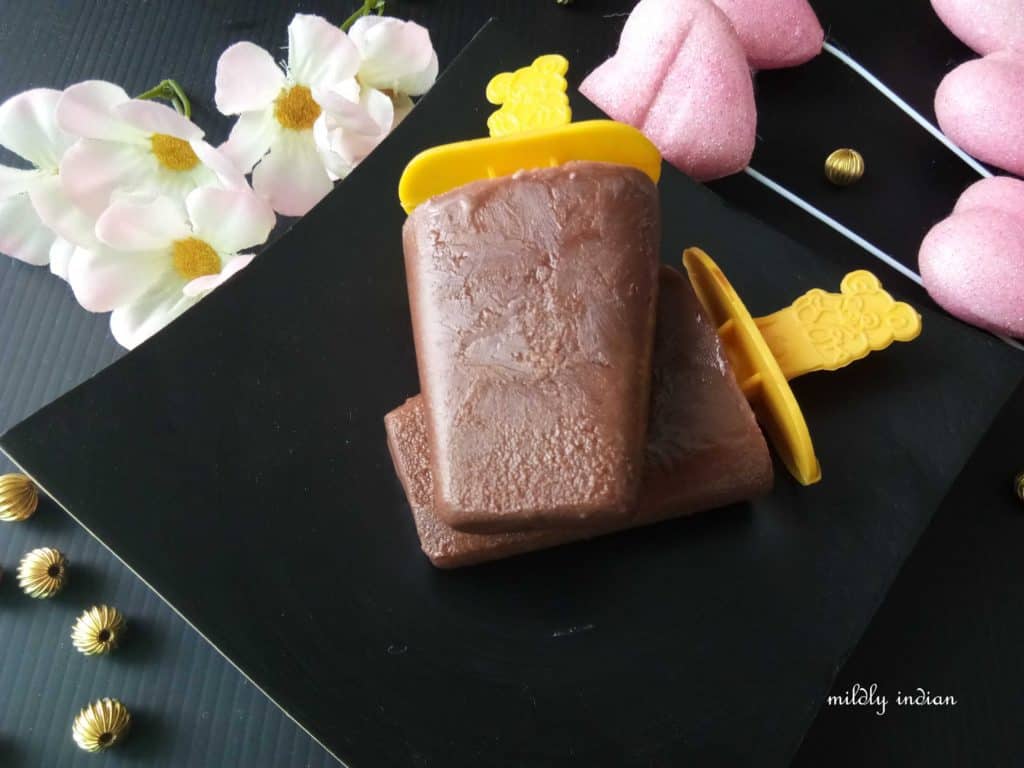 Why does chocolate make you feel good?
If you have to answer this in one sentence I would say.. The three hundred odd chemicals in it work magic to release happy chemical in our brain.
The phenylethylamine or the magic potion (love drug) being one of them. Then, the fats that cause dopamine release really giving a sense of well being. With additional endorphins to promote lowering if pain and stress.. I don't think you need more.
Let's get on with the recipe now…
Do not miss to catch us at our fb  page
or instagram for latest updates
Don't miss to pin  or stumble  upon your favorite  recipes
 and before you scroll down…Check out more chocolate recipes in the links below….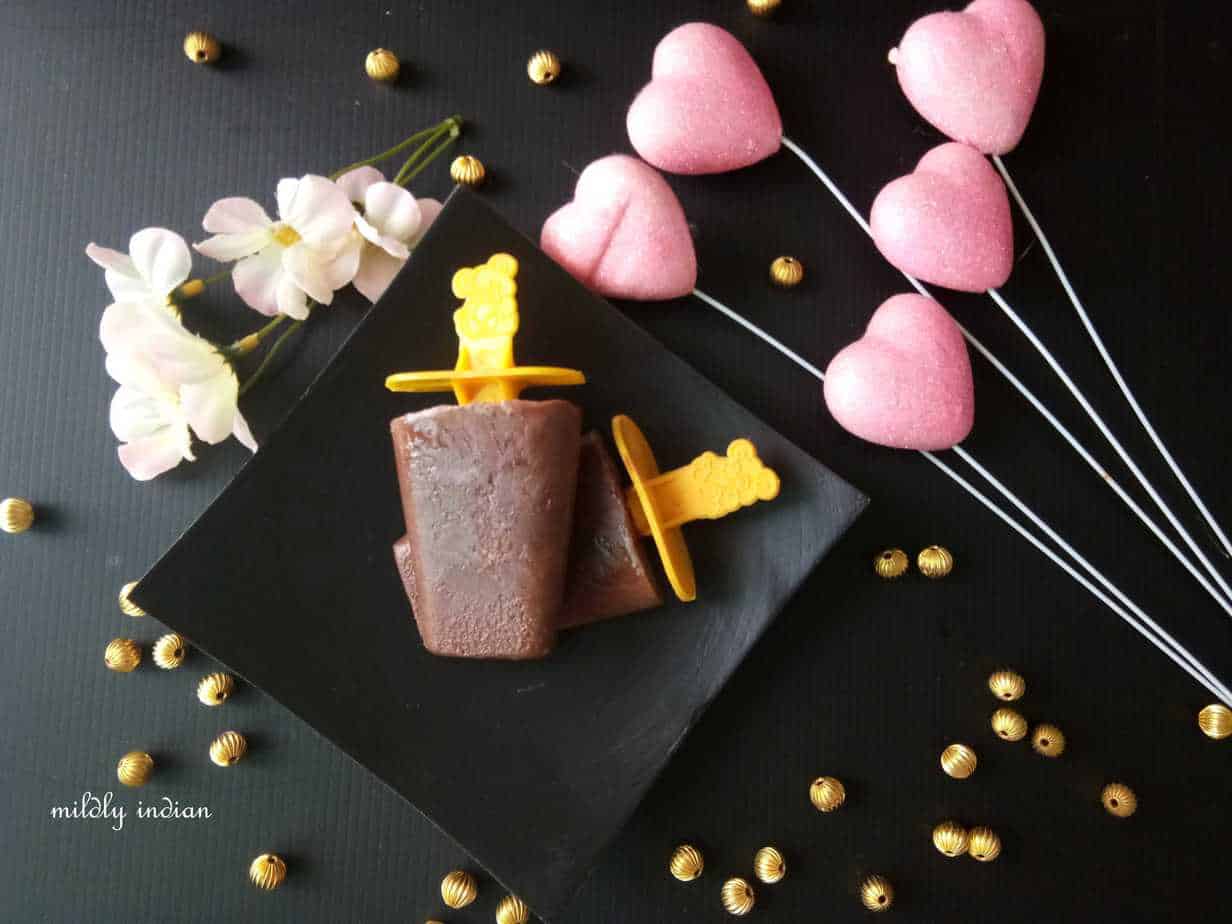 Best ever Dark Chocolate Paddle pops
"sinlessly "delightful to share
Ingredients
4

Dates

Pitted

1

small

avocado

1/4

cup

cocoa powder

unsweetened

2

cups

full cream milk / plant based milks

a pinch of salt
Instructions
Clean and remove the seeds from the dates if seeds are not removed prior.

Cut the avocado in half and scoop out the flesh

Into the blender add the avocado, cocoa powder, dates, the milk of choice and a pinch of salt.

Blend till smooth

Pour this blend into the clean popsicle moulds. Cover the moulds and set in the freezer for 3 hours

To unmold after freezing, gently run the outside of mould in lukewarm water.

Enjoy and absolutely healthy choco treat.
Notes
Among the plant milks i have tried,  I really like almond milk or cashew milk. If you have none of this at home, add in a handful of almonds or cashews before blending and add two cups of water into the blender along with the other ingredients. the result is similar but not so creamy.
Nutrition
Calories:
73
kcal
Carbohydrates:
11
g
Protein:
4
g
Fat:
4
g
Saturated Fat:
2
g
Polyunsaturated Fat:
0.2
g
Monounsaturated Fat:
1
g
Cholesterol:
6
mg
Sodium:
26
mg
Potassium:
251
mg
Fiber:
3
g
Sugar:
6
g