Very often Indian food is mistaken for the spicy, burning hot, outlandishly creamy curries that often get popularised. In fact, simple stews are what most home-based cooking relies on. No doubt we do create some wonderfully creamy textures, but honestly, they are occasional and not every day. For an everyday vegetarian recipe, we rely on soup style, bean-based curries and pair it with a cooked grain and very often with a side salad. This makes it a whole combo of filling and healthy recipes.
If you are reading this blog and not finding the abundance of restaurant-style recipes it's just because it doesn't happen often in my kitchen. For me, the simple logic is to leave the restaurant-style ones to the restaurant that does the justice to that dish better than a whole lot of cooking at home. Don't give up on me yet!!  if you are looking for a restaurant-style recipe. TryMadras curry, dal tadka or dhaba style rajma Masala.
Coming back to home cooking
The stews and soups which form a great part of the winter recipes are not just comforting, they are nourishing… Move over, don't get that winter weight on as it is perfectly ridiculous trying to put your body through a huge summer effort.  My plan is to eat wisely all through the year and have that occasional indulgence in the restaurant.
With the current global pandemic scene, it is indeed best to spend time with loved ones at home and create the ease of being comfortable. it is definitely useful to keep smaller close knits groups than help to spread the dreadfulness.  Simple curries and stew recipes like these help to create the nourishment needed.
Ingredients in this rajma curry recipe
Kidney beans are one of the most loved beans all around the world. Whether you get the deep red ones, the Kashmiri style smaller ones or the cranberry kidney beans they all work perfectly in this recipe. The nutritive value and Vitamin content in the beans are the ones they are valued for. These are also one of the soft cooking vegan protein sources. 
Melon-I loves how melons add the softness and water content to a  home-style curry. As watermelons are currently precious and vegetables and fresh produce an even more calculated buy. At this time it is important to look at the whole usable part of the produce. The watermelon rind does the perfect job replacing the melon during these lockdown times.  The other options that you can use based on availability are bottle gourd, ridge gourd, winter melon or hairy melon.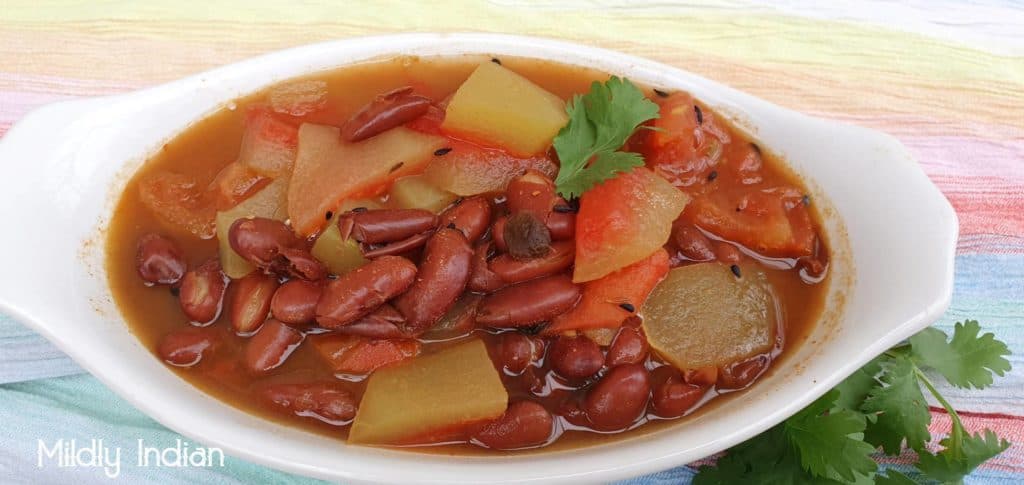 Recipe details with step by step instructions is in this recipe card. You can pin this recipe for your use from here itself. When you make this simple recipe don't forget to share your comment and rating.
Kidney bean and melon curry
Tangy and light watermelon rind stew for dinner.
Ingredients
For soaking
1

cup

kidney

2-3

cups

drinking water
to pressure cook
1

tsp

oil

1/2

tsp

Nigella seeds

1

tsp

cumin seeds

1

tsp

fennel seed

1/2

tsp

fresh ginger root

(grated)

Green chillies

(optional)

2

cloves

garlic

(crushed)

1

tsp

bisibelebath masala

(https://mildlyindian.com/bisibelebath-masala/ )

1/2

tsp

turmeric powder

( or turmeric root grated)

salt to taste

1

lime sized

tamarind

( to extract the pulp)

1

large

Tomato

2-3

cups

watermelon

( perferable use the rind part)

2

cups

drinking water
garnish
1

tsp

mixed herbs

( chopped)
Instructions
Wash and soak the dry kidney beans in about 2-3 cups of water for about 6 hours.

Peel the thick skin of the watermelon and dice them.

Prepare the ginger, garlic and turmeric.

Drain the soaked kidney bean and wash them and set aside

Dice the tomato and set aside.

Soak the tamarind in warm water and extract the pulp

Into the pressure cooker add the nigella seeds, cumin and fennel with 1 tsp of oil ( I have used olive oil) and saute for a minute till the seeds sizzle

Add the ginger, garlic and turmeric root ( if using, if not add the turmeric powder in the next step) and saute for a few seconds

Add the soaked kidney bean, melon, tomato, tamarind, salt, bisibelebath masala and mix well.

Add 2 cups of water and pressure cook for about 5 whistles

Allow pressure to release naturally and then open the lid

Gently mash in a bit of the beans to give a thicker consistency to the curry.

Stir in the chopped herbs and the curry is ready to serve after a taste test,
Notes
For an instant pot version, 
Pressure cook the mix for 30 minutes under high and naturally release the pressure.
If using canned kidney bean, 
If using canned kidney bean, just steam the ingredients as the beans are already cooked. Check if any salt is necessary as the can will have added salt.
Kidney bean recipes
Here are a couple more recipes with Kidney beans
Rajma podi sundal- kidney beans salad
Recipes with watermelon rind
Have some more watermelon rind? Try these easy recipes.
Varuth aracha kootu curry with watermelon rind.
Stay connected
We hope you will love to share with us your thoughts about recipes and posts. Please take a moment to visit our youtube channel. Leaving you with our Facebook page  (click here) and Instagram (click here ) so you can take a peek. Don't forget to follow us as we update these to the best of our efforts. Subscribe, share, like and evermore come back to see our posts as we update weekly. 
Pin this recipe for later use by clicking here.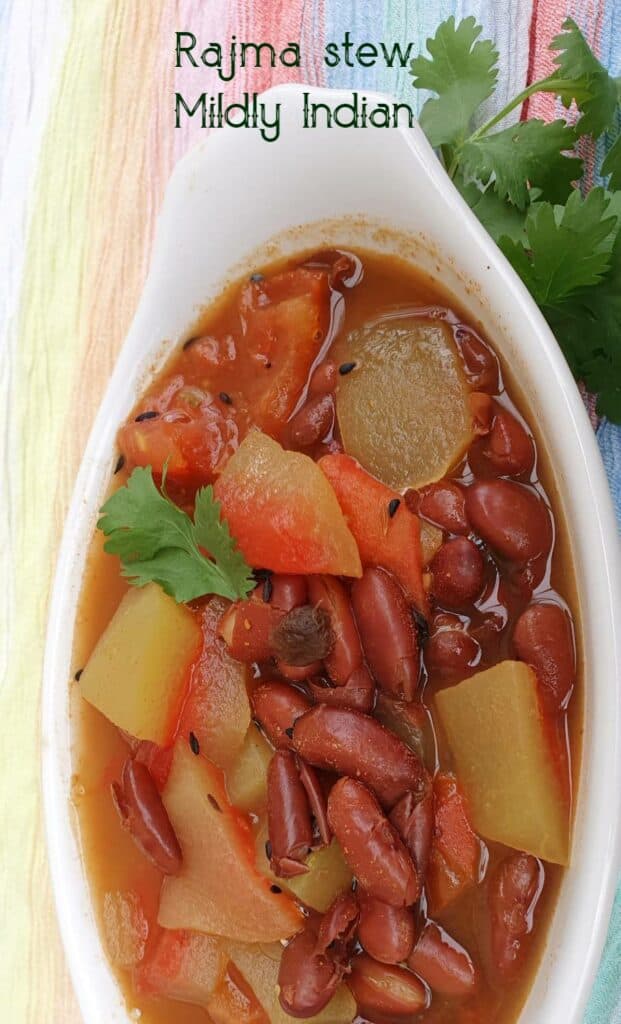 Stay safe and see you in the next post.