Grab that soup spoon.
There could be a couple of reasons I love soups on weeknights. I feel really comfortable hugging that soup bowl and knowing my day is done well. Plus I like my tummy full to go to sleep, that doesn't mean I need to tuck in tons of calories along with it. So, butternut squash soup with teff works perfectly.
Using super grains to add density to the soup.
While making soup as the main dish you need a nourishing balance to flavour and nutrition. During soup nights, we make hearty, low-fat soups that keep us full. As we like to add a bit of grain or seeds to different soups this gives the soup a bit more thickness and fills you up better like we added barley to soup e Jo, red rice to the vegetable soup or finger millets to the greens soup. Today we are cooking with teff in this butternut squash soup.
Let's figure out teff.
Teff is a super small grain is a feature of Ethiopian cuisine. Don't go by its size, teff is naturally gluten-free and valued for a lot of micronutrient levels ( source ) is not only popularised by nutritional gurus, but also by agriculturists. This is considered a low-risk crop similar to millets as they can grow well in low rainfall regions too. Cultivated for centuries teff falls under the ancient grains group of cereals. Teff grains come in a variety of colours, lighter to deep reds, so look for the tiny grains than the colour.
Cooking with teff
If you can cook rice, you can easily tackle cooking with teff. Here is my tried and tested method to cook whole grain teff.
Toasting the grains – on a low heat toasting the tiny teff grains till you hear the faint pop makes it much easier for the grain to cook. It doesn't take long on medium heat,  but don't overlook away from it as it burns fast (too tiny).
Cooking teff grains –Being such tiny grains, whole grain teff cooks into a smooth polenta like porridge. Real smooth with a tasty bite to it. If making porridge you can cook it with 1.5 times water or cooking liquid. Since this is a soup, I have added two times the liquid to cook it. Teff tends to absorb more liquid as it cools so add more liquid to keep the soup consistency of you are making it ahead.
Other ways of cooking with teff.
Teff grains are ground and used as flour in gluten-free baking. The bread made with teff looks lovely with it. The most famous of the teff flour recipes is Injera bread from Ethiopian cuisine.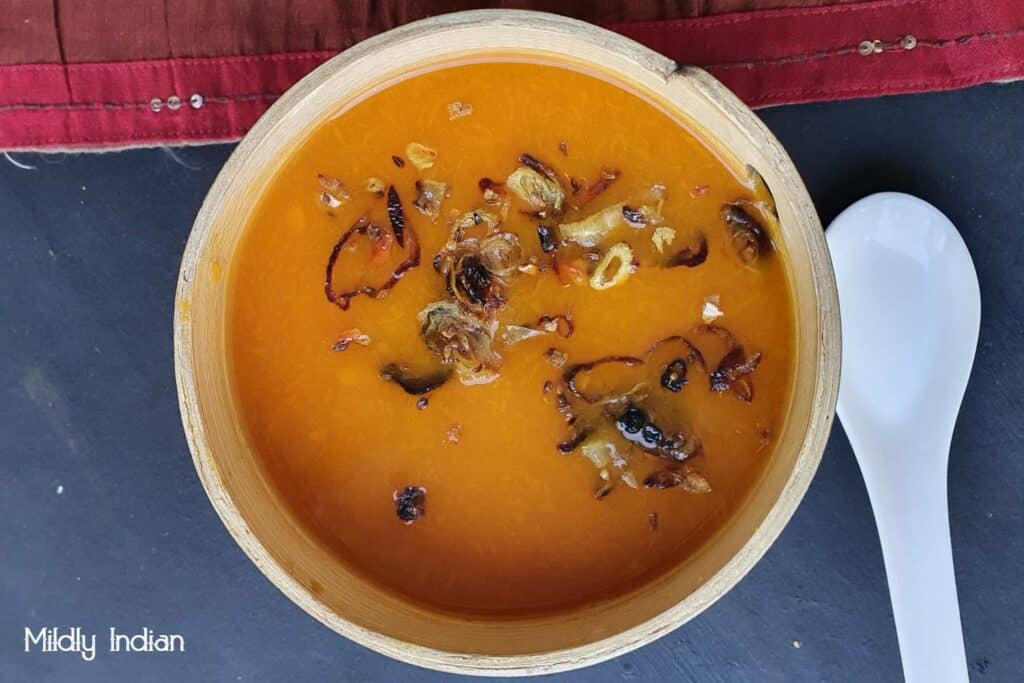 Let's get on with the butternut squash and teff soup.
Butternut squash soup with teff is a wonderful recipe that works as a main course. With just some crispy onions on top, the soup is eye-pleasing and delicious. The soup pairs perfectly with crisp cheese straws and can be served as soup shots for an appetizer. Here is the recipe with detailed step by step instructions.
Butternut squash soup with teff.
A soothing soup made with teff and butternut squash soup is a gluten free and soothing option.
Equipment
Roasting tray

Cutting board

Knife

deep pot
Ingredients
Roasting the butternut squash
1

small

butternut squash

1

tablespoon

olive oil

salt to taste
For making the soup.
1

tsp

butter

2

cloves

garlic

1

medium

leeks

use the leek greens as well.

4

cups

vegetable stock

2

tbsp

teff
to serve
crushed black pepper

salt to taste
Instructions
Preheat the oven at 200 degrees

Wash and pat dry the butternut squash.

Slice off the ends and cut the squash lengthwise.

Scoop the seeds and insides and remove it.

Gently rub the olive oil on it and place it on the roasting tray.

Roast the squash for about 45 minutes.

Remove from the oven and allow it to cool.

Once cool, scoop the squash flesh and set it aside.

Wash and slice the leeks in thin circles.

Wash and set aside the teff grains.

Into a soup pot, add the butter and set it on medium heat.

Roast the sliced leek in the butter.

Once caramelised, remove 2 tablespoons of leeks from the pot and set it aside.

Add the washed teff into the pot and let it roast for a minute.

Now add the cooking liquid and let it come to a boil.

once the butternut squash has cooled, scoop off the insides and mash it gently.

As the teff cooks and softens, add the pureed roasted butternut squash.

Stir the soup well and let it continue to cook till it reaches a desired thickness.

Remove from heat and serve warm.

Sprinkle crushed pepper and adjust salt as needed.
If you were on the lookout for a grain-free pumpkin soup try this roasted pumpkin soup.
The pumpkin puree we have used in this soup is the same method that we used for roasting the pumpkin puree. If you are looking for another option to use some butternut squash puree, try this Pumpkin Quesidias.
Stay with us
We hope you will love to share with us your thoughts about or recipes and post. Take a moment to visit our youtube channel. Leaving you with our Facebook page  (click here) and Instagram (click here ) so you can take a peek. Don't forget to follow us as we update these to the best of our efforts. Subscribe, share, like and evermore come back
Stay safe and see you at the next post.