Since we are discussing kidney beans this week on the blog, here is a refreshing low-effort salad that made my lunch a couple of days back.
Kidney bean and varieties.
Phaseolus vulgaris was given the name kidney beans since they resemble the kidneys. This fairly larger-sized legume is common in cuisines across the globe. Regarded well for its nutritional quality and good levels of molybdenum (micronutrient), it is an affordable protein option for vegetarians. The bean comes in a few different varieties. The deep red short (Kashmir rajma), variegated, light reddish brown to almost white varieties are available. The cooking times and softness of the cooked beans vary slightly, but they are all nutritionally similar.
Putting the salad together
The kidney bean salad is an absolutely low-effort, zero-oil, vegan one. It was filling and kept me at work without a slump. Here are the ingredients and the variations you can easily toss together.
Kidney beans: as discussed above you can choose any variety of kidney beans to prepare this salad. Whether it is from a can or you are starting with dried beans is up to you. Follow the instructions to start with the dried beans as we have done in the rajma kebab recipe. Rinse the beans well, drain and they are ready to be used in this recipe. The cooking liquid that is drained off is perfect to thicken other curries or soups.
Arugula: the rocket leaves or arugula with a slight bitterness gives the leafy base for the salad. Since these leaves stay crisp and don't go limp easily I prefer them for lunch at work. Plus it is as quick as a rinse, drain, check and dump.
Cucumbers: Spring or summer salads are incomplete without cucumbers. They provide the water and crunch to the salad. Don't miss out on adding a cucumber here into the kidney bean salad.
Blueberry: that pop of sweetness and freshness from these plump blueberries takes the boringness of the salad out. If you don't have any, you can add another berry or half a chopped-up pear.
Dressing: This is by far the simplest salad dressing you can think of. Lemon juice, salt and pepper. That's it! If you like a bit more elaborate dressing, go for the creamy Tahini dressing we made with the pear radish salad. I will avoid putting yogurt or cream-based dressings as the nutrient absorption is better in this case with the lemon-based ones.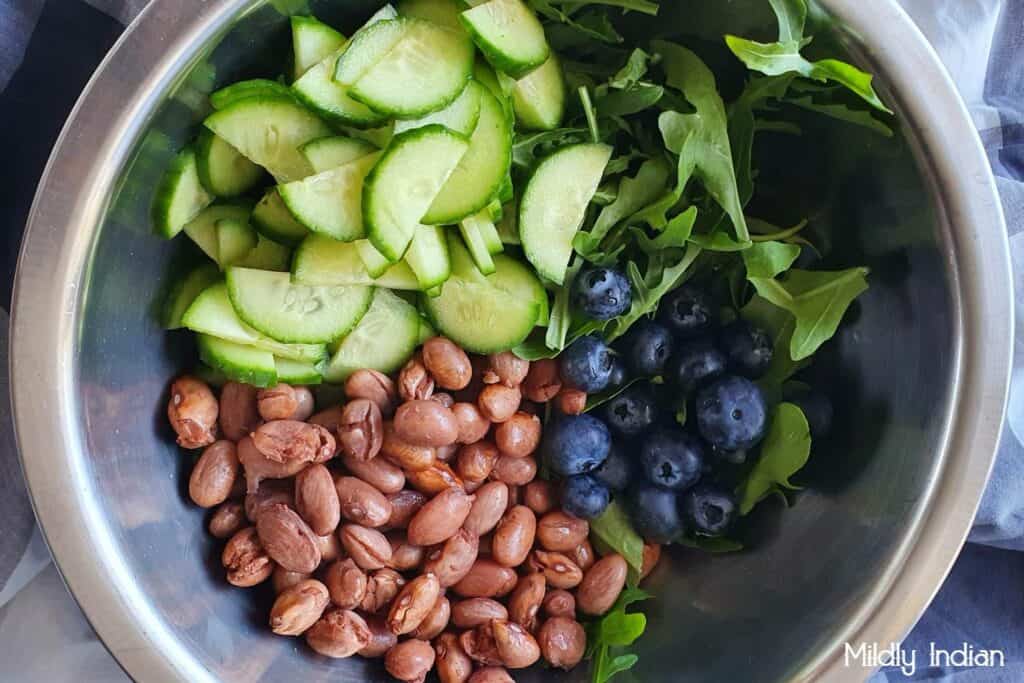 Meal prep for this salad
The salad ingredients are simply tossed together in a bowl along with the dressing. This is very much last minute. So, I would suggest prepping the ingredients.
Greens: Clean, wash, drain and set the greens ready. Layer a kitchen towel at the base of the box and one on top to keep the leaves fresh for a week in the refrigerator.
Beans: if you are starting from the dry beans. Keep them ready over the weekend. Do a bigger batch so you can are some rajma masala too. Remove some of the Cooke beans, drain well, wash and set them ready in an airtight box for up to a week in the refrigerator.
Cucumber:  I prefer chopping them on the day. Pre-chopped ones are not too bad, but not my liking.
Berries: Wash the berries with a vinegar water mix and pat dry on a kitchen towel. Place in a box in the refrigerator.
Lemon: there is always some frozen lemon juice in my freezer. It helps when I quickly put things together. The fresh one does taste wonderful.
To take for your lunch avoid adding salt as it makes the salad watery. carry the salt and pepper mix separately and mix in at lunch time. 
Blueberry, arugula,,Kidney bean salad
Equipment
mixing bowls and spoons.

Cutting board

Knife
Ingredients
1

cup

blueberry

1

medium

cucumber

chopped

1

cup

kidney beans

2

cups

Arugula

rrocket leaves
for the dressing
2

tbsp

Lemon juice

salt to taste

crushed black pepper

to taste
Instructions
Wash drain and check the arugula, set aside till needed.

Wash and drain the blueberries and add to the mixing bowl.

Drain and rinse the kidney beans and add to the mixing bowl.

Wash and chop the cucumber and add to the mixing bowl

Add the arugula, lemon juice, salt and pepper and toss the salad well.

The salad is now ready to be served.
Stay connected
Most salads are fairly easy to put together. It adds variety to your meals and keeps them low in calories with loads of fibre. Enjoy this blueberry kidney bean salad and let us know what you enjoyed the most about it. Subscribe to our content as we attempt to try new recipes. Let us bring this content directly to you. Sign up on the never miss an update section on the right side of your laptop screen. Save this salad if you are moving house as a light lunch idea too.