A nutritious wholesome starter or a filling lunch wrap the rajma kebabs are one of the best make-ahead vegan recipes. Keep these soft succulent kidney bean patties to help you through the days of rush.
The two main beans that you will encounter in the Indian pantry are chickpeas and kidney beans. These two are always on top of that shopping list and are fairly easy to cook with once you have figured out the art of starting from the dried bean. They are a good source of nutrients and can easily be added to curries, stir-fries,  dips etc. One of the recipes I find easiest to meal prep is kebabs. They make the most filling lunches or are fantastic when you are rushing from work to get that dinner on the plate. Stuffed leftovers are wowed at breakfast. So why miss it when you get to make so many meals out of the simplest ingredient? Today, I am sharing one of my best meal prep ideas with you, the Rajma kebabs.
Ingredients for kidney bean patties
I can guarantee you this is by far the easiest kebab recipe you would have put together.
Rajma- So this is the main bit as you would have guessed. If you are starting with the dried kidney beans, soak them overnight, drain change the water and pressure cook till soft. Let this cooldown. Drain the beans and set them aside till you are ready to make the kebabs. If using canned, simply drain wash and its ready to be added into the making kebab.
Onion- finely chopped red onion adds a lovely softness and flavour to the kebabs. Sauteeing it actually brings out a sweetness in them.
Spinach- Just like most mums, I am hiding the greens wherever possible. Kebabs are perfect for this as no one questions a bit of green in them, in fact, no one sees them, coz they are way too tasty. Saute along with the onions to add the softness before shaping the kebabs. You can use English spinach, beetroot greens, mustard greens or bok choy as the green component.
Spices and flavor- The rajma kebabs I make are often gently spiced as the dips or illusions in the wrap are good to flavour them. Apart from salt and black pepper, I have used a basic garam masala powder to add an extra bit of flavour. 
Semolina – the crusty exterior of this kebab is perfected with semolina. Since the bean kebab it is soft the covering helps to hold it together. to use semolina it is required to roast this well before rolling the kebab in it.
Shaping the rajma kebab
The rajma kebabs can be shaped based on how you are planning to use them. In classic Indian cuisine, they are shaped into small discs. Make them thicker and round if you plan to use them to swap your burger meat. If you plan to make wraps out of them, try the shape here, kind of sausage-shaped ones that sit bettering the wrap.
Cooking methods for the rajma kebab
Stovetop:  the classic cooking method is to smear oil over a frying pan and roast the kebab. This gives a crispy exterior and soft centre with a golden colour.
Grill: comes summer,  the grill is out and it is best to get those charred grill marks on the rajma kebabs. Brush the grill with oil and place the prepared kebabs. Turn only when they release easily.
Camp-fire: I love to have something filling after a hike. Use canned beans after draining to make the patty and then onto the frying pan with some oil. The campfire cooks it to perfection without much time. Bread and ketchup or mustard would do the rest. This is also one of the best vegan swaps for sausage rolls.
Oven:  if making a few batches, oven baking is fantastic. Brush the kidney bean patties with a bit of oil. Now place them on a roasting tray or airfryer basket (my favourite hack). Into the oven,180 preheated for 10 minutes. Flip over another 5 minutes and you are all set. If it is a frozen batch give it an overall 20 minutes in the oven.
Airfryer: place the kebabs a few at a time with spacing in your airfryer basket. 200 dredges preheated and set for 20 minutes. Flip over in-between and brush with oil to get that crisp exterior.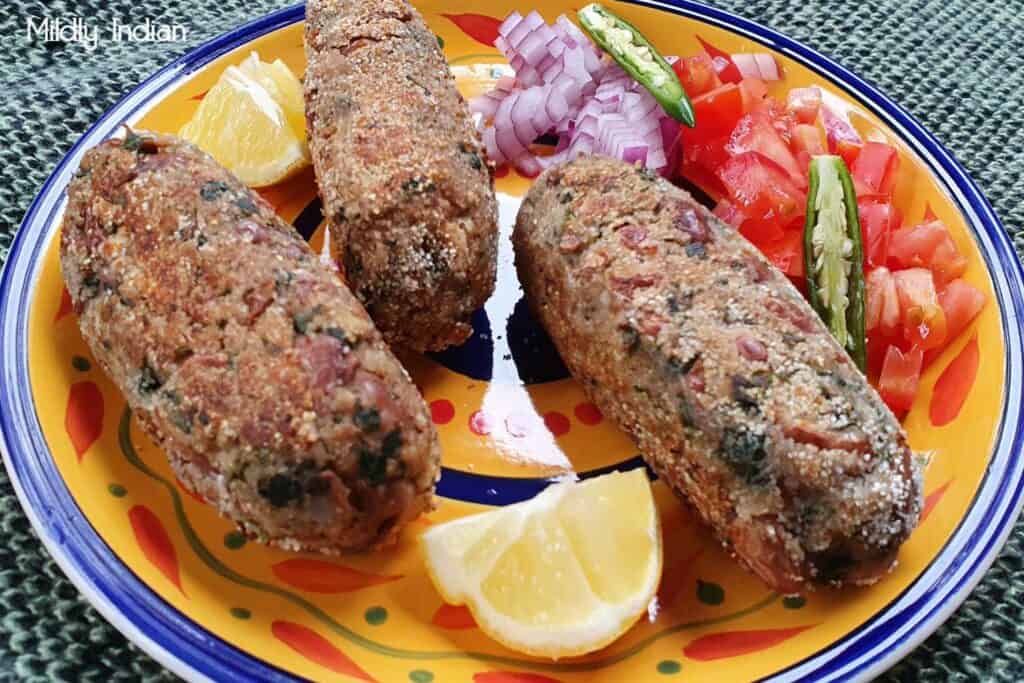 Rajma Kebab
Ingredients
1/2

small

red onion

1/2

cup

Spinach

chopped

1.5

cups

kidney beans

cooked and drained ( rajma)

salt to taste

1/2

tsp

crushed black pepper

1/2

tsp

garam masala powder

2

tbsp

Semolina

2

tbsp

cooking oil
Instructions
Into the frying pan add a tsp of oil and add the chopped onions to be sauteed.

Once they became translucent, add the spinach and saute this as well.

Add the cooked kidney beans and mix well.

Add the salt, pepper and garam masala and saute for a couple of minutes.

Remove from heat and let this mix cool down.

After about 20 minutes when the mix is cool enough to be held, gently mash the mix so it combines well.

Shape this into logs or rounds.

Spread the roasted semolina on a plate and roll the prepared patties in this.

Them with oil and cook in a mode of your preference ( check the options above).
Meal prep and storage
This is the part that I love the most. These kidney bean patties are made once a month in my kitchen. They stay so well when frozen.
In the refrigerator: if you are planning the patties just for the week,  prepare them and layer them in a safe fridge box with layers of parchment paper to separate them. When you are ready to cook them directly place them on the pan to cook.
In the freezer: since this is a bit more long-term, I like to wrap each burger individually and then slip it into a freezer-safe box. To cook these, you need to defrost and then cook them up.
Using the kebabs for lunch boxes and quick meals
Now, this is where the filling meal part comes up. The kebabs are typically served as appetizers with a green chutney dip. The kebabs with a leafy green salad make a light and easy meal. Our favourite use of this kebab recipe is to roll it in a wrap (hence the shape). Mint yogurt dressing, pickled cabbages, curried avocado and a bit of salad on a wholemeal wrap. Grill it if you feel like or just press it down. This is the wrap I prefer on crazy heavy days as lunch or dinner.
Share some love
I hope you like the recipe for kidney bean patties and the many ways to use each recipe to create meal variations. When you do try them don't forget to tag us @mildlyindian. Please subscribe to receive new updates as and when we try them too.
Collaboration
The Rajma kebabs recipe is submitted to the A to z recipes for season 2 of ingredients in Hindi. Since these are made with rajma, they are perfect for this month s submission.