The super speedy, nutritious, spinach side dish that takes less than 15 minutes to make is a perfect side for any meal. Check out this easy vegan, gluten-free, nut-free recipe to pair with all your mains. 
While I am on a job break there was a list of things that I kept pending that I really wanted to get through. These were just some places that were a bit far that I hesitate to go to on regular weeks. One such place was Costco. It is my sis in law who really dies this shopping for me. So this was a bonding day for us too. While in Costco, I couldn't resist grabbing a huge box of baby spinach that looked fresh-picked.
Now if you also pick a kilo of baby spinach and realise after coming back that you don't really have fridge space, what would you do? The first thing that I could think of was sauteed spinach. It is legendary knowledge that when you try to saute spinach the volume just shrinks drastically. So that would take care of this greed that I showed, isn't it?
Ingredients for sauteed spinach
Spinach: the leaves that are harvested when the spinach plant is young are much softer and smaller. This is baby spinach. Since it is a bit sweeter than regular spinach, it hardly needs a string flavour added to it.
Garlic: as we are looking to add a bit more garlic to our diet, crushed garlic to flavour the oil is a good idea.
Oil: a little bit of oil is just to coat the pan with flavours for the garlic. You can use olive, coconut, avocado, grapeseed or rice bran oil. You can even use ghee if not vegan.
Lemon: lemon brightens the flavour and better iron absorbability. So why not. You can use lime juice or a bit of grapefruit juice instead.
Salt: it is a savoury dish so salt is needed.
Let's make some spinach sauteed
This spinach recipe is so basic, you can do it with minimal effort. Yet there seem some things that will keep you from getting mushy cooked spinach.
Prep the spinach: I always wash and pick through the spinach packs as over the years I have seen hidden snails in them. Once picked, run them through a salad spinner or spread them out on a kitchen towel. This actually reduces the amount of water that gets added through wet spinach.
Flavour the oil: the garlic flavour in the oil is really lovely through the spinach. You can either use the oil you saved while making the garlic pickle or stirfry some garlic in the oil.
Sauteeing the spinach: spinach leaves a lot of water as soon as it touches the heat, so it is important to add it in smaller batches, so they don't just steam themselves. Another trick I have learned over the years is to sprinkle the salt after you see the water neatly evaporate. Let me emphasise, sprinkle the sat do not just put. This is because, since spinach sticks the salt gets clumped.
Finish off with lemon: the absorbability of the nutrients is far better with lemon along with spinach. It also brightens up the flavour of otherwise bland spinach. Another reason to add lemon is to keep the green brightness.
Variations
Since sauteed spinach is like a blank canvas, you can always add something more to get this recipe to perfection.
Veggie additions: Very often I have seen the spinach sauteed with some mushrooms or tomatoes. They are delicious in their own way.
Cheese: mozzarella topped spinach is a winner in our house. You could reduce the salt and just do feta too.
Spice: kick the heat up a notch with chilli flakes or stir in some gochujang.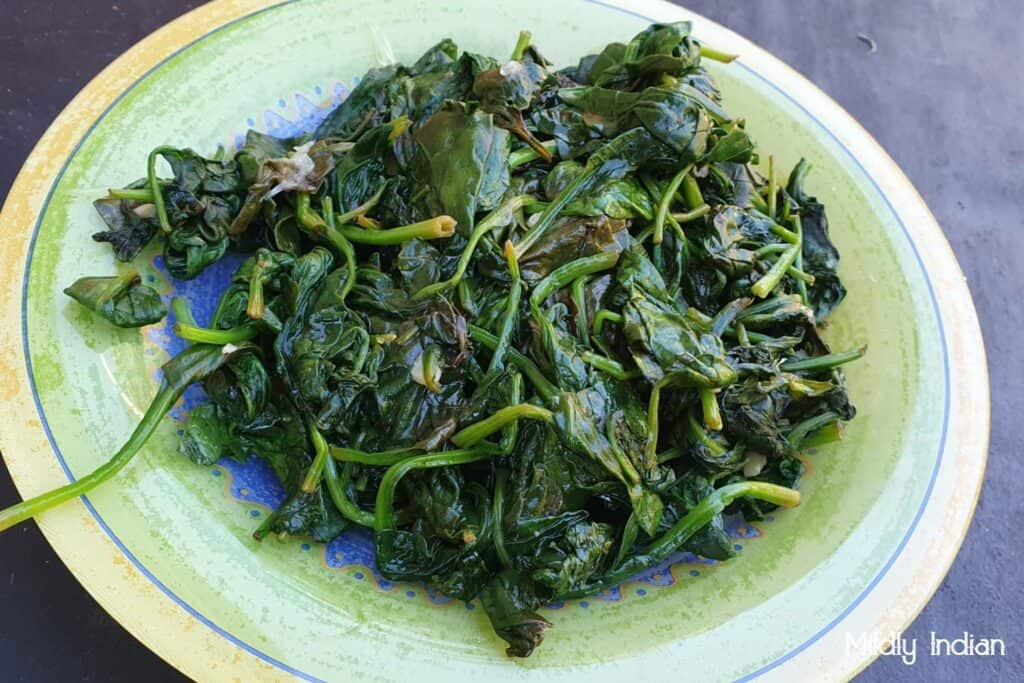 Sauteed spinach
The super speedy, nutritious, spinach side dish that takes less than 15 minutes to make is a perfect side for any meal. Check out this easy vegan, gluten-free, nut-free recipe to pair with all your mains.
Ingredients
2

bunches

Spinach

1

tbsp

olive oil

2-3

cloves

garlic

salt to taste
Instructions
Into the pan add the olive oil.

Crush or chop the garlic cloves and saute them in the oil.

Add the spinach a little at a time.

Saute as you add a little bit more.

Sprinkle the salt as the spinach wilts.

Mix well and saute a little bit more.

Once they are wilted, still green remove onto a plate.

The spinach is now ready to serve.
Serving suggestions
Spinach sauteed is really lovely to have with a lot of mains from different cuisines. You can serve this with pan-roasted seitan and some roasted potatoes to make a meal. Add it up on the side of pasta, instead of a salad. Prepare a wrap with vegan mince and spinach for a delightful lunch or that back in the car dinner.
More spinach recipes
There is no doubt that I get greedy with greens. So here are a few for you to try with the spinach.
Keerai molagutal
Mango spinach soda
Spinach phulka
Cheera thoran
Palak paneer
Spinach and dhal
Stay connected
Though sauteed spinach is a basic recipe, it is one that brings a lot of comfort. In addition to being healthy, this recipe is a staple beginner' recipe. Let us know when you make this basic recipe and rate the recipe when you try.
Stay connected with us by subscribing or by Instagram or Facebook.
Stay safe and see you in the next post.