Pumpkin, Cucurbita pepo, is one vegetable you probably will encounter across the globe. There is no way you escape this vegetable. Among that pumpkin puree is the most used form of this vegetable. There are a lot of lovely recipes that you can make with pumpkin puree. A zero additive, pumpkin puree is actually a very simple recipe. Once you have it, you can set about your culinary journey with the puree.
Looking for pumpkin puree
Canned pumpkin puree is used in a lot of recipes. Still are not popular in Australian supermarkets. I can never seem to find a can. Nevertheless, it is one of the easiest things you can avoid buying. Carry home the large pumpkin and let's get to work. This will not only save you a few dollars but a lot of additive and preservatives when you are making your recipes.
Choosing the pumpkin
The important thing about choosing pumpkin is to make sure it has no cuts and huge blemishes. Press around the stalk and if it feels firm that is a good sign for a pumpkin.
I have used a Kent pumpkin weighing about 4 kilos approximately to prepare the puree. For about a cup of puree you need a kilo of pumpkin. This assures you a thick puree.
You can make the puree with kabocha pumpkin or butternut to make the puree as well.
Cleaning the pumpkin
Once you wash and cut the pumpkin into large pieces and scoop out the seeds from inside. Slice into wedges. Some pumpkins may have mud stuck on them so make sure you wash the exterior thoroughly.
Making the pumpkin puree
There are two methods you can use to make the puree.
Roasting the pumpkin- The roasted pumpkin puree is a sweet thick soft mix of the pumpkin. The slightly caramelised pumpkin has a denser texture. This is certainly a great one to make muffins, pies and lattes.
Boiling the pumpkin – This puree is certainly a quicker process. The puree is a bit thinner with a dominant gourd flavour to it. The two tips here will be to remove the skin before boiling sbd to drain off as much water as possible after cooking to ensure thick and smooth puree. This puree is more suited for simple soups, curries or knead bread. The detailed process is in the recipe card and below it are numerous suggestions to use this puree.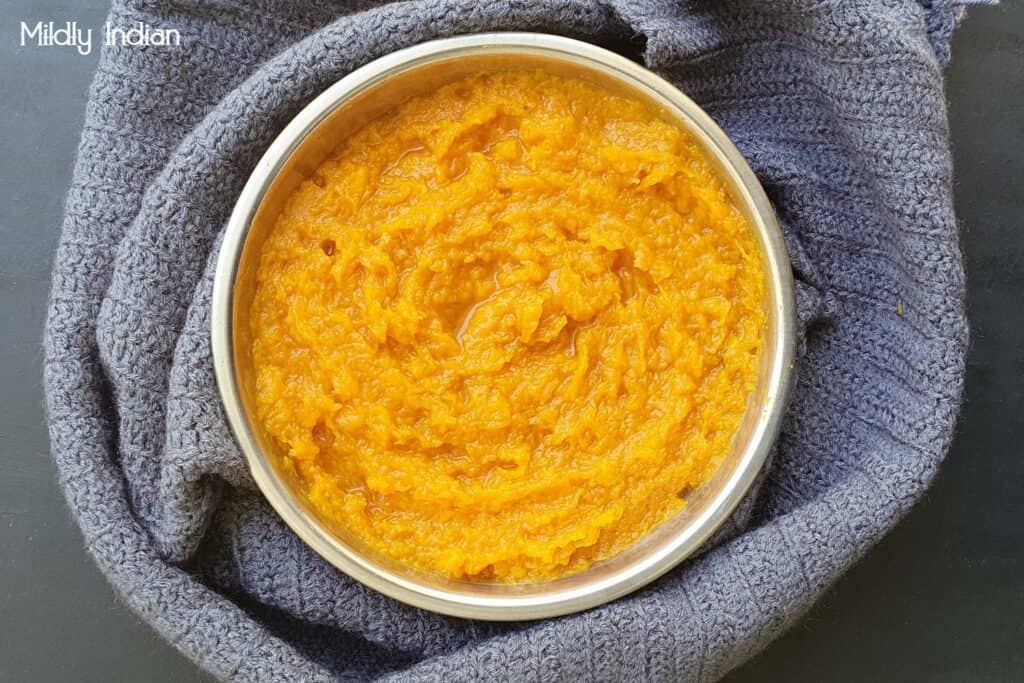 Pumpkin puree.
From scartch essential that you need for your pumpkin needs.
Equipment
baking trays

mixing bowls and spoons.
Ingredients
For roasted pumpkin puree
2

kilo

pumpkin

1

tbsp

olive oil

( neutral flavour)
For boiled pumpkin puree
2

kilo

pumpkin

2

litre

drinking water
Instructions
For roast pumpkin puree.
Preheat the oven to 180 degrees.

Wash and cut the pumpkin. Cut into wedges and scoop out the seeds and insides.

Place the wedges on a baking tray and brush with oil.

Place the pumpkin in the oven and roast for 30 minutes ( adjust according to your oven settings)

Remove the baking trays and let it rest.

When cooled, remove the skin and mash the pumpkin well.

Blend the pumpkin for a smooth puree and the puree is ready.

Serve in airtight container in the refrigerator.
For boiled pumpkin puree.
Wash and peel the pumpkin.

Cut the pumpkin into cubes about an inch.

place them in a cooking pot on medium heat and cover with water.

Once the pumpkin is soft drain the pieces and puree in the food processor.

The puree is ready to use.

Check the storing instruction for more details.
Preserving the pumpkin puree
The pumpkin puree stays good for 3 to 5 days in the refrigerator. Most of the puree that I make I freeze in small snack-sized freezer-friendly bags. This saves me a lot of time. Thaw only what you need.
Recipes that use pumpkin puree
Soup-You can use the pumpkin puree to make a lovely velvety soup, Used the roasted puree to get a thick soup – Roasted pumpkin soup
Indian curry-Pumpkin puree works wonderfully as a thicker to most Indian curries or sauce bases. You can add 2 cups of puree to 1/2 cup of buna masala to make smooth pumpkin gravy.
Flatbread-Use the pumpkin puree to knead bread or flatbreads. The flavour is spot on.

Dessert-The roasted pumpkin puree mixed with jaggery, stevia or sugar and topped with coconut makes a delicious quick dessert.

Pumpkin mash – roast a couple of cloves of garlic and mash them well. Add a cup pumpkin puree to the mixing bowl with garlic and 1/4 cup cream( or coconut cream for vegan option). Mix this and mash well. To this add crispy roasted sage, salt and crushed black pepper to taste. The pumpkin mash is ready and better tasting than mashed potatoes. 

Latte – Make a cafe style latte during Autumn with this soft pumpkin puree stirred in. Here is the recipe – Cafe style pumpkin latte.
Popsicles – Layer this pumpkin puree with soaked chia seeds to make a summer essential popsicle – Try this recipe.
Share with us
I hope you like the idea of not having to clean the pumpkin every day. So this pumpkin puree comes in handy for you. Save this two in one recipe card and share the idea with your friends and family.
Do tag us #mildlyindian when you make this recipe and leave your thoughts in the discussion below. We love to hear about your experience of making this recipe. Don't forget to share and subscribe to this blog.
We are working on getting our youtube channel with more recipes and learning experiences. Kindly encourage us by subscribing, liking and sharing the videos as well.
Stay safe and keep in touch.