I was at the very end of my blogging wits towards the end of last year. The influx of ideas did not work with the torrent of workload. Overall, it started to pile up when my health started getting in the way and at that point, I decided to take a short break and reevaluate perspectives. The re-evaluation was predominantly towards what makes us happy. As we were going through this journey, one of the foremost thoughts was…
Why do we bloggers blog?
We share because of the passion in the little niches we carve in the food world and not so much about the likes. We collaborate, communicate and celebrate each other as individuals who stand up to put forth a bit of creativity. Many of us are not blogging because we are bored… We, blog because it motivates us. I am sure many bloggers will nod their heads too as they read this. At this point, let me break that huge myth that it is a million-dollar lottery. It is hard work, learning evolving technological advances day by day, researching and sharing, timeline upkeep, the search of bettering oneself and overall just seeing someone smile, when they make the recipe; a tag when they post a travel destination they loved to share; that one comment that we get from you all…makes it worthwhile. Just at that point, I received a beautiful comment on the post-  Basale Gassi
So back to the comment,
 It was a simple honest review that she loved the recipe and I promised to add some more of the ones using the same ingredient Malabar spinach. So here we are with another one.
The addition of greens to protein-rich beans is so common in Indian cuisine. Sooka Kala channa, ( spicy chickpea) is a much-loved recipe during Durga puja ( Navarathri). All I did was pep it up the gentle news of spinach. This no onion no garlic preparation goes best with rotis as a side with a thin khadi. Yummy. It can be a perfect warm chickpea salad or an evening snack as well. This is the beauty of simple home cooking. No frills, nourishing and just what good food is all about… wholesomeness. Here is another one with chickpeas- a salad.
As a humble request, do let us know if you try this recipe and your own tips for the same. Catch up with us on Instagram or FB and don't be shy, drop in a Hi!!
Surely we will love it. Signing off 2019 year and see you more regularly in 2020 new year with renewed excitement.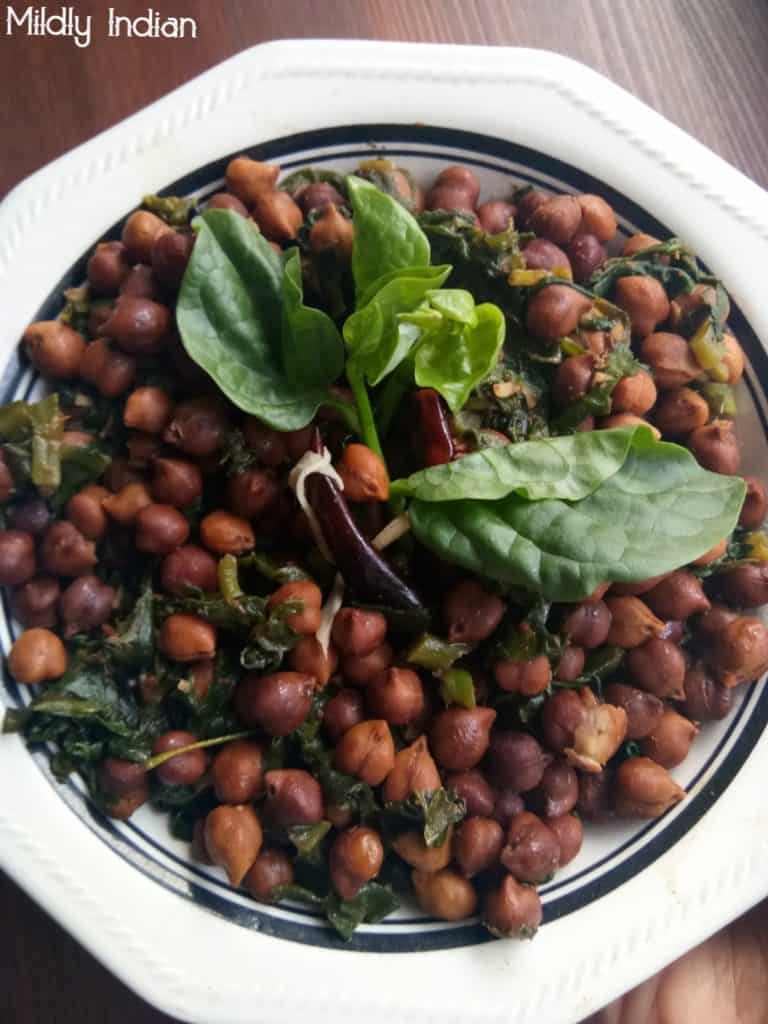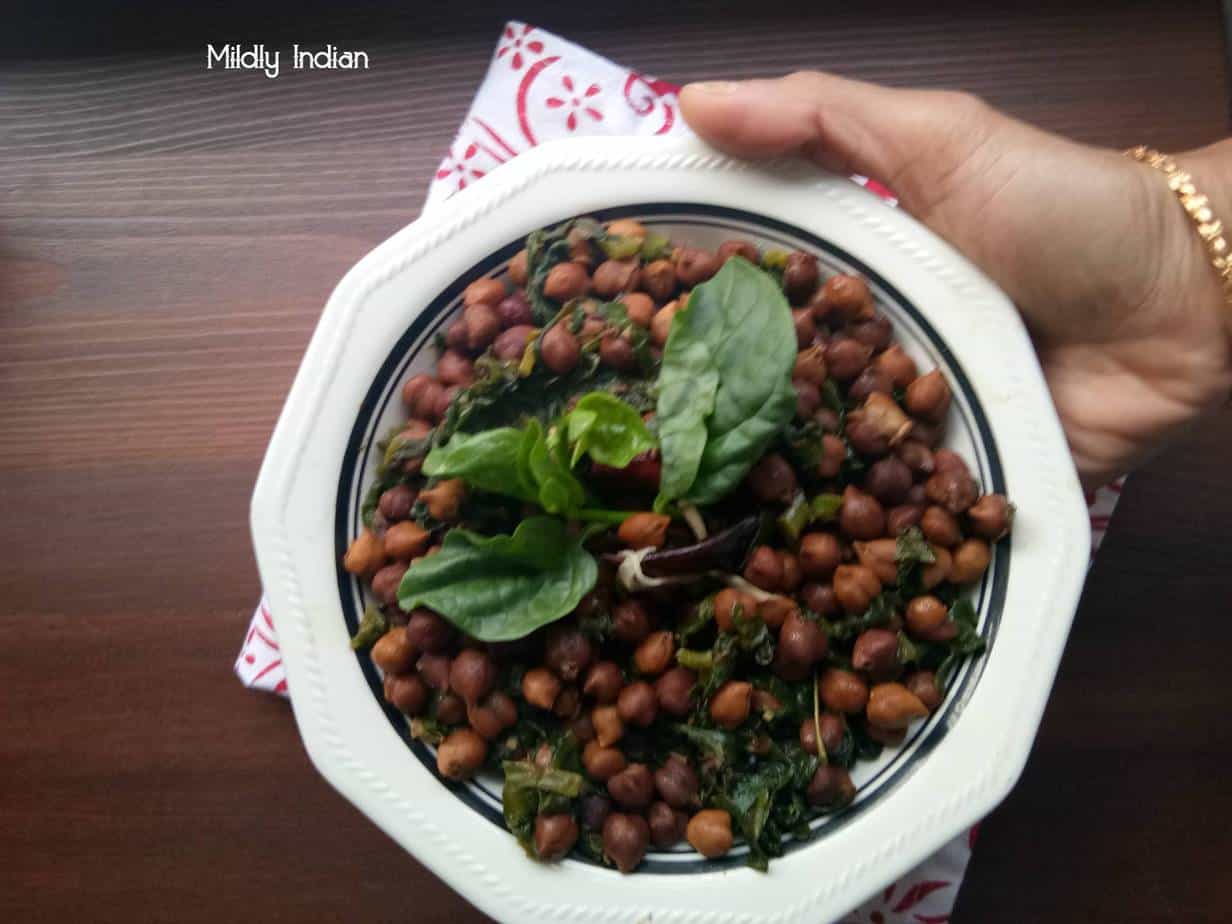 Sooka kala channa sabji
Chickpea and spinach curry
Ingredients
For the cooked chickpeas
2

cups

chickpea

( dry, brown variety)

6-8

cups

drinking water

1/2

tsp

salt
for the tempering
1

tbsp

cooking oil

1

tbp

cumin seeds

1/4

tsp

fenugreek seeds

1-2

dry red chilli

1

tbsp

fresh ginger root

( minced)
for the masala
1/4

tsp

turmeric powder

1/2

tsp

Kashmiri chilli powder

(use cayanne if heat is desired)

1/4

tsp

amchur

1/4

tsp

chaat masala

1/4

tsp

black salt

( this enhances the flavour of the dry sabji, omit if difficult to procure)

2-3

cups

Spinach

( I have used malabar spinach)

salt to taste

( check before adding)
for the garnish
1-2

tbsp

Lemon juice

2

tbsp

coriander leaves

( finely chopped)
Instructions
For the chickpeas to cook.
This section of steps can be omitted if you are using a can of cooked chickpeas as I am starting with the dry beans.

Wash, pick stones if any and soak the chickpeas for 6 hours.

Once the chickpeas are plump, drain the water they are soaking in.

Add the chickpeas to the pressure cooker and add water just enough to cover it. Add the salt and pressure cook for 3-5 whistles

Once done, release pressure naturally.

Drain the cooking liquid, reserve half a cup of it for the recipe and use the rest as in the footnotes below.
for the sabji
Wash and finely chop the spinach and mince the ginger.

In a pan add the oil and as it heats up add the cumin, fenugreek seeds and red chillies. when the cumin sizzles, add the ginger mince and saute

Now add the drained chickpeas followed by the masalas, but hold off the salt. and spinach.

Mix well and now if the chickpeas are too dry add a tbsp at a time of the cooking liquid till there is no dryness.

Stir in the spinach and saute for 3-5 minutes on low heat

Once the spinach is wilted taste test for salt and the balance of the spices. If desired add salt.

saute again and add the lemon juice and coriander leaves

Remove from heat and keep covered for two minutes.

Now the recipe is ready to serve.
Notes
For this recipe, I have used Malabar spinach. English spinach, Kale, Palak, Arukeerai and chinese spinach also work perfectly with this recipe and I have tried them all.
The drained liquid from the cooked dark chickpeas can be used to knead the dough or as a soup base. It has not worked so well as aquafaba for baking. I prefer the one from the white channa as aquafaba.