Try out this zero-oil, dorm-friendly, beginner vegan recipe for chia al meh that doubles up as a soup or perfect with a bowl of rice. Check out this easy manipuri vegetable stew for the upcoming winter.
In the quest to create something better, we often look for recipes that provide a challenge. Yet there are some cuisines where the recipe itself is heightened by just the ingredients and its simplicity. These recipes often create a balance in the mad search we are to always do better. They remind one to take a moment and live it. One such recipe is the Manipuri vegetable stew, chia al meh.
Manipuri cuisine
The Northeast Indian cuisine is one I always look forward to try. Being one of the biodiversity hotspots of India, Manipuri cuisine prides itself on the freshness, organic nature and quality of ingredients. Rice, fish and seasonal vegetables form the basis of this cuisine. Beans, brinjal, potatoes, mushrooms and tomatoes all form the vegetables commonly used in this cuisine. These are used in kangsoi, ooti, singju or kangho. Each preparation providing a different consistency and flavour. Ginger, garlic and chillies flavour most of these dishes. These are served with steamed rice and the meal ends with chak hao kheer (black rice pudding).
What is chia al meh?
As far as I understand chia al meh stand for a simple stew in Manipuri (correct me if it is wrong). This vegan, nut-free, low-calorie preparation where the seasonal vegetables are boiled and simmered in a broth seasoned just with salt and ginger is chia al meh. The preparation can be served with steamed rice as a meal or on its own as soup on a cold day. Either way, this Manipuri vegetable stew is one of the simplest dishes that I know of this cuisine.
Ingredients for chia al meh
Vegetables: seasonal vegetables are preferred for this recipe. I have used fresh potatoes, snowpeas, tomatoes etc and for greens just spinach and some arugula. You can add pumpkins, sweet potatoes and mustard greens. 
Water: the cooking process with water creates a lightly flavoured broth here. 
Ginger and salt: the flavours of this recipe come from the ginger and salt. It feels good to have this ginger broth in winter. 
Making chia al meh
Can you boil some water? Then this recipe is easy for you. It is the perfect beginner recipe.
The starting point is to Chop the vegetables. We have used, snow peas, tomatoes, potatoes and frozen peas. Wash clean and chop them.  Then add them to the water. Salt and boil, cover and cook. As the water boils, add the ginger (  bit go overboard with it) and boil to extract the flavour. Gently mash the cooked potatoes and the stew is ready.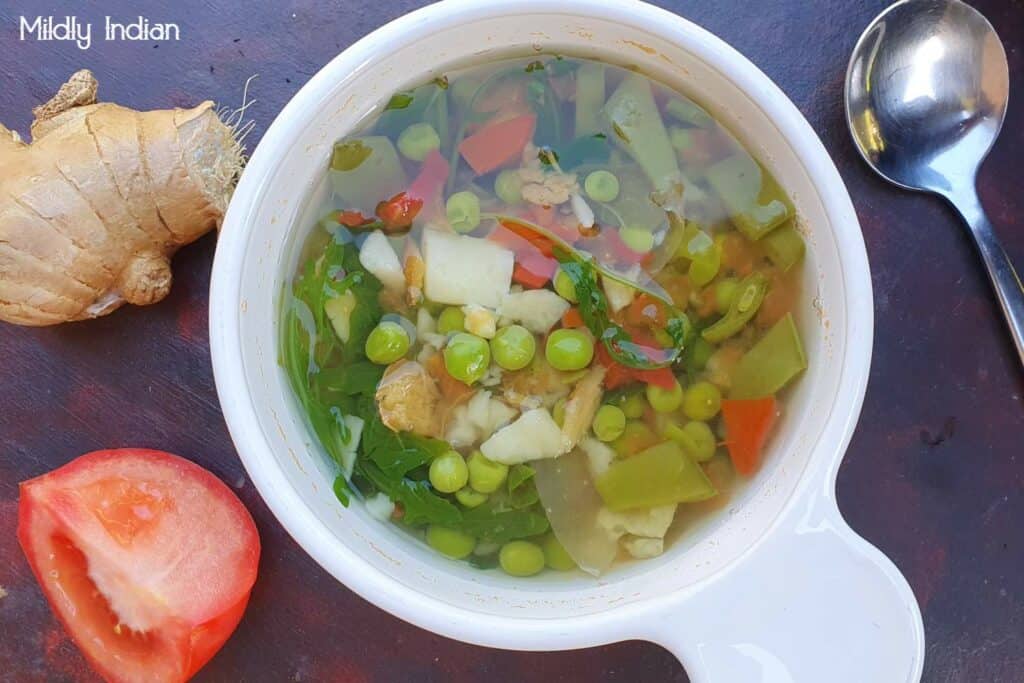 Chia al meh
Equipment
saucepan

chopping board

Knife
Ingredients
1

large

potato

1

large

tomato

1

handful

peas

10-12

snow peas

salt to taste

1

tbsp

fresh ginger root

2

cups

drinking water
Instructions
To the saucepan add the water and bring it to a boil.

Meanwhile, wash the vegetables and chop them into small cubes.

Wash the peas and set it aside.

Add all the veggies to the boiling water and sprinkle the salt.

Add the vegetables boil add the crushed ginger and bring to a further boil.

When the vegetables are cooked and the potatoes turn soft, mash them slightly with the ladle to add thickness to the broth.

Add the spinach or greens and stir it in.

The soup is now ready to serve on its own or with cooked black rice.
Meal prep and storage
The dish is all about freshness. What I would do as meal prep is only chopping the vegetables. The rest is best if done quickly and in under 10 minutes, so keeping the freshness going don't make it ahead. If you need it frozen, used frozen veggies and frozen ginger.
The stew is great on a cold day in the thermos, so enjoy
Stay connected
It is getting cooler around here and these simple stews are genius ideas to keep warm and not feel hungry all the time. If you are trying this recipe, do let us know how you like it. If you are an expert in Manipuri cuisine, please do share ideas or corrections to this recipe. From the northeastern cuisine, we have so far blogged Kichuri and phuklein. Hope you like these too. This recipe is perfect for the time you are camping, moving house or advised for soft foods after a dental extraction.
Stay in touch through Instagram, YouTube, Facebook or Twitter or simply stay subscribed to see what we come up with next.
See you at the next post.