Channa masala or chole is one of the best known Indian recipes across the globe. The ever popular chickpeas simmered in the tasty tomato onion sauce making it perfect with rice, naans or bread. It is also one of the easiest to make at home for anyone experimenting with Indian vegetarian recipes.
Why does this channa masala recipe work?
Authentic and easy- You will come across many versions of chickpea curries as it is one of the most popular ones. This channa masala is a family recipe that has been seen through a few generations and never failed to please. So you can see it is clearly authentic.
Vegan, gluten-free – the recipe has no dairy, no wheat-based elements in it. Simple straightforward elements make it useful under any gathering. 
Nutrition and delicious- With the health properties of chickpea as the main ingredient, this curry is one of the most favoured among the health-conscious as well. there are no fancy ingredients or any preservatives used in this recipe.
Instant pot, slow cooker and stovetop perfect – You can get a perfect channa masala each time whether you use a pan on the stovetop, add this to the slow-cooker or give it a quick pressure cook in the instant pot. 
Meal prep friendly – The curry stays well in the refrigerator for 4-6 days. It is freezer friendly for up to 3 months and thaws well too. 
What type of chickpea do I pick up for this curry?
Chickpeas come in three colours- white, brown and green. Typically for chickpea curry, I use white chickpeas which are also bigger in size than the other two. This is universally available and easy to get in most of the local groceries. The black chickpea also works well but stands a bit firmer than the white one. I prefer to use the brown ones for a salad or chaat. The green ones are more like peas so not very suitable for this recipe.
Starting from the dried chickpea – It is easy to store the dried chickpeas and use only a measure of what you need. But cooking the dried chickpea needs a bit of planning. My favourite method is to soak ( 4 hours)and cook it under pressure ( 25 minutes) ( instant pot or pressure cooker). I like to use the slow cooker when I like a creamier finish to the beans – again soak for 4 hours and 4 hours on high heat gets it done.
Using canned chickpeas- the canned ones are the easiest to make this recipe. It cuts down the making time considerably. The only concern you have to watch out for when using the canned beans is the salt levels. Usually, I drain the chickpeas, give them a rinse and then use them. You can also choose the chickpea cans which have no added salt to them. Drain them well and you can add them directly to the thawed bhuna masala.
Pre-prep the buna masala – The base sauce that builds this recipe is the buna masala. So prepped buna masala cuts down a lot of time making weeknight dinners. Here is the link for buna masala.
Channa masala
Channa masala or chickpea curry is one of the most popular indian recipes. Here is an authentic family recipe that is vegan and gluten free.
Ingredients
To cook the dried chickpeas
1/4

cup

chickpea

( cooked and drained)

2

cups

drinking water

( for soaking the chickpeas)

1

cup

drinking water

( for cooking the chickpeas)

1-2

pieces

dried gooseberry

( amla or use 1 black tea bag)
To make the gravy
1/2

cup

aquafaba

The cooking liquid from the chickpeas or use vegetable stock.

1/2

cup

buna masala
For the channa masala spice mix ( makes enough for 6-8 servings)
1

medium

bayleaf

tej patta

2

cloves

laung

1

inch

cinnamon stick

dalchini

3-4

Black pepper

kalimirch

1/4

tsp

carom seeds

ajwain

1

fennel seed

saunf

1

cumin seeds

jeera

1

coriander seeds

1

dry red chillies

1/2

tsp

pomegranate seeds

( dried pomegranate seeds are used in indian cooking, Swap for dried mango powder if you dont have anardhana)
garnishes
1

tbsp

coriander leaves

4-5

pieces

fresh ginger root

(julliened)

1

tbsp

coconut cream
Instructions
to make the masala mix
Dry roast the ingredients for the masala powder on a low heat.

Once crispy, let it cool.

Powder them together and set it aside till needed.
to cook the dried chickpeas
Soak the dried chickpeas for about 4-6 hours.

Drain the soaked chickpeas after the time and pressure cook with thewaterand dried gooseberry ( indian pressure cooker) for 3-4 whistles.

Simmer for another 10 minutes.

Let the pressure release naturally.
To make the channa masala
Into a deep pan add the thawed bunamasala and the aquafaba and bring it to a simmer.

Add the cooked chickpeas to this and mix well.

Adjust the salt, sprinkle 1/2tsp of teh masala powder.

Let this simmer for a 5-7 minutes.

Transfer the channa masala into a serving dish, garnish with coriander leaves, coconut creme and ginger julliene.

Serve warm. ( check out the pairing options given below)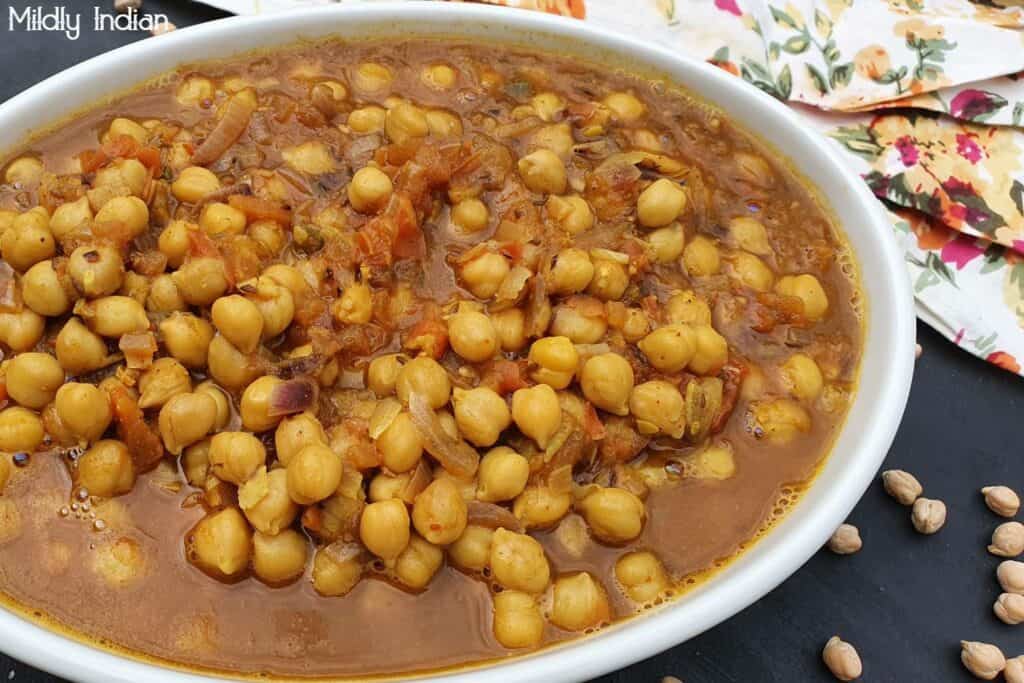 Serving suggestions for this channa masala.
Channa masala or chole masala is that one recipe you can pair literally with any grain or bread you have at hand.
Dinner bowls –When we have channa masala for dinner, kalonji rice features on the table for the carbs than the naan. So the dinner bowl contains the rice, this channa masala, shredded lettuce salad or kachumer and crispy papad.
With Indian breads -Of course, we love it with pooris, bhatura or triangle parathas. Then have laccha pyaaz with it for an authentic restaurant like feel.
As a chaat- never worry if you have leftover channa masala. It makes the best chaats ever. layer up some chips or papadis, add a scoop of the channa masala. Top it with the green chutney, tamarind chutney and sprinkle a layer of sev on it. With some chopped onions and tomatoes to finish it this is an even more exciting bowl than any other regular meal ( especially if you have teens at home).
As curry bun – Use the channa masala as the filling for the curry buns. They are one of the most wanted lunchboxes ideas. Click here to see how they are made.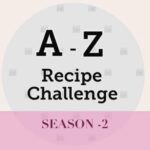 C for Channa. Channa masala is one of the most sought out Indian curries that suited the A_Z recipes in the Hindi series perfectly, hence linking it to this group.
Stay on with us by subscribing to our site. Please leave your thoughts and comments in the discussion below. If you have tried out this recipe, do let us know the adaptations you made. We would love to hear from you in our discussions. 
Stay safe and keep visiting us.