At times we all need that quick dinner on the table. Delays with a working parent are innumerable. The hungry bellies just need the food instantly as soon as you get home. This is where the quickest of my decisions made it faster than the instant noodles. I don't hate instant noodles, just that by the time I jazz it up to suit my dinner needs it probably takes an hour compared to my quick go veggies.
Cooking with the Broccoli family
The best quick-cooking vegetable for those tired evenings is, of course, broccolini.  They are the green, leafy flowers… in fact just whatever good for health one on the plate. 
Here are a couple of easy ones with broccoli
Pan roasted gnocchi with peas, broccoli and corn
Baked pasta with Brussels sprout and broccoli.
However, I just can't stand it overcooked with sprinkled salt or dunked in cheese sauce. I like it treated a bit better. Unusually, I lean closer towards the Asian route for all things broccolini. I like the crunch of the sesame, a gentle bite to the stalk, the softness of the florets and the sauce.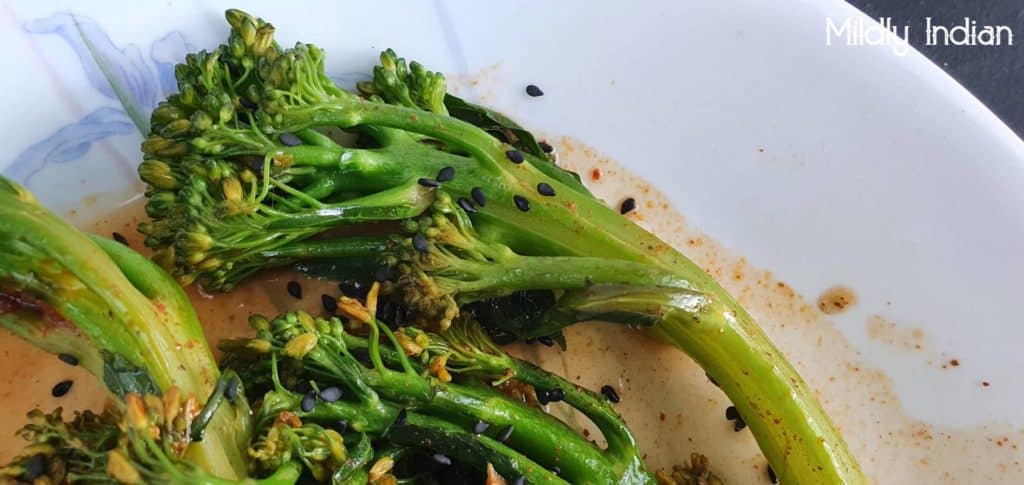 Serve this with the comfort of Brown rice Congee. Making you hungry? Nothing more hugely to say …. indulge in this quick recipe as it is faster than instant noodles. Stay safe, let me know how you like this recipe. Don't miss to follow.
If you made this recipe tag us on the social media platforms or email us. Here are the clickable links – Facebook Page – Mildly Indian & Instagram Handle – Mildly Indian.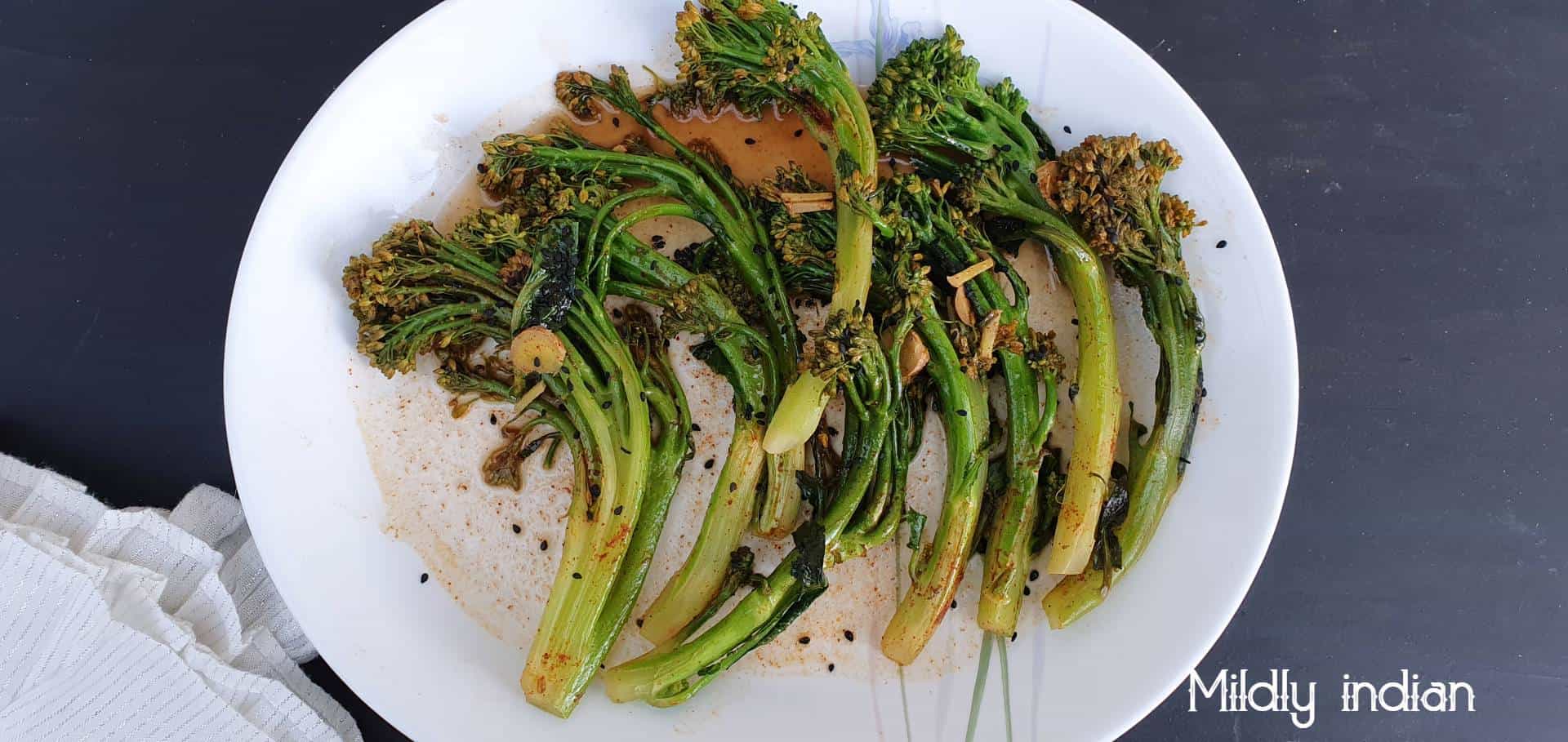 Easy asian style broccolini.
Ingredients
2

tbsp

Sesame oil

2

bunches

broccolini

1

clove

garlic

1

small

shallot

2

tbsp

soy sauce

1/2

tsp

vinegar

1/4

tsp

unrefined sugar

1/4

cup

vegetable stock

1/2

tsp

tapioca flour

1/4

tsp

sesame seeds
Instructions
Wash and pat dry the broccolini, trim the stalk and set it aside.

Whisk together vegetable stock and tapioca flour together and set aside.

Heat a wok on high heat.

Add the sesame oil, followed by the broccolini.

Saute it well for a minute and add the soy, the vinegar, sugar and toss it in well.

Add the vegetable stock that you kept aside earlier.

Toss it well. Saute it well and allow the sauce to thicken a bit.

Once the sauce looks sticky, remove from heat. Sprinkle the sesame seeds and get it ready to serve up.

Serve hot on a bed of steamed rice.