When the temp dips, there are a few things I like the rest of the time I love to think I am a hibernating bear. The few things I love are warm pasta, pickles and baking. This is also the time when I love to be the queen of shortcuts.
Things that I never approve of become ok for once. I blame this on the freeze brain effect. It is not much of sugar that I crave, rather the warmth of whole carbs. It is the time for that soft potato gnocchi bites… ooo yum!!
Why do we crave carbs in winter?
When it is grey outside and the sun, sets literally in the afternoon, the brain lulls itself to a different circadian rhythm. Knowing that brain always craves for sugar and considers it happiness, the carbs that you consume literally translate to this happiness quotient. This is the same feeling you cant let go of that chocolate bar.
Carb loaded foods do send the message to the brain to keep up that great good vibes. This is why it is also a big part of emotional eating. Here is a wonderful article to read if you wish to know a bit more of the science behind the brain behaviour during winter – Source
How to tide over this craving?
The happiness quotient is what we are trying to achieve for the brain. A good long walk, meaningful conversations, a topic to study, exercise, meditation all achieve the same effect. So, the first step before succumbed to emotional carb eating is to engage in an activity or an exercise each day.
If we analyse comfort foods, these are so cleverly designed with a great balance of complex carbs with proteins in many cuisines. So, in reality, a conscious choice of comfort food can be quite beneficial during these months. Hence choose comfort foods wisely with a good balance of proteins that keep you going longer.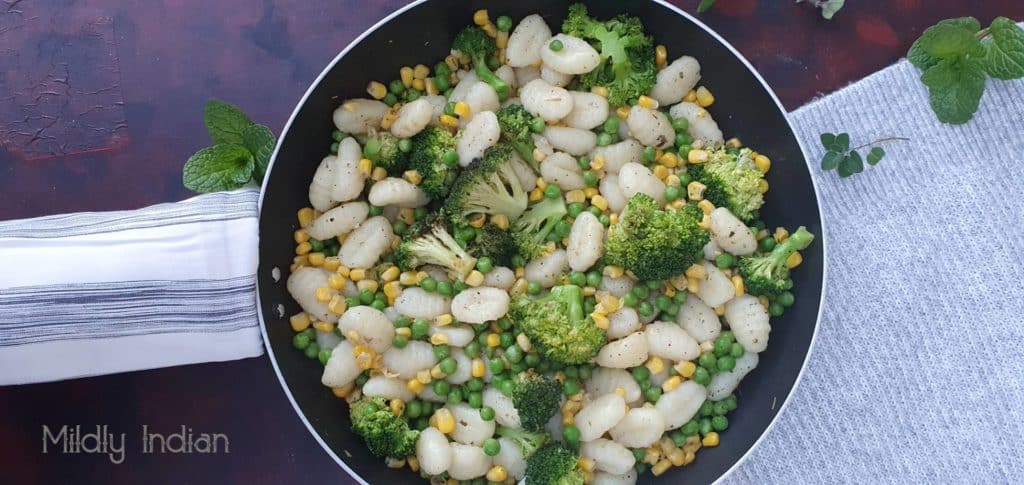 Back to the gnocchi
Of course, this is a happiness factor recipe. Instead of just pan-seared gnocchi in tons (hmm maybe just limited ) of butter, the crunch veggies add fibre, protein, a lot of colour to the recipe. It makes the gnocchi feel so fresh and good and not weighing you down. This is a recipe with the simplest meal prep as well, frozen corn, frozen peas,  quickly blanched broccoli and quicker than ever gnocchi. It is lunchbox friendly too, so that's a lot of comfort and green in the box.
Here are a few more of comfort foods I like in winter
Spaghetti with garlic, basil and chilli
Penne with lentils, spinach and marinara sauce
Hope you like this recipe.
Stay warm and stay in touch. Don't miss to subscribe to this blog. Tag us when you make these recipes and tell us how you like it.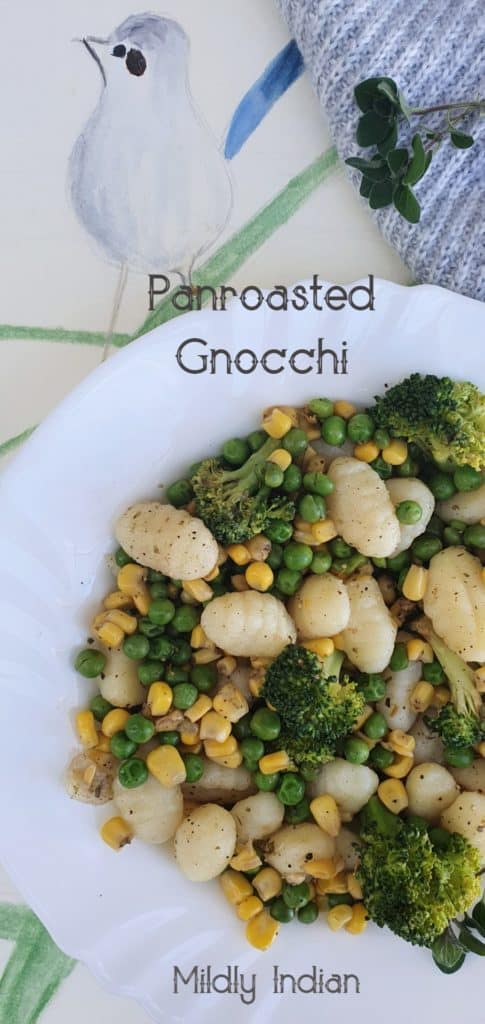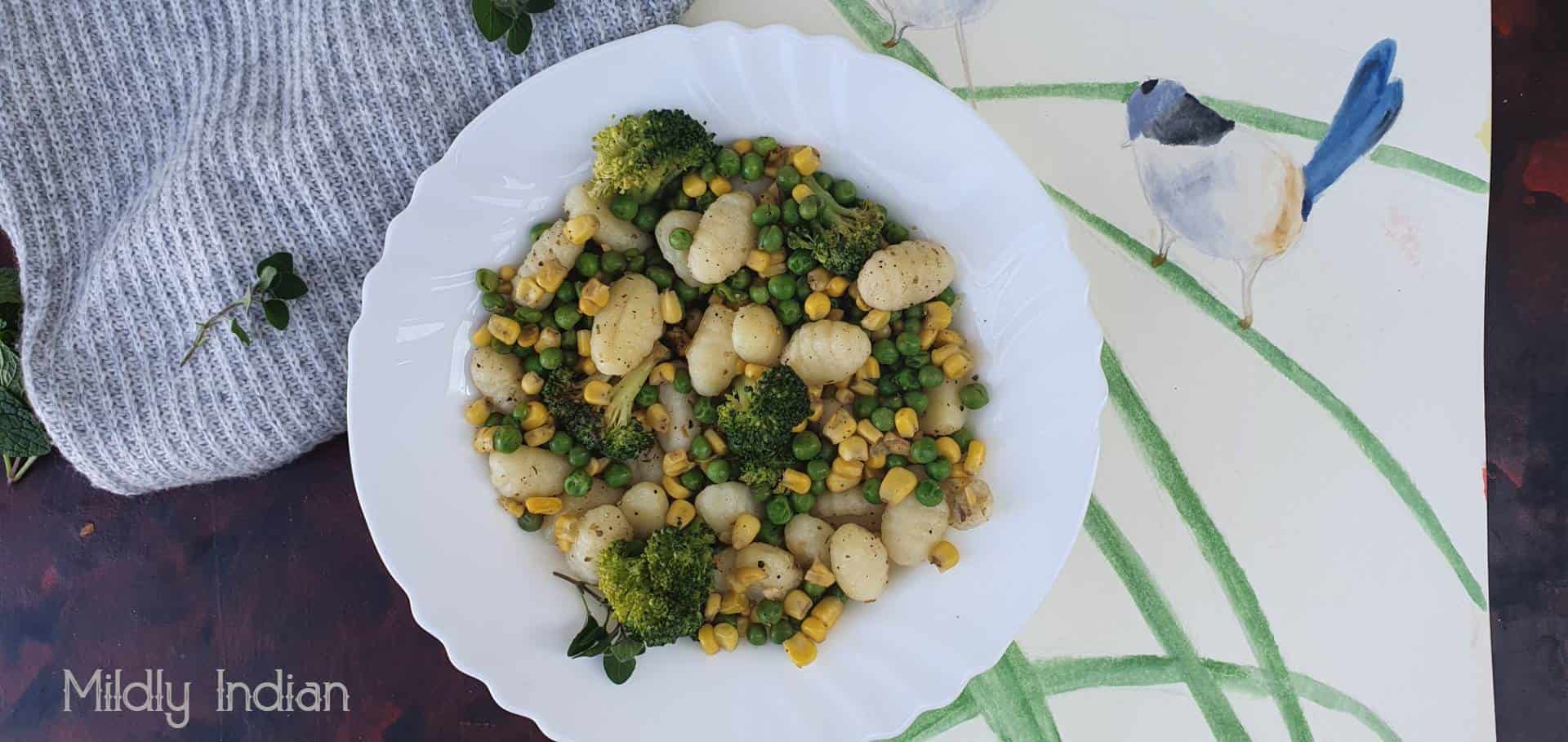 Pan roasted gnocchi with peas, broccoli and corn
Easy winter dinner, tomato-free, nut free and healthy.
Ingredients
to cook the gnocci
1.5

litres

drinking water

1

pack

gnocchi

( about 250 grams)
For the vegetables roasting
2

tbsp

olive oil

1

clove

garlic

crushed

1

medium

broccoli

florets seperated. ( Save the stem to use in aloo stem sabji recipe posted earlier)

1

cup

frozen peas

1

cup

frozen corn

salt to taste

1/2

tsp

crushed black pepper

1/2

tsp

italian basil

Dried and crushed

4-5

leaves

oregano
to garnish
2

tsp

pinenuts

roasted

1/2

tsp

chervil

(Chopped small, optional)
Instructions
To cook the gnocci
In a large pot bring the water to a boil.

Add the gnocchi to it and allow it to cook

The gnocchi floats up when it is cooked, collect them and drain out the excess water. Set aside, keep covered, till ready to roast
to prepare the roast
Clean the broccoli florets, Wash the peas and corn and set aside

Heat the olive oil in a pan.

Add the crushed garlic clove and roast gently.

Add the cooked gnocchi and roast on medium heat

As the cooked gnocchi turns golden on one side add h peas, corn and broccoli and allow it to roast slowly further.

Season with salt

Stir around occasionally allowing the vegetables to rost on a gentle heat.

Once the vegetables are cooked and look roasted add the crushed basil and black pepper.

Roast further for about 5 minutes. Add the pinenuts and chervil and toss the roasted veggies.

Serve warm.
Notes
This recipe over a campfire
This recipe is perfectly adaptable to suit a camping trip. Packaged gnocchi is perfect for camping.  this Remove the frozen peas and corn from the recipe and replace with carrots and broccoli and roast over the campfire in a skillet. continue with the same seasonings.  It makes a perfect meal to share.