My parents are a typical set of 20th-century parents. they need each others opinion in even trivial things yet starting from the menu of the day, mom cannot function without my dad and vice-versa. Their squabbles are indeed scary as a kid..but now I smile at these little annoying ones as we don't have them any more till I visit them.
We ( my husband and I) have our incessant chatters and mini annoyment sessions, but it is not as elaborate as theirs coz we have been predominated by gadgets which have taught us to be easily distracted. Don't get me wrong, I am a gadget pro person, I love my phone and my camera as well as my essential kitchen gadgets.
Now back to my parents, I like the way my mom diligently cooks each meal for my dad based on his preference and what's up in the kitchen garden. He still manages to annoy her with his unrelenting palate and the saga continues. One they agree upon is the softness of the maligaipoo idly
To this particular story
The South Indian cine actress Kushboo was not only famous but was the dream queen of many men. When her movies came along so did a particular variety of super soft idly get renamed as Kushboo idly. Originally called maligaipoo idly (jasmine flour), this particular idly was synonymous with softness and the pure white colour.
My mom used to makes these for breakfast and as soon as my appa (dad) sees them he will say "kushbooidli…ya bhesh bhesh" (he is actually praising her) but my moms would have blown her fuse with the first mention of Khusboo itself and I am pretty positive she heard no more…
Whatever said she never stopped making this super soft maligaipoo idly and my dad never stopped saying the same even much long after the actress herself moved away from the mainstream movie world.


Back to present
Today being World Idly Day,  I was prepping for this idly I could help but smile to myself. My dad's, naughty smile and "bhesh bhesh" ringing in my head as much as my mums face red as she serves these idlies. These memories mean a lot to me. I am sure you have a lot of memories you have accumulated. If you have one special one to share about your parents, please add them to the discussion below.
Scroll down for these pure white supersoft Maligai poo idly recipe.
Here is a set of recipes you can serve with this mailigaipoo idly
Coconut milk sambhar- the unique one.
Manga chammandi – raw mango chutney.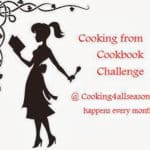 This recipe is added to the Cooking from a Cookbook group of bloggers. It is a family recipe and one to share to be enjoyed now.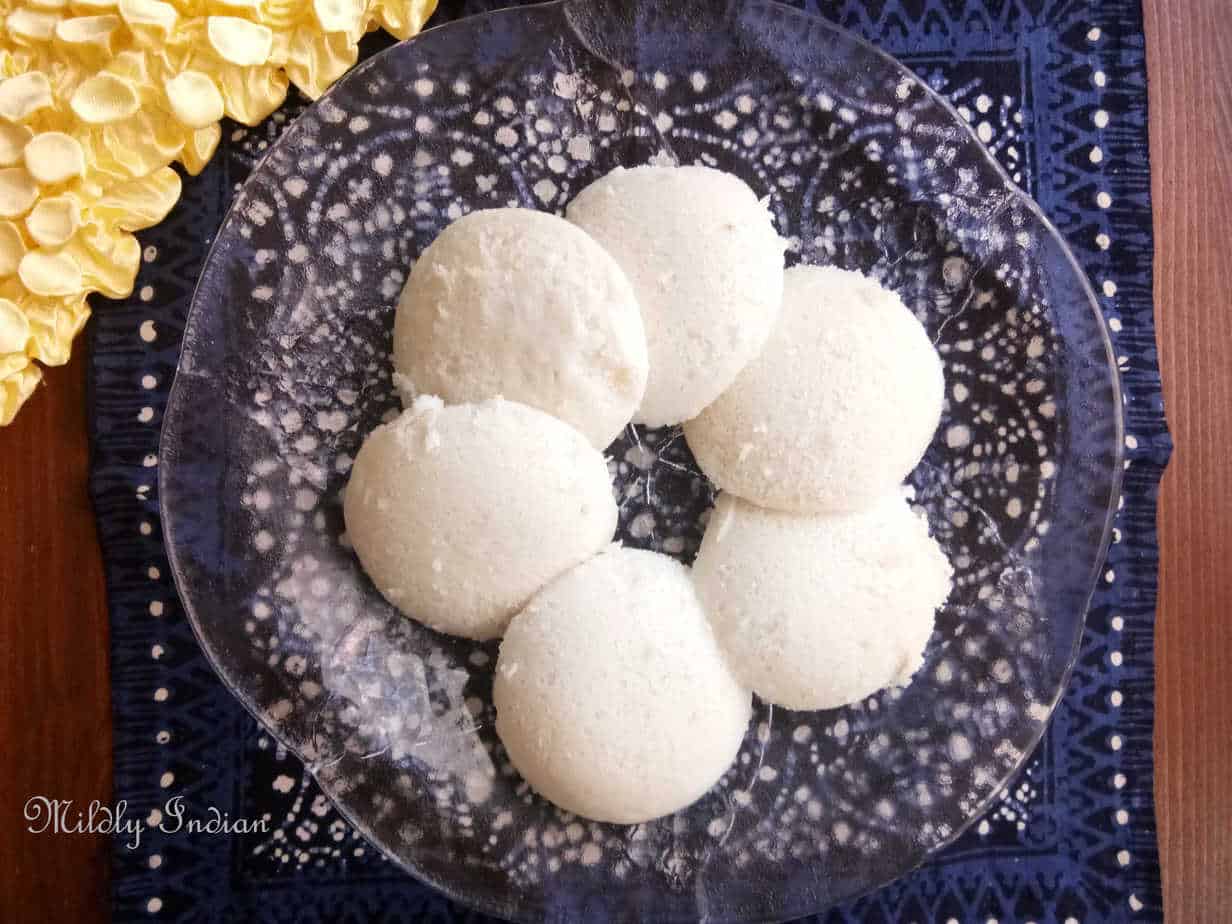 Malligaipoo idly
Kushboo idly
Ingredients
1

cup

Urad Dal

(black gram dal)

3/4

cup

tapioca pearls

(sago)

3

cups

parboiled rice

3/4

tbsp

salt
Instructions
Wash and soak the rice, urad dal and tapioca pearls, separately for about 2 hours.

Grind the Urad dal to super soft batter in a wet grinder.

Grind the sago and rice together to a smooth paste.

Add salt and mix the batters together. and set in a warm area o the kitchen for fermentation.

In warm weathers it takes about 6 hours for the fermentation and it may extend up to 10 hours in winter

Once the batter is risen well, mix it well once again and store in the refrigerator.

When ready to use greade the idly mould or ramikens.

ladle the batter half way up the ramikens or the moulds.

place in a steamer with water filled to the right levels and steam for 20 minutes.

If a skewers come out clean the idly is cooked.

Wait for another 5 minutes and unmould.

Serve hot with the sides.