The Devi temples in South India are often crowded on Tuesdays and Fridays. On these, so-called auspicious days, there are plenty of lamps lit with lemon rinds as the container for the oil and a small cotton wick inside. This is elumachai vilakku or lemon diya.
I loved going to Banashankari temple in Bengaluru to watch the rows of lemon diya lit. Many of the ladies encouraged me to light this elumachai velakku for love, luck, wealth, peace and more.  I never did when I was in residing there but enjoyed watching the reverence and dedication. When pregnant loved the fragrance of the lime oil that emits from the lamp.
Of late, I love the fragrant lemon oil that I picked up from an aromatherapy section. I was trying hard to recollect where I experienced it. Then some images that my dad sent me reminded me of the temple experience and this was the fragrance that I was looking for.
The lemon rind lamp significance
The lemon diya is lit in Durga devi temples predominantly.  One school of mythological thought talks about the calming aromatic effect of these lemon-scented lamps that cool off very strong and angry gods or goddesses. Durga, a powerful form of Shakthi ( energy) is often considered to be calmer when the lamps are offered, thereby helping to channelise the energy to more constructive or positive outcomes.
The second idea comes from Astrology where it is used as a Rahukaalam pooja essential. Rahu and Kethu are two of the eclipse casing elements of the nine planetary  Hindu astrology. Considered a bit troublesome or meddlesome, the elumachai vilakku is offered to keep them happy. It is listed during the time of Rahu kaalam and the juice of the cut lemon is diluted and offered to a neem tree. ( the information I have listed here is the one I gathered from my family members and not consulted with the astrologists or mythology enthusiasts)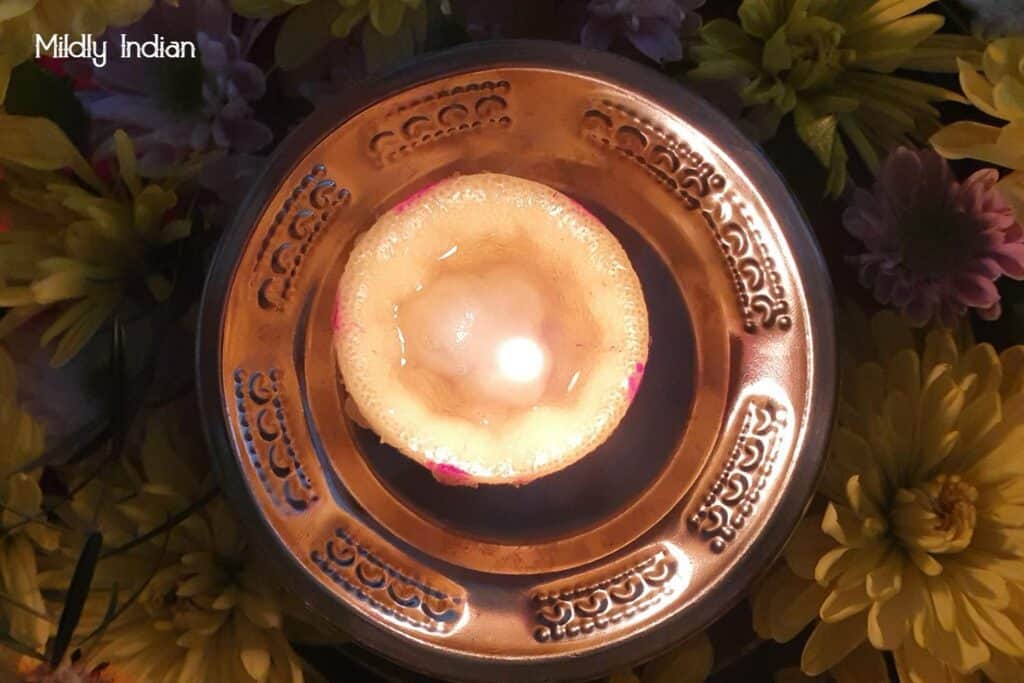 Preparing lemon diya at home
Lemon diya
Elumachai vilakku or lamp is a fragrance filled lemon rind diy lamp.
Ingredients
2

small

lemon

4

cotton balls

or wicks

12

tablespoon

Sesame oil
Instructions
Wash and pat dry the lemon.

Cut the lemon in half and squeeze out the juice into a bowl.

Flip the rind inside out.

Place on a plate. Continue with the other lemons.

Place a wick in the centre.

Pour a tablespoon or two or of sesame oil into each.

Light the wick and let the oil seep through.
The fragrance is what attracted me to lighting these. Once I did try the at home, they got rid of the fruitflies. The other thing I noticed was the masala smell from the curries could be dispelled easily with the citrus fragrance. Kind of a win-win situation that I am enjoying. I like the smell of the kitchen now!!
The lemon juice that you extract can be used to make lemon macaroni , paanagam or lemon rice.
Other citrus lamps.
If not lemon, you can use the rinds of lime and oranges to make lamps. Like me, if you are making this for keeping bugs away or just for the fragrance,  you could melt in some beeswax with a wick. The orange lamps last for a longer time. You could also try green limes ( a bit harder to flip) or grapefruit. Each has a unique fragrance to be enjoyed.
Stay connected
We hope you will love to share with us your thoughts about or recipes and post. If you are looking for more lamps that you can make at home, try riceflour lamps. If you are having fun with kids, make some lava lamps for them. Do leave your comments for us to improve and also notes on the ones you love.  Take a moment to visit our youtube channel. Leaving you with our Facebook page  (click here) and Instagram (click here ) so you can take a peek. Don't forget to follow us as we update these to the best of our efforts. Subscribe, share, like and evermore come back
Stay safe and see you at the next post.