The grab and go orange muffins are the perfect pep you need to get you in on the early days to work or study. These blender orange muffins in no way skip the moist fluffy muffin part. Try out this refreshing change to your morning routine.
Half of our week starts very early for school, uni or work. This literally gives us less than 20 to 30 minutes from getting up to go time. This means the grab and go style ideas will keep us in the happy zone than tipping us to hangry.  There are three or four muffin recipes I rely on for this grab and go days.
Savory veggie loaded cheese muffin
Perfect chocolate almond muffins
Classic banana oatmeal muffins
And this blender orange muffin.
Since these recipes are not only easy but hide fruit or veggies, pairing them with a smoothie or a warm drink makes morning breakfast easy. In the packable form, the muffins are mess-free to stay for a snack too.
Ingredients  and vegan substitutions
Oranges- the navel oranges are the ones I use for making these muffins. Mandarins are ok, but much more juicier so a bit harder to control the liquid content. I haven't experimented with the other varieties. If you do so, let me know in the comments.
Eggs- eggs are essential in this blender muffin to lift the batter. My experience with flax eggs was not the best in these orange muffins. If you manage to get a light and fluffy muffin with the egg, share the idea as a lot of our readers will benefit.
Butter I love the smell of muffins with butter in the morning. The recipe will work well with olive oil too I have successfully tried it.
Flour -for these blender muffins, I gave used sprouted whole wheat flour. You can use plain flour, millet flour (with a tbsp of corn starch) or plain whole wheat flour.
Sweetener
Let's get some muffins done
The hack is pretty simple, blend all the wet ingredients into a smooth paste. Add the flour and pulse till just mixed.
Scoop and bake. It can't get simpler. Before you start check out the tips and tricks to get the blender orange muffins perfect.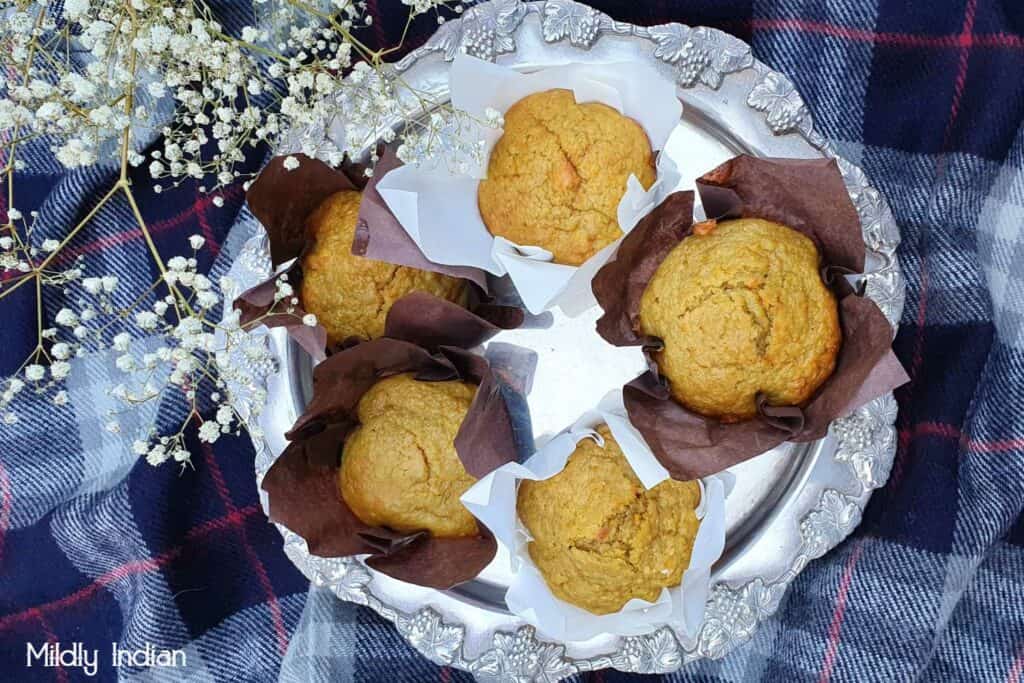 Blender orange muffins for grab and go breakfast
Equipment
Muffin tin

baking oven

mixing bowls and spoons.
Ingredients
Wet mix
1

large

orange

3

medium

eggs

1

stick

butter

(mine said it weighed 110 grams)

1

cup

sugar

i used unrefined sugar
Dry mix
1.5

cups

whole wheat flour

1/2

tsp

baking soda

1/2

tsp

baking powder
Instructions
Preheat the oven at 180 degrees for 10 minutes

Wash clean and chop up the orange into bits.

Remove the seeds and set it aside.

Crack the eggs and add them into the blender

Add the chopped oranges, melted butter and sugar.

Blend till this is well mixed up. blend further to a smooth paste.

Add the whole wheat flour, baking soda and baking powder to the mix in the blender

Gently pulse at short intervels till they combine

Line the muffin tray with muffin cups and spray them to prevent sticking.

Pour in a scoop of the muffin batter into the cups.

Bake the muffins at 180 degrees for 15 minutes. ( this can vary a bit based on the oven. Check with a skewer till it comes out clean after the 15 minutes)

Once done remove the muffin tray from the oven and cool for 10 to 15 minutes.

Ornage muffins are now ready to eat

Onec they are completely cooled muffins and store them in airtight boxes
Notes
The second batch of muffins we baked had a flour mix - 1 cup of whole wheat flour, 1/2 cup ragi flour. The muffins were tasty, but the colour changed and there were more cracks on the top. This is because ragi is much more dry flour than wheat ( no gluten in them).
Tips to get the perfect blender muffin
As much as blender muffins are a convenience, the muffins can end up as a hard lump in no time. Hope my pointers below help you to fix this situation.
Blending the muffin mix – with blender muffins, it is easy to overmix the batter. So once you add the dry mix, just pulse till it looks combined and the muffin will turn out soft.
Dry muffins- you certainly don't want there. The biggest issue is the ratio between the wet mix vs the dry mix. Use evenly sized juicy navel oranges. 
The dry crust on the muffins- These muffins get done really fast. So based on your oven temperature adjust the timings slightly and check with a skewer. If the skewer comes out clean when poked into the muffin and withdrawn, your muffin is done, remove from the oven and cool.
Perfect grab and go partners
Strawberry lassi smoothie- if that morning is going to be a long one, add in a strawberry lassi to add some good nutrition to your body. Try the mango version if it is mango season.
Hot mint chocolate- a bite of the orange muffins with the hot chocolate creates the feeling of jaffa cakes. That's something I love when I have chocolate with oranges.
If you are a tea lover, try out the hibiscus flower tea made with fresh flowers. 
Stay connected
Hope you like and enjoy reading through our posts. We have a few recipes on our youtube channel as well. Take a look. 
Leave us a comment on how you made the recipe if it was successful or not if you like to offer any modifications.  Subscribe to our blog to receive regular updates on our new recipes and adventures. Tag us #mildlyindian or @mildlyindian, when you make this recipe. Stay for a while and check a few more ideas too.
See you at the next post, stay safe.