Mostly, we eat well with fruit in our diets! We consume them in a great variety and are fine to experiment with new ones. One of the fruits that gets minimal attention in our house is grapefruit. Sliced pieces at breakfast are like mini torture sessions with the kids. It comes with the whole set of associated drama how not to eat it!! Even pomelo doesn't get this dramatic reaction through it is pretty much the same flavours!!
All that drama will not stop me from buying some!! Now to find ways to encourage the eating. The easiest thing I have found that takes some not so welcome fruits is as salads or chaats. So here we are with grapefruit, avocado and walnut salad to avoid the drama and get some grapefruit on the fork. 
How to prepare the grapefruit for the salad?
The white pith is the most bitter on a grapefruit. So removing that completely with actually give you a sweeter fruit. You don't want to lose the juice from the fruit while achieving this. Use a sharp knife. Here is what I prefer to do. I slice the fruit in wedges and cut the fleshy segments away from the peel. This creates the least mess for me and then I can dice the flesh into pieces to add to the salad.
Other ingredients in the salad
Avocados-the fatty creamy avocados always pair well with any citrus fruits, as we have used in curried avocado dip. So that is an easy no brainer add here. For the taste , it actually  dulls the intensity of tart grapefruit.
Red onions- Soaked in the citrus acidity, red onions works best. It also is not so sharp with all the ingredients. (Try the marinated laccha salad when you have a lot of red onions)
Spinach or lettuce- you can use a handful of spinach, lettuce, rocket leaves all taste very good in this recipe.  Of you like kale in your salad, add in kale with the spinach, with the citrus freshness itwill be tasty.
Nuts and seeds-  I love the crunch of nuts and seeds in my salads. It actually  makes the salad filling. It also makes you feel good that you are doing the right thing for your body. Here I have used chia seeds, walnuts and a hit of hemp hearts.
Cheese – for the kids I did add some crushed feta. It certainly was so tasty as I didn't hear any complaints about the salad after that. You could also try parmesan with this grapefruit salad if you like.
Dressing- Ideally the salad is just fine with some salt and pepper, but that's no fun while making a salad. Try this 1/2 tsp balsamic, two tsp orange juice, salt and pepper. Oooo! now you are talking.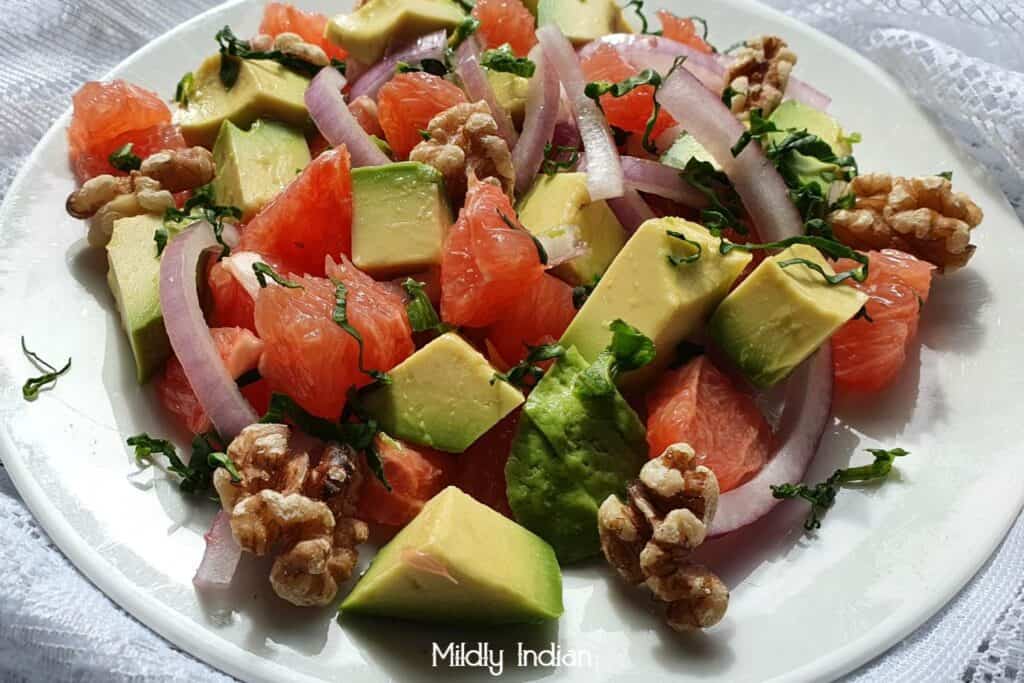 The recipe card below has all the details and you can use the link in the recipe card to pin on onto your pinboard.
Grapefruit salad with avocado and walnuts
Equipment
1 mixing bowls and spoons.

1 salad spoons
Ingredients
1

medium

grapefruit

1/2

avocado

10-15

halves

walnuts
For the dressing
1

tbsp

balsamic vinegar

2

tbsp

orange juice

salt to taste

1/4

tsp

crushed black pepper
Instructions
Whisk together the ingredients to the dressing and set it aside.

Scoop, sliec and cut the avocado into cubes.

Peel the grapefruit and remove the segments as discussed in the post above.

Add these into a mixing bowl with the avocado cubes and walnuts.

Drizzle the dressing on the salad ingredients.

Toss the salad well, adjust salt and pepper if needed.

The salad is now ready to serve.
The verdict for this grapefruit salad
This grapefruit salad with avocado and walnuts went so much more easier than any other time grapefruit was placed at the table. We did some easy toasties to make it a meal. I did not hear a great deal about how bitter it was or how sour they are. So I am continuing with this salad idea. Are you ready to give this grapefruit salad a try?
Stay connected
 
Hope this makes it easy for you with your grapefruit  intake. Let is know which fruit you are struggling with let's try to see if we have a suggestion  to offer. Meanwhile, if you have not yet subscribed to this blog, do so please as we plan to bring you plenty of recipes and stories as we go. Do feel free to ping us or write to us. If you feel like sharing our images, let us know first as there will be nobody more thrilled than us. You are most welcome to share the recipe links with your friends and family and tag us as you make it. We love your honest reviews, please share them in the comments (we do take time to read and try and respond).
Stay healthy and safe.