Laccha pyaaz is the simplest Indian tandoori-style onion salad. Very often this is seen served on tandoori style dishes, on slowly cooked gravy or as a side to the giant batura and chole.
The often ignored salad was my only favourite when my dad took us to have chole batura at Vasantha Bhavan restaurant near my hometown. I was perfectly happy having just this onion salad with the fluffy puffed up poori. That was a celebration.
Years later, the memories catapulted when we ate out at a restaurant here. I am sure the waitress would have wondered why I asked for an additional service of the same…that's what memories do to you.
Now that it etched better in my memory, I wanted to recreate the flavours. I tried combinations of just salt, lemon and tried varied ways. But I knew there was something unexplainable in the masala I was missing.
Today the trials struck a chord… I was all long missing the roasted cumin powder. You can imagine my happiness sharing this. This is what food does to some people, creates beautiful memories, lingering ones you don't want to ever rub off.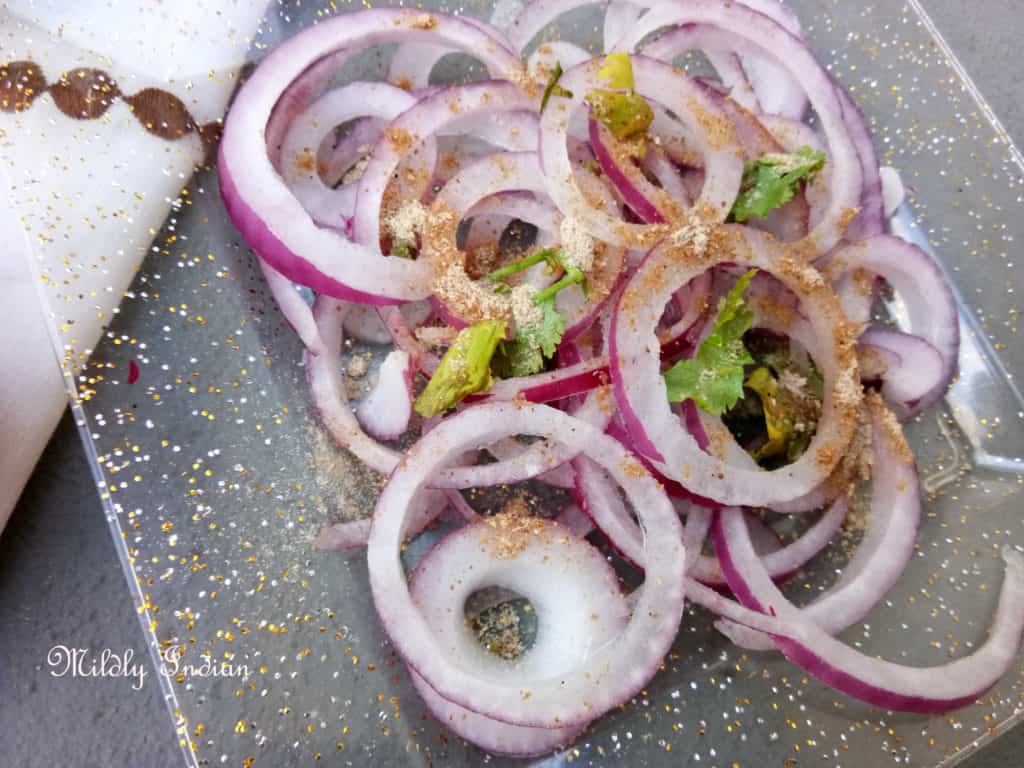 As I was cutting the onion (and crying for my happiness) I realised, the finer you cut the onion the flavour is tastier for the salad. This is a salad you don't want to keep for a long time, the onions release their juices and it really is not the best. It is not a pickled version you are looking for. So make it fresh with a warm Indian meal.
To all the onion lovers…the wait is over scroll down to the recipe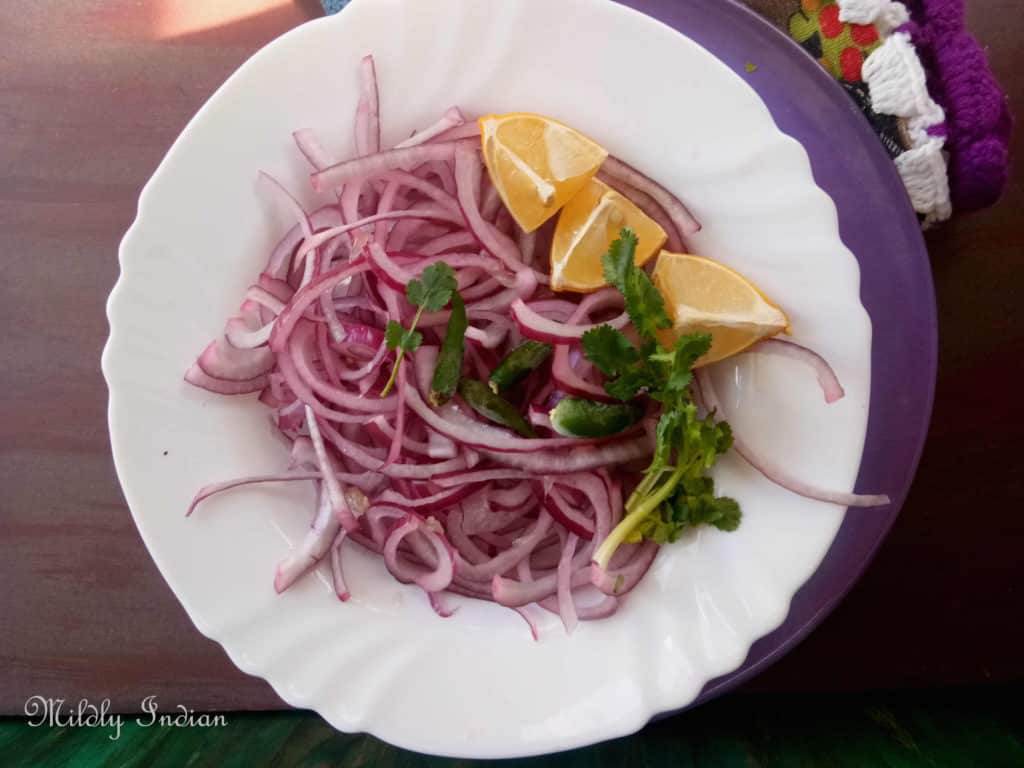 If you are just browsing for good  Indian salad recipes, you may want to check these out too.
For more upcoming recipes don't miss to subscribe.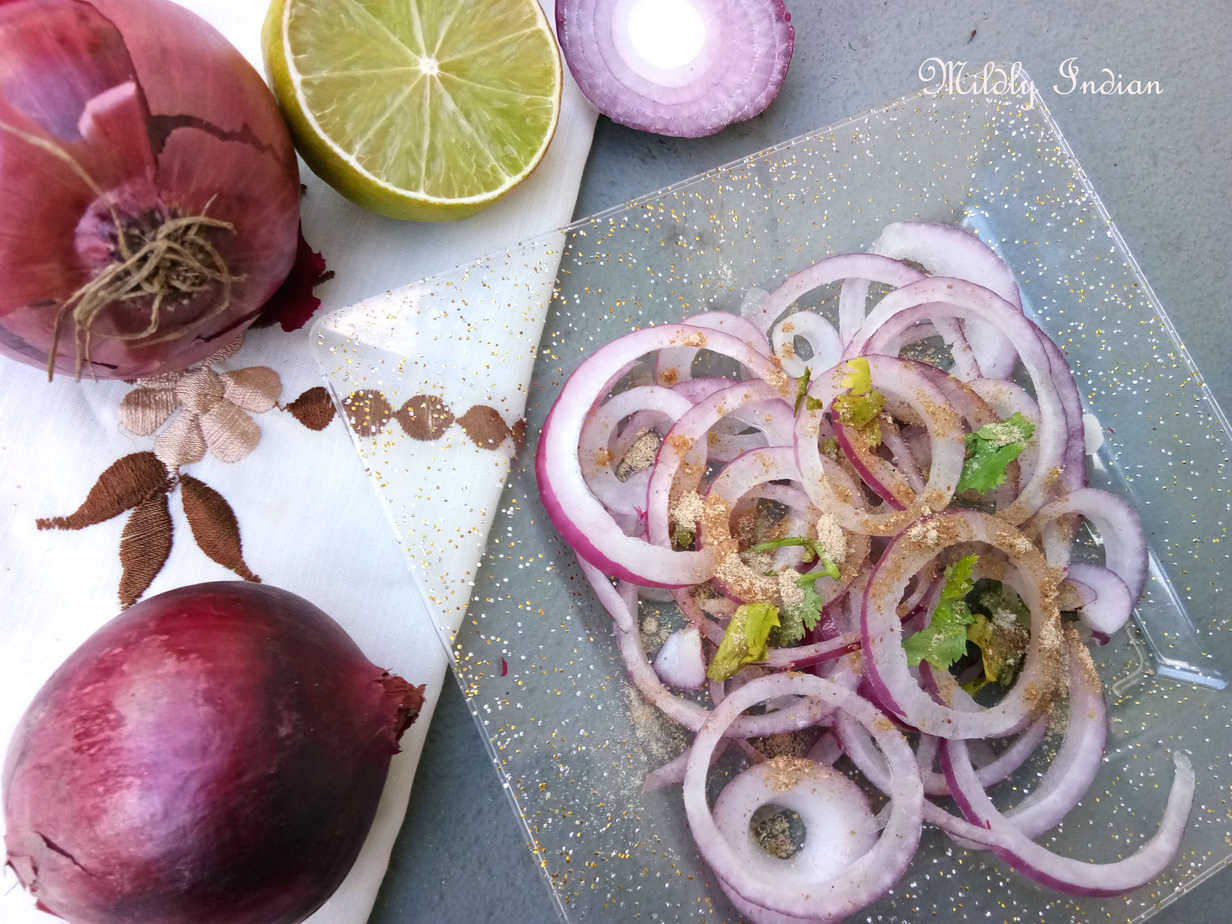 Laccha pyaaz
Ingredients
2-3

Onion

red, thinly sliced

1

medium

green chill

finely sliced

1/2

tsp

coriander leaves

chopped fine

1/2

tsp

roasted cumin powder

1/2

tsp

Kashmiri chilli powder

( use a spicier version if you like it fiery)

1/2

tsp

black salt

to sprinkle

2-3

cups

icecold water
Instructions
Peel and thinly slice the onion and seperate out the rings. ( use a mandolin if you have one or practice your knife skills, i am still working on mine)

Soak the onion is the ice cold water for 5 minutes and drain.

Mix together all the spice spowdersand black salt.

Toss the drained onions with chillies and coriander leaves and then sprinkle the spice mix.

Taste test till you get the desired spice levels.

Serve with a creamy curry and steaming rotis.