This is one post I wish I could just write in Malayalam. That Kozhikoden dialect is the only one I can say this in. I do miss Kozhikode. I grew up there, went to school and college, made memories laced with that faint fragrance of neichoru.
Neichoru is not ghee and rice mixed together
I will never agree of you call nei choru as ghee rice. This is a disagreement I have with my husband her he tries to translate it to the kids. No, it is not ghee and rice mixed together. It is an emotion starting with that white Wayanad kaima rice. Yes, I am picky when it comes to the Malabar flavours. No compromises there. The rice and the spices just have to meet that standard of what our neighbour Suharathatha had to share.
The recipe is perfect when that background of fresh spices mingles with the music like in the Arabian nights. Am I dreaming..yes you can saw so or revisiting that emotion called nei choru.


Neichoru is not Byriyani
Please, don't ever call the neichoru as a Biriyani. Firstly, it has a very gentle flavour and not a strong spicy spice mix like the Biriyani. Second neichoru us made with short-grain rice. The food enthusiasts from Malabar will agree with me here. Plus there are no vegetables in the neichoru.
I really cannot explain my emotional connect with this neichoru in words. I can promise you that I have missed it terribly.
So this Ramzan season I am creating a mini iftar spread at home. What takes centre stage… Neichoru of course.
On the table is
Dates
Vegetable stew (to go with the nei choru)
Thari kanji
And sulaimani to wash it all down.
For sure my kids do not understand my fondness of iftar but surely they have made their own with friends from Malaysia.
So, here is the Malabar style nei choru. Hope you develop the love for it too.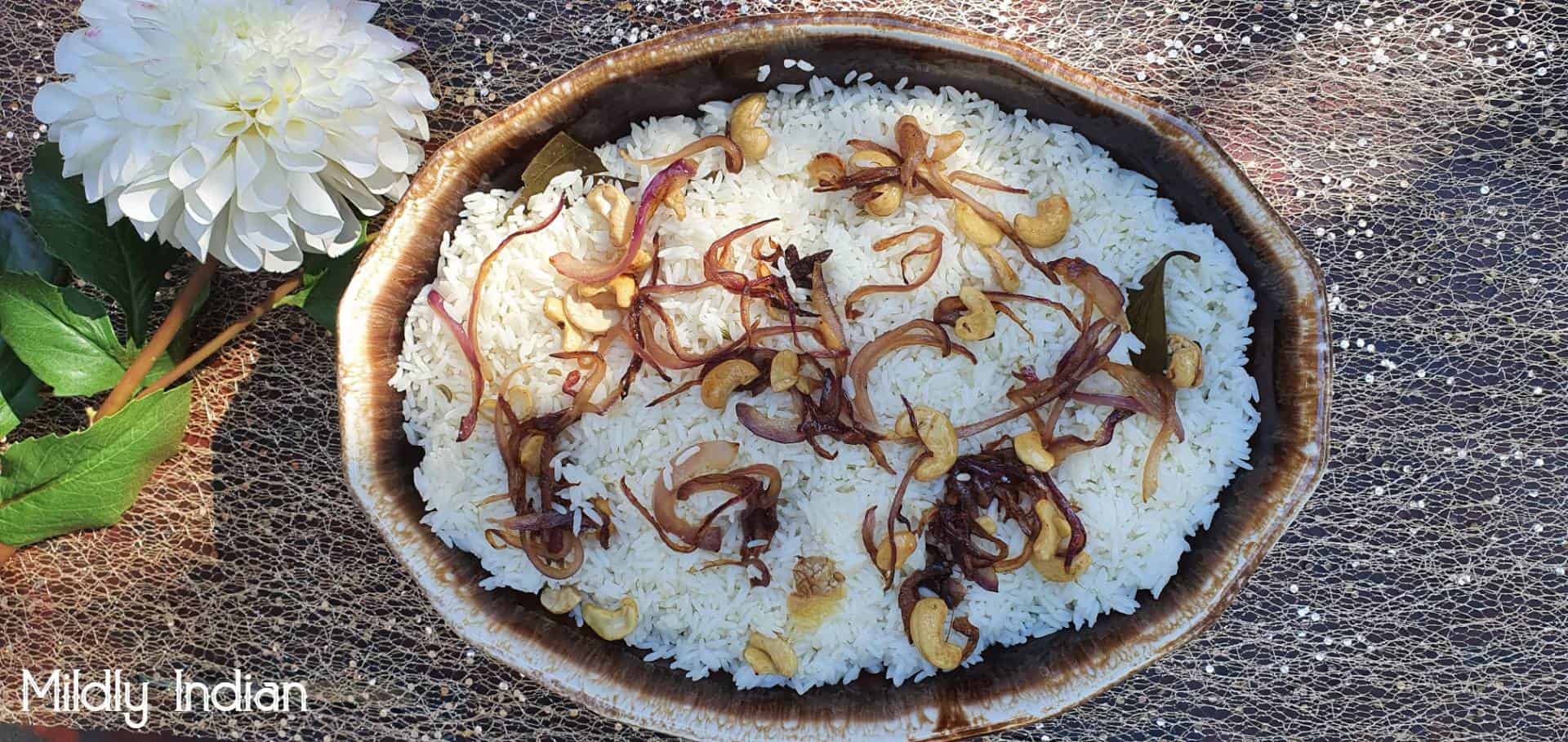 Neichoru
fragrant and spiced ghee rice with kaima rice
Ingredients
to cook the rice
1.5

cup

Raw rice

( shortgrain, kaima rice)

3

cups

drinking water

salt to taste

1

tbsp

ghee / clarified butter

2

bayleaves

3

green cardamom

(crushed)

1

inch

cinnamon stick

1

inch

fresh ginger root

(pounded)

3

cloves
for the garnishes
3

tbsp

ghee / clarified butter

1

large

red onion

(Sliced thin)

2-3

tbsp

cashew nuts
Instructions
Use a moist cloth and clean the rice by rubbing on it.

Into a pressure cooker, add the tbsp of ghee and add the spices into it.

As the spices roast and add the rice and mix it well.

Once the rice is well coated add the salt and water and cook the rice.

Of using a pressure cooker, the rice will need about 2 whistles.

Meanwhile, in a separate pan add the three tbsp ghee and bring it to heat.

Add the sliced onion, on medium heat roast till the onion is translucent and golden brown.

Now add the cashew nuts and roast them.

Once this is ready set aside till the rice is cooked

Release pressure naturally for the rice and fluff it well with a fork. Add ha;f of the roasted onions and cashew nuts and mix well.

Transfer into a serving dish and garnish with the rest of the golden onions.

Serve warm. If serving later keep covered and warm.
Notes
To prepare this recipe in the instant pot
Proceed with the steps as above and here are the changes
Set the mode to saute to fry the spices. Add the rice and saute as well.
Once this is done add water and set to pressure cook mode, 7 minutes. Let the pressure release naturally and fluff the rice.
Proceed with the rest of the steps as above.