For this Onam, prepare a sweet ripe mango curry. This spicy yet sweet curry with a coconut and chilli base is brilliant with steamed matta rice. Enjoy this vegan gluten-free mambhazha pachadi. 
On Amma's list of sadhya items, there is one she makes especially for me, her mambhazha pachadi. Since I made clear that pulisherry was staying clear of my leaf she had this yogurt-free version that slowly became our own sadhya menu. With this upcoming onam and one leftover mango that decided to ripen for the occasion, I had to share this mango pachadi secret with you. 
Ingredients for mambhazha pachadi 
Ripe mangoes: if you ask my mother she will probably say nothing tastes as good as the tiny chandrakarn mambhazham.
However, if you are not in Kerala this option may not be for you. So go for Ripe mango that is still a slight bit tangy. The fibrous ones are perfect here. If not choose Thothapuri,  Kesar or  Alphonso. Thai long mango is good too.
To cook the mangoes: cook the mango with salt, red chilli powder and water. 
To grind as a paste : A smooth paste of grated coconut ground with mustard seeds, cumin and roasted black gram dal. 
Ingredients for the tempering: The coconut oil temperings give that final flavour touch that makes this curry unique. To this add mustard seeds, red chillies, asafoetida and curry leaves.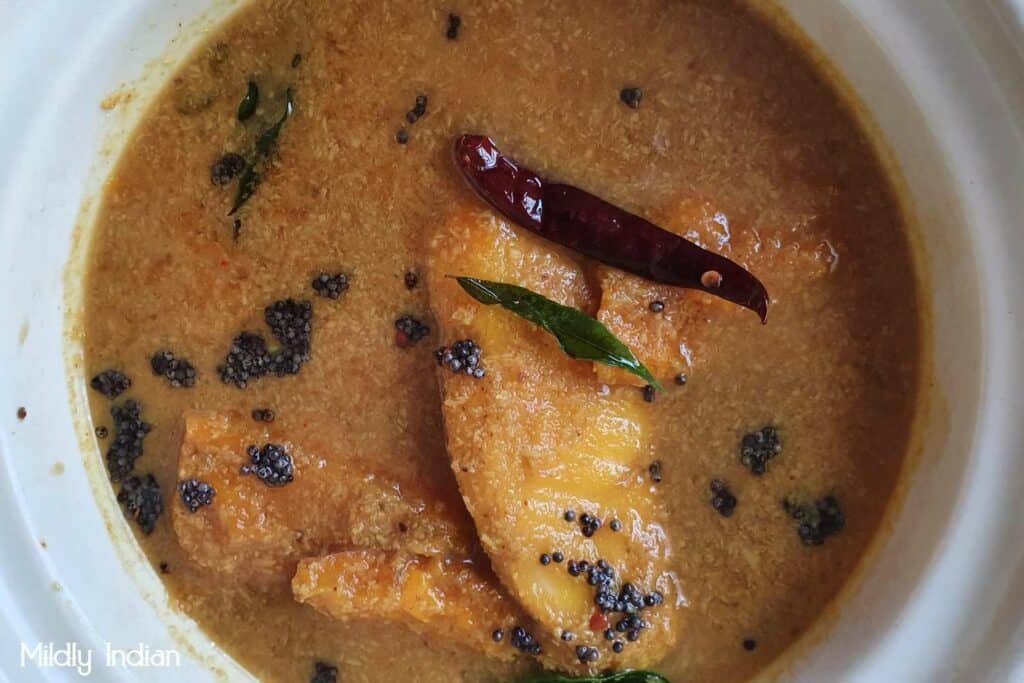 Let's make ripe mango curry
Here is a jist of making this curry.
Once you were and slice the mango, check the sourness it carries. Add water, salt and red chilli and cook till tender.
While this happens, roast the black gram dal in a small pan. Add to this the coconut and spices mix to grind to a smooth paste. Add this once the mangoes are soft and still holding shape. 
When the mustard seeds splutter and the rest sizzle, the oil gets infused with the fragrance, pour it over this hot simmering curry.
The recipe card below carries the step-by-step details that make this curry with images. You can save this on your pinboard or print a copy for your notebook.
Mambhazha pachadi
For this Onam, prepare a sweet ripe mango curry. This spicy yet sweet curry with a coconut and chilli base is brilliant with steamed matta rice. Enjoy this vegan gluten-free mambhazha pachadi.  
Ingredients
2

medium

mango

ripe ones

salt to taste

1/2

tsp

red chilli powder

1/4

tso

turmeric powder

1

cup

drinking water
To grind to paste
2

cup

grated coconut

1/2

tsp

Urad Dal

1/2

tsp

mustard seeds

2

medium

dry red chillies
For tempering
1

tsp

coconut oil

1/2

tsp

mustard seeds

10-12

curry leaves

1-2

dry red chillies
Instructions
Wash and slice the mangoes and add the seeds into the pot.

Add water, salt, turneric powder and red chilli powder.

Cook this on medium heat till the mangoes are tender.

In a seperate pan dry rost the black gram dal( urad dal) till fragrant.

Blend together the coconut, mustard seeds, roasted urad dal, red chillies into a smooth paste.

Add this to the cooking mango mix and boil further.

Once bubbling simmer till the gravy thickens. r

In a separate pan add the coconut oil and mustard seeds.

When these splutter, add the curry leaves, asafoetida and red chillies.

One these get sizzling and aromatic, add it to the simmering curry.

Close the lid and remove from heat. Let the flavours infuse.

After 5-10 minutes the curry is ready to be served.
Making this into mambhazha pulisherry
Though not much there are three main differences between this pachadi and the sweet mango puliserry. The key difference is that there is no tamarind used in the pulisherry. Instead, whisked yogurt is stirred in at the end of making the curry. This is one. The second is in the coconut masala. The pulisherry curry has the masala made with just coconut and green chillies, whereas in this pachadi you will use roasted black gram and mustard seeds with red chillies that give the characteristic ground masala flavour. The small bit of jaggery added at the end of pachadi is also not relevant to the pulisherry. 
Still, you can convert this Mambhazha pachadi into a pulisherry easily by avoiding the tamarind and whisking in the yogurt and also not adding the jaggery. The resultant curry comes very close to the pulisherry. 
Meal prep
Mambhazha pachadi is an easy-to-meal prep recipe. Once made it freezes well for up to three months. Thaw it overnight in the refrigerator and add fresh tempering. 
If stored for the week it comes good for up to 4 days. Reheat the small portion you plan to eat. 
Collaboration 
This recipe has been on my mind for a long time. When Shh cooking blogger group had the mango collection, this was the one I wanted to share but had very little mango so decided to bake with it. Since this is the Onam collection,  sadhya style recipes are on for us. Jayashree is my luck of the draw as a partner and she has made it with the ingredients asafoetida and curry leaves she chose for me, mango pachadi was s perfect fit 
Sadhya recipes for Onam
We have done a quick round-up of sadhya on one of our posts which works well for many occasions and festivals. 
Along with that you can also try to add to your sadhya menu
Stay connected 
Mango and mango recipes are one you can never keep away from if you are a raw mango lover. Hope you like this ripe mango curry as much as we enjoy it. Do let us know how this recipe worked at your sadhya in comments. 
For now, enjoy your Onam prep.