Sweet Kerala-style pineapple pachadi is one that you see in classical central Kerala sadhyas. Kaithachakka pachadi is vegan and gluten-free and is one of the best flavours among sweet and sour Kerala curries. Give it a go today and pair it with hot steamed rice.
Recently, we had the good fortune of being invited to one of the best home-cooked Kerala sadhyas. Not the store-bought ones, not the tambhram twists.. the original" nadan kaimanamulla sadhya". This was at my son's friend's place. The dish that filled me with a good feeling was the Pineapple pachadi she had made. From then, the (Pineapple) kaithachakka pachadi flavours lingered on and finally here is my version of the mind-blowing pineapple curry.
Choosing the Pineapple.
Pineapple(kaithachakka in Malayalam) is not an easy fruit to tell by squshing them. They have hard skin that stays firm. Yet, if it is squishy, don't buy that one! Another idea not to go by is the colour. They anyway range from golden yellow to green when ripe, so you can't use that as a measure to tell them apart. My trusted ideas are first to see if the pentagon shapes on the skin appear flat and not dome-shaped. The younger pineapples will have that dome-shaped bits which flatten out when they grow and stretch. Another idea is to sniff at the base near the stalk and if it smells of sweet fruit, it is ripe.
Prepping the pineapple for the curry.
I have never been able to get that tiktok hack of getting the pineapple pieces without Slicing them! So, I go back to that trusty knife to do my job. Wash, peel and pat dry the pineapple. I find it easier to cut down the middle and then peel. Since the peel is prickly slice off using a bigger knife to the thickness that will remove the hard yellow skin, but keep the flesh intact. Slice in wedges and remove the core. Now chop them down into bite-sized pieces to use in this pachadi.
Let's get to make the curry
Once you have prepped the Pineapples,  you need to get the masala ready before beginning to cook. The coconut-based masala is a ground paste of freshly shredded coconut (frozen will do fine), green chillies, curry leaves and a few mustard seeds. These are ground to a smooth paste and set aside. Now begin cooking the pineapple with a bit of salt and turmeric added to the water. As the pineapples turn fork tender, add the ground masala and adjust the flavours. As they bubble and cook together, prepare the tempering with coconut oil. Splutter the whole black mustard seeds, black gram dal, red chillies and curry leaves. These roasted spices and lentil mix is poured over the hot bubbling pachadi to infuse the aroma. The pachadi is now ready to serve
What if my pineapple is too sour?
If the pineapple is too sour upon cooking add a tablespoon of crushed jaggery to the cooking mix. This keeps the pineapple pachadi sweet enough. For larger quantities adjust the jaggery you add. If there is no jaggery, use date paste or sugar according to taste.
Variations
Many a time, this pachadi is made with a combination of grapes and pineapple. It tastes amazing with the pop of juice from the globes of grapes. Choose the red-skinned grapes if you are adding some, becomes beautiful.
Pineapple pachadi
Ingredients
1.5

cups

pineapple

diced

1/2

tsp

turmeric powder

salt to taste

1/2

cup

drinking water
for the masala
1/2

cup

grated coconut

1/2

tsp

cumin seeds

1/2

tsp

red chilli powder

or 1-2 dry red chillies

4-7

curry leaves
for tempering
1

tsp

coconut oil

1/2

tsp

mustard seeds

1/2

tsp

Urad Dal

1-2

dry red chillies

4-5

curry leaves
optional addition
3

tbsp

yogurt

I have not added the yogurt as I and not fond of it in pachadis
Instructions
Peel and dice the pineapple

Add this into the cooking pot, add turmeric salt and water and cook till fork tender.

Meanwhile, grind the ingredients for the coconut masala into a smooth paste with minimal water.

When the pineapple is cooked, simmer the heat and add the coconut masala paste

Let this cook at low heat and slowly bubble up.

In a seperate pan add the coconut oil and bring to heat.

When the oil is hot add the mustard seeds to crackle.

To this add the urad dal, dry red chilles and curry leaves and roast till the urad dal is slightly golden.

Pour this tempering over the pineapple curry that is cooking.

Remove from heat and cover and keep for 2-3 minutes.

The curry is now ready to serve.
Serving ideas for this madhura curry.
No doubt the pineapple madhura curry is my favourite. The easiest idea is to serve it with rice, cabbage thoran and papadam. I don't think it needs anything else.  In case of a bigger meal, add it to your Southindian thali or banana leaf meal as a side dish. You can have it with flatbreads, pooris or naans too as it is creamy and has a sweet and sour flavour.
Leftovers for storage.
The pineapple madhura curry gets consumed quickly in my house. However, if you have leftovers, they stay in the fridge well for two to three days. Freeze the prepared curry for longer life and thaw as needed. Microwave them to bring them back after defrosting.
More with pineapples
Pineapples are evolving as my favourite fruit. So we do have a few different recipes with them.
The simplest idea is to have a sweet-sour rub and grill them perfect for that juiciness. If it is something to complement the pachadi, try pineapple rasam. Don't forget the Malaysian fresh pineapple salad for summer.
Stay connected
Pineapples do get my knees weak. So if you are like me, type in a pineapple in the search bar to see all the recipes we have. As for sadhya, we all love a good banana leaf meal, so why not indulge once in a way? Check out the hacks for making it easier on yourself with the elaborate sadhya. When you try out our recipes, we will love it if you can share your feedback and rate our recipes. This helps us improve or even try new things. Stay, scroll and enjoy yourself in this space.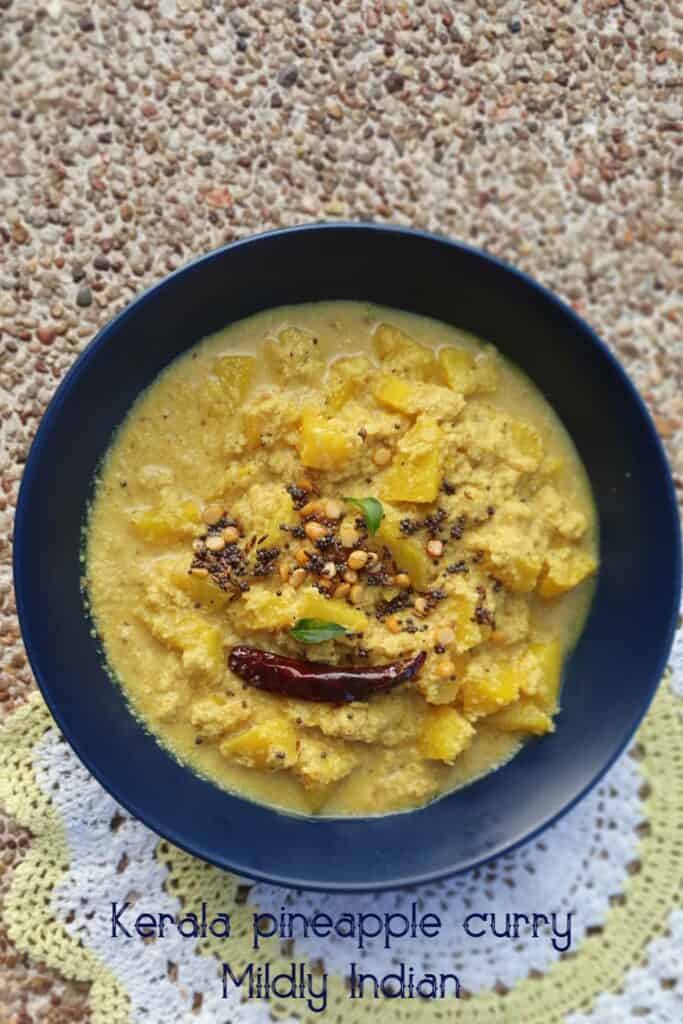 Happy Onam!