Carrot pachadi is that side dish you can get done in under 15 minutes to pair with the biryanis or a classic South Indian meal. Try this black carrot pachadi which adds variety to your meal with the aroma of coconut and the sweetness of carrots.
What are you making for Vishu?
This was the wake-up call for that it is Vishu time already! Having had a very busy week the least of my thoughts was Vishu. As my readers keep me on my toes,  here I one that I quickly whipped up on vishu morning.
Pachadis and kichadis
The recipe that I had not much included in the blog is the Kerala-style pachadis. Though an easy recipe to prepare, I am not a huge fan of this flavour. Yet, my family likes them and you may too. Whether you call this a pachadi or a kichadi depends on which part of Kerala you are from. Basically, it is a style of yogurt salad with a vegetable added and a fresh coconut-based masala ground into the mix. The classic mustard seeds and curry leaves in coconut oil tempering create that final touch to make the recipe aromatic.
How is pachadi different from raita?
Raitas are yogurt salads too. Yet, different as they do not have any coconut ground masala added to them. They also do not have the classic tempering used in making the pachadi. Instead, they do have some masala powders like roasted cumin powder, red chilli powder or chaat masala that add flavour. You can make carrot raita instead of pachadi too.
Ingredients to making carrot pachadi
Carrots:  it doesn't matter what colour carrot you use for this recipe. The resultant colour will of course reflect the same. Finely grated carrots or minced carrots are preferred.
For the ground masala: Usually, I use freshly grated coconuts with a small piece of ginger, green chilli and some curry leaves to make the masala base. These are ground to a smooth paste like a fine chutney without adding much water as you don't want a runny pachadi.
Yogurt:  thick natural set yogurt is what we use for making pachadis. Fresh yogurt is often set at home overnight than storebought ones. This has the right amount of acidity without being overpowering.do not discard the whey, this is added along with the yogurt to the mix.
Seasoning: salt is the only Seasoning agent used in this recipe. Regular table salt will be enough.
For tempering: the mustard seeds cracked in coconut oil add a unique aroma to the dish. Along with these curry leaves, red chillies and a pinch of asafoetida are added to the warmed oil to create flavouring oil.
Check the recipe card below for details on the quantities and step-by-step images.
Making the black carrot pachadi
This is the easiest part of the recipe. Once you have your washed carrots, peel and grate them. Since mine were fresh from the garden, we scrubbed them thoroughly and did not peel them. Grate or mince them well and set them aside.
Grains together, the small piece of fresh ginger, curry leaves, coconut and a small green chilli into a smooth paste. Set it aside.
Whisk the yogurt with a pinch of salt and set aside
To a small frying pan add the oil, followed by mustard seeds. When they crackle, add curry leaves, red chilli and asafoetida (hing). Let them sizzle. Remove this from heat when the curry leaves are crisp add the black carrots. Saute for a couple of minutes( not really to cook them  but to warm them through)
Add this to the prepared yogurt and mix in the coconut masala. The black carrot pachadi is ready to be served.
Notes: you don't have to have chilli in this recipe. You can absolutely avoid it and go just for the coconut and curry leaves. Or you can remove the seeds and central vein of the chilli to reduce the heat.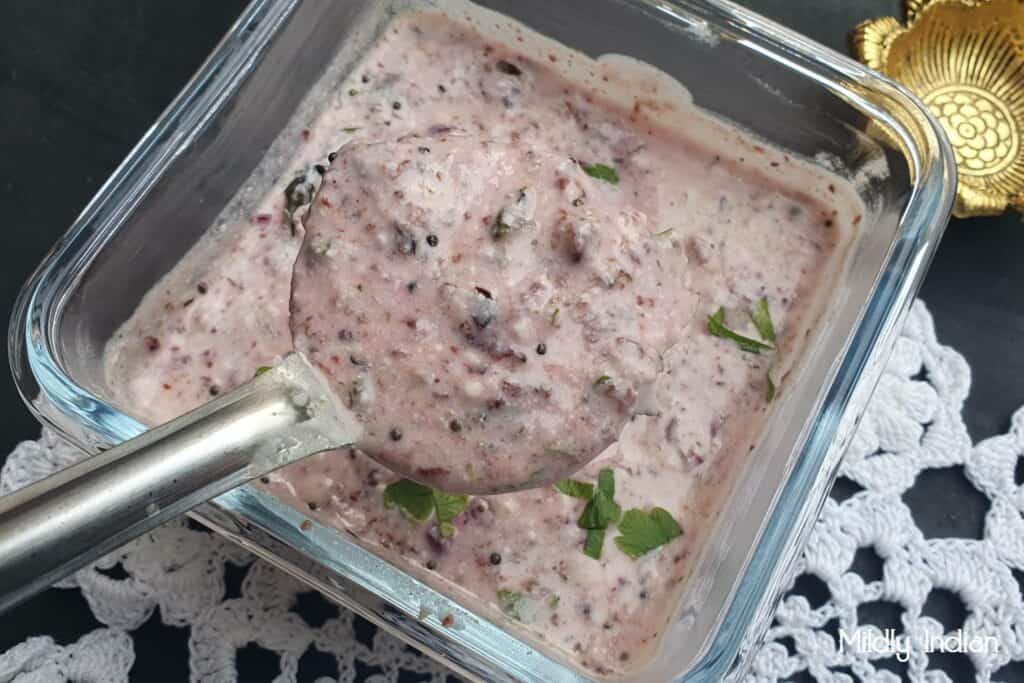 Black carrot pachadi
Equipment
frying pan

grater

mixing bowls and spoons.
Ingredients
1/2

cup

carrots

i have used black carrots

1/2

cup

low fat yogurt

salt to taste
for grinding the coconut
4-5

curry leaves

2

tbsp

coconut

1

small

green chilli

1/ 4

inch

fresh ginger root
for tempering
1

tsp

coconut oil

1/2

tsp

mustard seeds

1

small

red chilli

2-3

curry leaves
Instructions
Wash, peel and grate the carrots ( or mince them). Set it aside.

Whisk the yogurt with the salt and whisk together.

Grind the coconut, curry leaves, chilli and ginger to a smooth paste.

Into a frying pan, add the oil and set on medium heat.

When the oil is warm add mustard seeds and let them crackle.

Add the curry leaves and red chilli and let them roast.

Now add the grated carrots and let thm saute

Add this to the mixing bowl with yogurt and the ground coconut mix.

Mix well and the black carrot pachadi is ready to be served.
How to serve pachadi on a banana leaf?
In a banana leaf meal, pachadis are placed on the right-hand top corner of the leaf. Only about a tablespoon of pachadi is needed to be served at first. Again when all the side dishes are asked for, you can serve upon demand.
Other dishes that pair well with pachadi
Carrot pachadi is a quick and easy side dish. So you can use this as a swap for raitas with your biryanis. A rice , sambhar combo can make do with this pachadi on the side for a home-style meal. You can easily pair this pachadi with sattu ke paratha or til ke poori to make the meal interesting. Since it is not a spicy dish, we make it more as a salad in the summer months, especially with elaneer kanji.
Stay connected
How did you celebrate your Vishu? We had a quiet one at home as it has been a hectic couple of months. We met up with a few friends for a potluck Sadhya in the evening too.  Hope you like this carrot pachadi recipe and will rate us as you make it. Stay connected with us on our social media accounts, Instagram or Facebook and check out our near-daily updates. Don't forget you can always like and share our content with friends and family. Let us know if you are planning to use our content or images for your publications.
Wishing you all a very happy Vishu.
See you in the next post.