The bajra roti is a gluten-free unleavened pearl millet bread that is preferably eaten in winter. Made with pearl millet flour this roti or bakri, is a nonspicy,  low fat, vegan recipe that can be paired with curries and dals or just a cube of jaggery.
Learning to make bajra roti.
While living in India, the kids were small and we had a fantastic helper-Anasuyamma. Hailing from North Karnataka, she was an excellent cook and taught me plenty of dishes from her region. Though time-consuming, the flavour of those recipes lingers in my tastebuds always. The speed at which Anasuyamma patted down the millet flour rotis and perfectly removed them without a crack was magic to me. The encouraging "barathe amma, nidanakke maadi"( it will come, make it slowly) rings in my ear each time I tested it out. Though the recipe tested a lot of my patience till I got the hang of it, her encouragement was behind the trials which otherwise would have long given up!!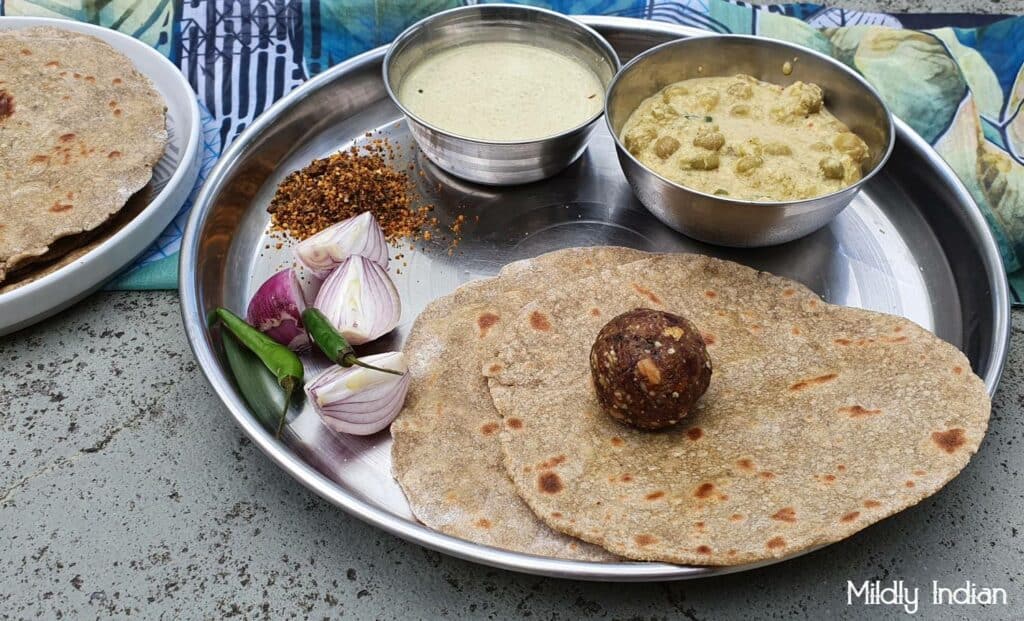 Here are the step by step secrets.
Bajra flour is made from pearl millet grains. The grey millet grains are ground to a powder (can be storebought). This flour is the starting point of the pearl millet bread. We have used whole bajra to make ladoos before.
Kneading the dough.
Pearl millet flour is dry and devoid of any stickiness. This is because it is gluten-free flour. To get a soft dough, knead the flour with hot boiling water which is salted. This certainly cannot be achieved by hands so use a spoon or like the pro use the handle of your rolling pin.
This is a protip from Anasuyamma herself- Don't put the entire amount of water in one go, depending on the freshness of the flour the water absorption will slightly vary.
Rolling the rotis
Roll out a lime sized ball of the dough and it is best not to roll with a rolling pin to start. Dust the board well with flour and roll up your sleeve. Pat the roti down slowly turning it a small bit at a time. I couldn't find a better way than put it together in a video, so here it is. This is slow and comes better and better with practice. If you are attempting a clean margin cut the rolled rotis with a knife otherwise they don't have clean edges and look like these ones in the images.
Cooking the rotis
The pearl millet flour dough dries out quickly so use medium heat and a thicker flat pan to cook the roti. Here is a trick that I learnt from Anasuyamma, gently press the roti as it cooks with a moist kitchen towel (be careful with your hands) This allows a bit of steam that cooks the bajra roti softer, just like the video above gives you the detail. Here is the recipe card with all the details you need to get this recipe ready. 
Bajra roti.
Equipment
Rolling pin

frying pan

Cutting board
Ingredients
2

cups

pearl millet flour

Bajra atta. Kambu maav.

1/4

tsp

salt

2

cups

drinking water
Instructions
Boil the water and add salt to it.

Add the pearl millet flour into a bowl.

Add a cup of salted the boiling water to the flour and mix with a ladle.

Keep covered for 10 minutes.

After 10 minutes, knead the dough thoroughly adding a tbsp of water at a time till it forms a smooth nonsticky dough.

Keep the dough covered with a moist towel.

Pinch of small lime sized balls from the dough and roll it into a smooth ball.

Place this ball on a well floured board and pat the disc gently.

Turn over gently and pat the dough ( use the video reference) till it is a thin circle.

Heat at tawa at medium heat.

Place this on a heated tawa ( flat pan), and let it stay for a minute.

Using a moist cloth gently press the roti gently.

This helps to cook the millet flour.

Flip and cook till blisters appear on the roti.

Remove from heat and keep it in a between a teatowels.

Serve warm with curry and chutney.
Storing the rotis
The bajra roti is best eaten fresh off the stove that keeping them for later.  It stays well for 2 to three days but is drier than the fresh ones. So this recipe is not ideal for meal prep.
Freezing certainly doesn't work (in my opinion) as the thawed roti will just crumble rather than being soft.
The colour of the roti.
The rotis are certainly not the golden brown that you may be used like the wheat flour ones. This is because of the grey colour of the pearl millet but let that not fool you. The millets ate highly nutritious with complex carbohydrates and a lower glycemic index.
Hope you enjoy this rustic bread recipe. We like pairing it with channa masala curry or vindaloo and  Hesarubele kosambari salad or just with a bowl of yogurt and some garlic pickle. On this plate here we have peas korma, pudina coconut chutney, sliced onions and nuts and dates ladoo to complete this bajra roti thali.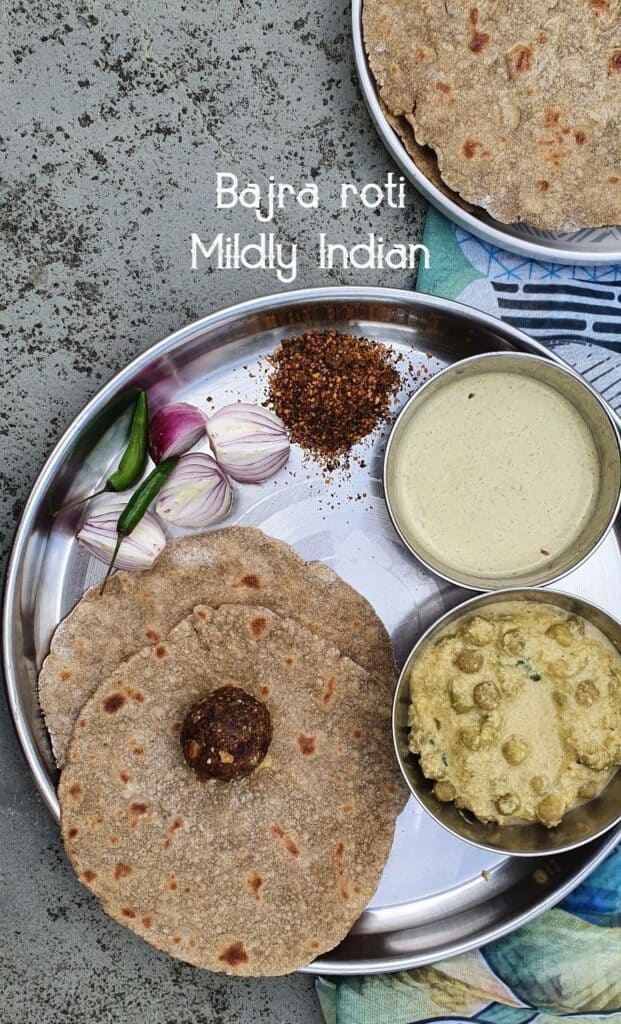 Do tag us #mildlyindian when you make this recipe and leave your thoughts in the discussion below. We love to hear about your experience of making this recipe. If you are a seasoned bajra roti maker and have better tips share them with us in the comments as it will benefit a lot of us who are learning. Don't forget to share and subscribe to this blog. We are working on getting our youtube channel with more recipes and learning experiences. Kindly encourage us by subscribing, liking and sharing the videos as well. Stay safe and keep in touch.