Being that cusp between states and borders there are times when I don't know if I want to celebrate a festival the Kerala way the Karnataka way or follow my Tamil roots. The gen-next asks me if there a difference. Well, not to them as they know none in full. As a process of educating them, I do a bit each year, through food decoration and rituals. I agree it is never going to paint the full picture, but why not give it a try.
This year I certainly wanted to start with a bit of Ugadi. This year, it is good coz it comes a day prior to Vishu so I can have one day to each.
Mango Season
The start of the year with the harsh humid summer months also means there are plenty of mangoes. So recipes with mangoes seem to be a no-brainer during this festival.
Chitranna or mixed rice varieties are one of the best ways to jazz up the staple grain. Raw mangoes are my favourite anytime. This mavinakayi chitranna was my fetish recipe while going through the first pregnancy. Of course, I had enough friends and neighbours who loved to spoil me with it. Nowadays I make this recipe with a mix of grains and seeds. The combination I have done today is that of rice, with quinoa and Buckwheat. Once mixed with the generous gojju(sauce) there is no way you can figure out which grains go in. Don't miss adding in a handful of peanuts to it for the crunch factor. Save some of the cooked rice to try out with Udupi Huli.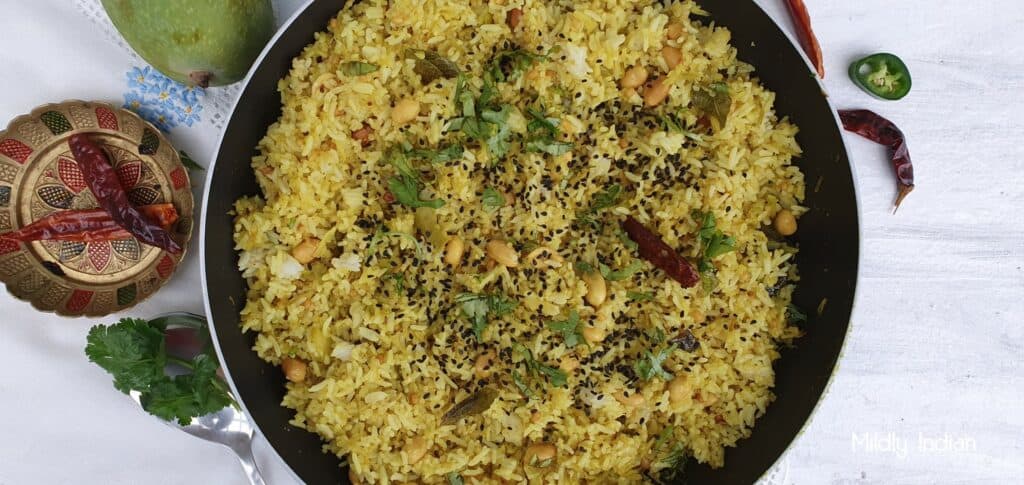 Mavinakayi chitranna is a perfect lunchbox recipe as well.  A great one to quickly put together and use up some leftover rice or any other grain. During mango season, make a bit more of the gojju and freeze it so you have enough for those cold winter months that you crave a bit more carbs. I love to have my mango rice with kalabele kosambari and neer moor.
Enjoy this recipe for this Ugadi for now,  if you can get raw mangoes. My Indian grocery just had a few left that made this possible. 
Happy Ugadi!!
Mavinakayi chitranna
Gluten free, vegan mixed rice recipe made with raw mango and spices is a perfect lunch salad.
Equipment
mixing bowl.

ladle

frying pan

grater
Ingredients
2

cups

rice

cooked shortgrain rice.

1

large

mango

grated raw mango.

2

tbsp

coconut oil

1/2

tsp

mustard seeds

1/2

tsp

Urad Dal

1/2

tsp

Channa Dal

2

small

dry red chillies

1/8

tsp

fenugreek seeds.

1/4

tsp

cumin

2

medium

green chillies

I used serrano, Slit into two.

10

curry leaves

1

pinch

Asafoetida

1/4

tsp

turmeric powder

salt to taste

1/4

cup

roasted peanuts

2

tbsp

grated coconut

3

tbsp

coriander leaves

1/2

tsp

Toasted sesame seeds
Instructions
Heat the oil in a frying pan.

As the mustard seeds splutter add the urad dal, cumin seeds, fenugreek seeds and channa dal.

Saute till they turn golden, the add the asafoetida, slit green chillies and the curry leaves.

Into this add the grated mango and saute for two minutes.

Add salt and turmeric powder and saute till the mango is cooked and soft. This is mavinakayi gojju.

Add the rice and toss gently till the rice is mixed well.

Add the coriander leaves, grated coconut and sesame seeds.

Toss them all together and the mixed rice is ready to serve.