Most of the Udupi cuisine I learnt was from my mother in law. Having lived there for ages, she had a treasure trove recipes that the family is very fond of. When she was teaching us, her eye for detail was immense, picking the right chilli to the cut of the vegetable she was particular. This is the essence of this cuisine. Over the years, I have come to understand, this does matter a lot, especially in the cuisine she was teaching us. This is how the cuisine is designed to be.

When Jayashree Taro proposed Udupi cuisine at Shhh cooking secretly group of bloggers, my mind raced through so many recipes she made in an effortless manner. With Kalyani sharing mustard and tamarind as the secret ingredients, there was no looking back from the huli. Kalyani's blog  is a treasure trove of amazing traditional recipes and I am sure you will love her kayi sasive chitranna recipe as well. 
Udupi Temple cuisine
Udupi is a temple town along the Konkan coast. The unique style of cooking from this region makes them.one of the best cooks in the world. Centring around the Krishna temple, this cuisine has the love for hearty curried and ample sweet treats. Celebrating the child God and enticing him with innumerable delicacies has created such s complex evolution of this cuisine. In addition, feeding the temple supporting commoners and the devotees has brought this vegetarian cuisine to us.
Fortunately, we had the lovely opportunity of having this meal quite often during our college days at Manipal. Of course like any other hungry young person looking for a free meal, for us the temple meal was so filling. This kept us on our course of divinity as well. Made in huge temple vats, the huli was generously served with anna. The only difficulty of having the meal was the speed at which it was served.  So, my taste buds have had the pretest before learning this unique cuisine, now I am able to enjoy it without the speed. Yet, the flavour of cooking in huge batches to the exact, non-comprimising  food regime standards will bring about some small changes when you cook at home.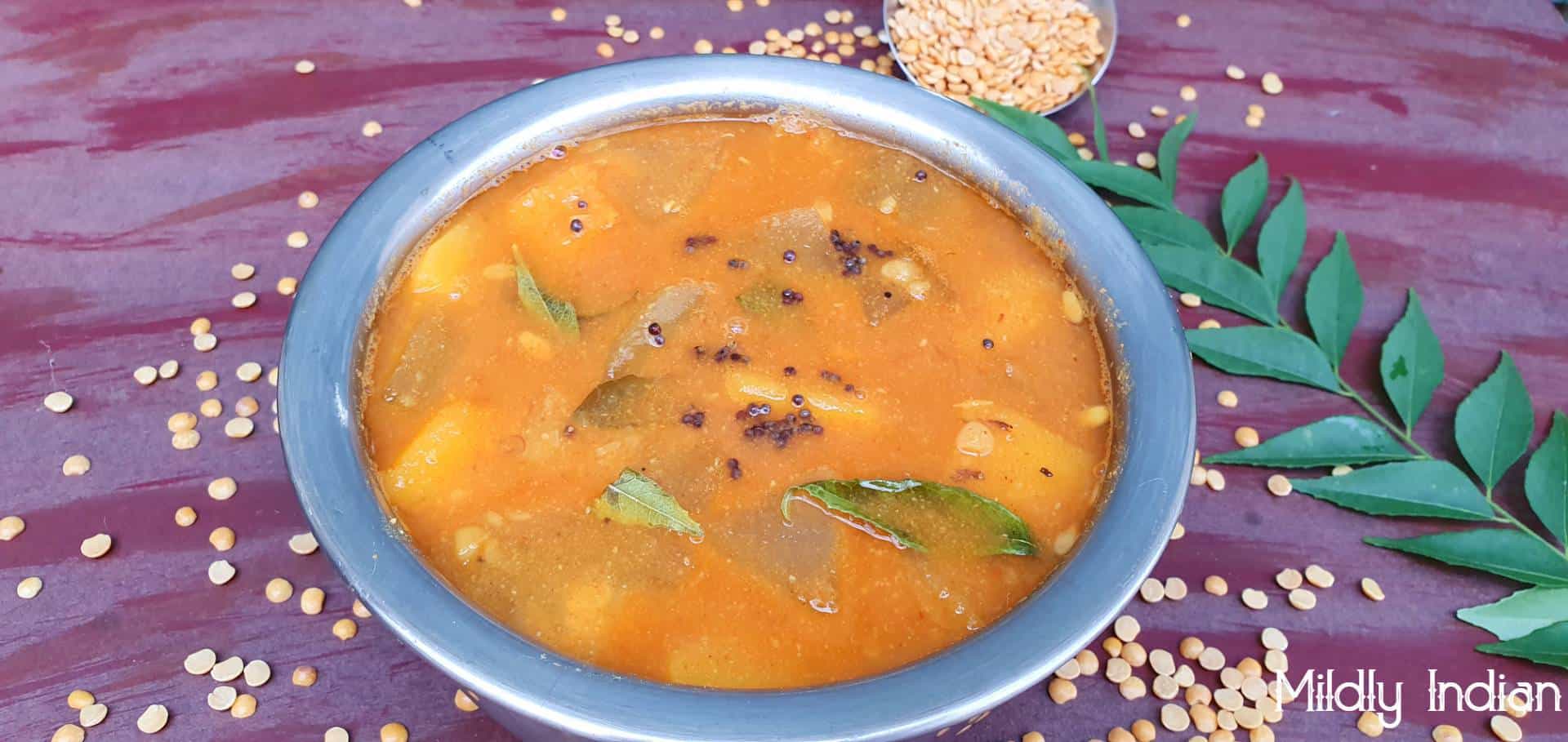 Vegan udupi huli
Most South Indian cuisines rely on a bowl of rice (anna) with curry( huli)and sides of vegetable stir-fried for lunch (palya). Udupi cuisine is no exception. The most common one is the Huli. Though you can call a huli as similar to a sambhar, it is not equitable. They are a world apart in taste and mouthfeel.
Huli literally translating to sourness, these babies have a slightly sour touch balanced out with spices and the sweetness of that lump of jaggery that makes it all perfect. A characteristic feature that you will see in this is the no onion no garlic nature of the cuisine. These are avoided as they are not considered satwik.
How would I serve this?
The Huli I have made today is with pumpkin and winter melon ( ash gourd).
This recipe pairs well with steamed rice or millets. For making it a complete meal, try these recipes to go with the grain and curry
Salads
Kadalebele kosambari salad with purple carrot
Stir fries
Banana blossom in coconut masala
Fired crisps
Arisi Karuvadam – Rice sundries
Hope you enjoy this traditional recipe that I learnt from my mother in law. Stay Safe and keep in touch. Don't miss to subscribe and follow us on Facebook and Instagram. To pin this recipe for future use, use the link below.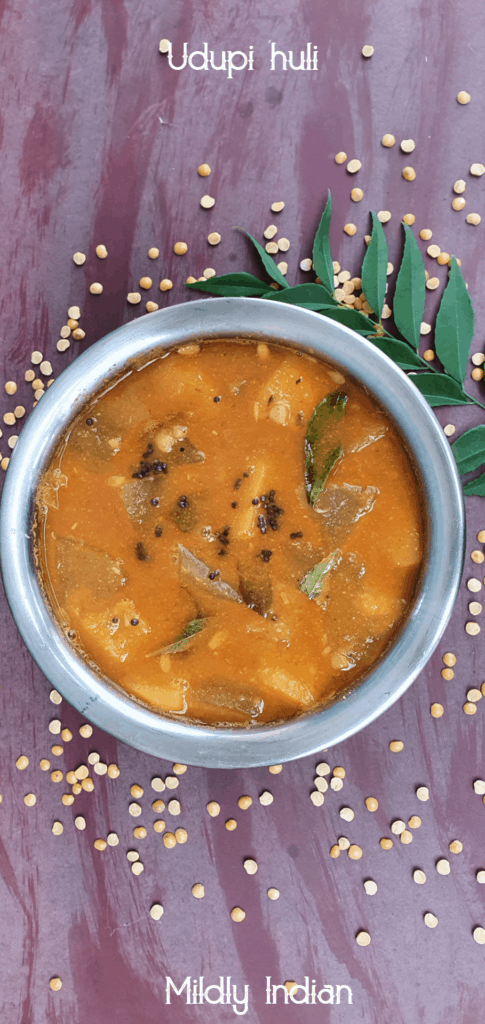 Print Recipe
Kumblekayi huli
Yum
Curry with lentils gourds and pumpkin for serving with rice
To freeze the curry
This curry is perfectly freezable for up to 3 months, however, I will avoid the final tempering step and add it fresh upon thawing as it brings a flavour enhancement to the frozen one. Personally I am not keen on frozen winter melon as I find it a bit chewy, but pumpkin holds up really well.