One of the easiest and quickest breakfasts in my gallery  will predominantly  involve rice flakes. Dahi chura is another one.
Originating from the Bhojpuri or Bihar  cuisine,   I like the ease of making this recipe. Moreover this looks so pretty as a picture  my kids don't mind shooing the Monday blues away with a bowl of nourishing yogurt soaked rice flakes.  Nutritious no doubt  and effortless and with zero cooking involved there is nothing more than this that satisfies me.
Traditionally, dahi chura  with jaggery is eaten on the Makar sankranti day for lunch.
With the heavy influence of the dairy products in cooking from Bihar and UttarPradesh region, there is no doubt this soft preparation quickly catches on with all ages.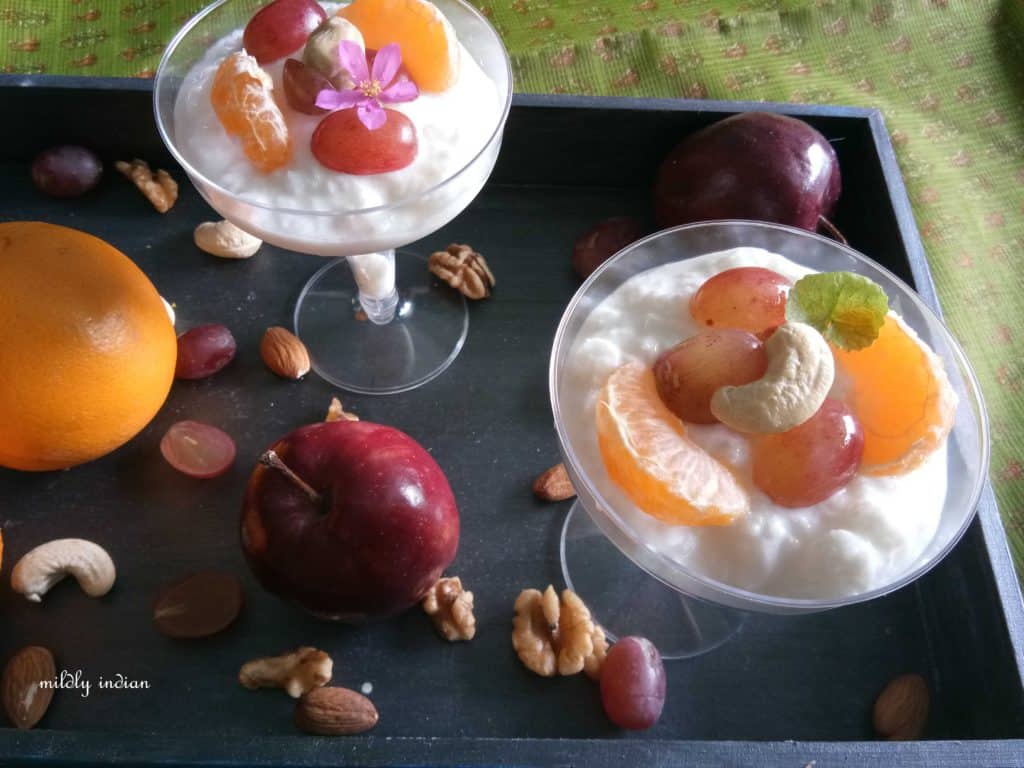 Essentially, apart from the yogurt, rice flakes and jaggery  the rest is pretty much mix and match with your liking…nuts,fruits you can layer up your own parfait with it.
The recipe tastes amazing when chilled so you could do a overnight one too and add up the fruit in the morning or use a chilled yogurt to do the trick.
So go in for a healthy breakfast… Now there are no excuses to say… No time.  It's just 5 minutes of time for yourself.
Here are some more easy  no cooking involved ideas…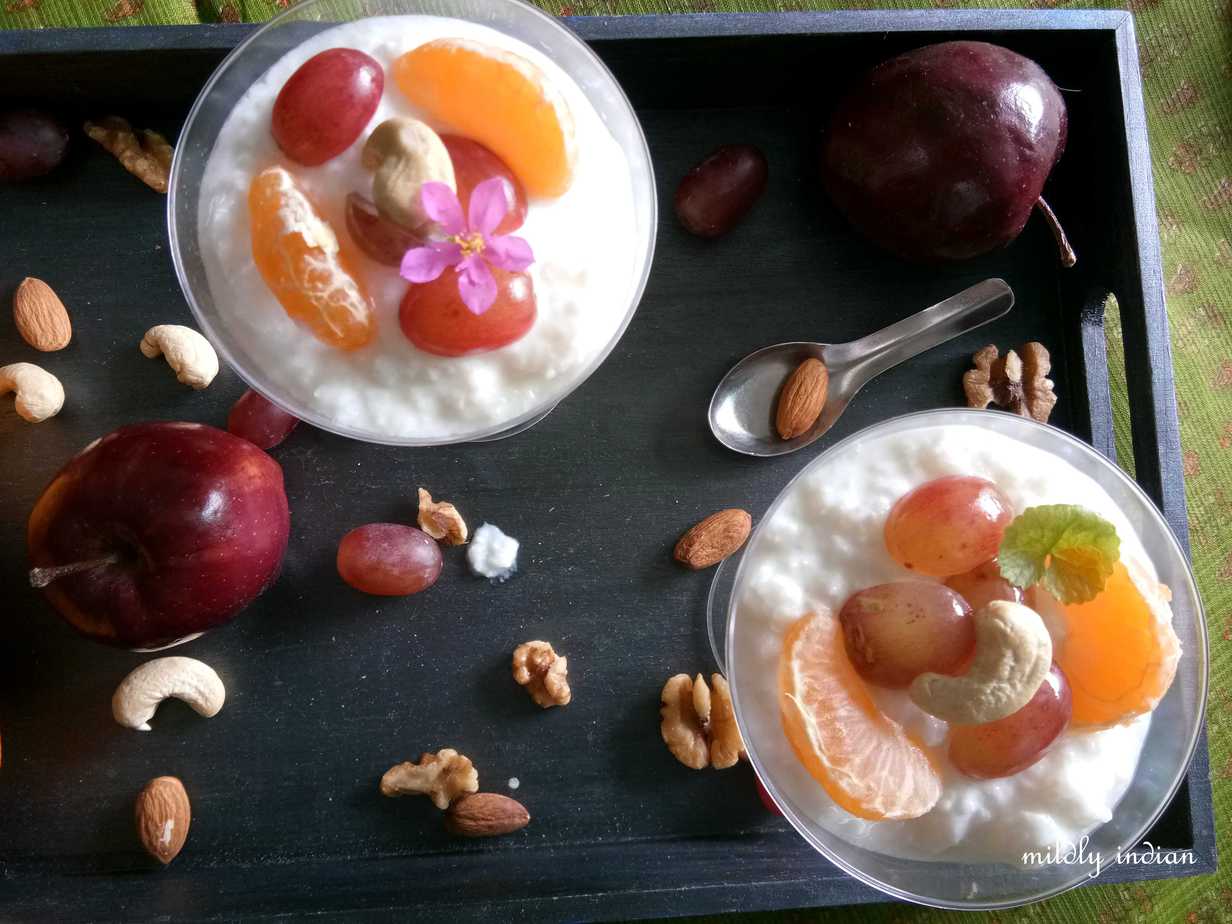 Dahi chura
sweet yogurt with rice flakes
Ingredients
1/2

cup

rice flakes

thin variety, poha, avallakki, aval

1

cup

low fat yogurt

2

tsp

milk

jaggery

to taste
mixed fruits
1

medium

apple

10

grapes

1

mandarin oranges

1

mango

ripe

few

Assorted nuts
Instructions
Add the rice flakes into a colander and wash well under running water to remove the dust like particles. Set aside to drain.

In a deep mixing bowl, whip yogurt well with powdered suphurless jaggery

Now add the soaked rice flakes and mix well.

Check out the thickness and adjust with the milk if necessary.

Layer this with diced fruit to form a bit of fun dessert. decorate with nuts and edible flowers to make it beautiful.

Hold chilled till serving time
Notes
If using a medium thick variety of rice flakes need to soak in milk for a bit longer so the crush.
Fruits can be mixed and matched based on what you like, I have sometimes added dragon fruit, chikku or even pieces of jack fruit.
Replace jaggery with honey if you prefer the taste of honey.