I adore recipes which can be quickly put together, customised for a few health difficulties we may have and yet feel like a million dollar. But this can't be some chemically processed, grab the bag or on the go stuff. That surely doesn't work.
One of the challenging fronts with respect to recipes is to have desserts, customised to both the diabetic care and the sweet tooth embedded in the growing kids. Among the Indian recipes, I find shrikhand the easiest to make.
Traditional shrikhand is infused with loads of sweetness and beautiful spices like nutmeg cardamom and saffron. It is a creamy dessert side to scoop up with deep-fried pooris( flatbread), popularly served along the states of Maharastra and Gujarat. The overload of sugar-based calories in this makes me cringe each time I think of making it. Hence, I procrastinated.
Now that we are back from all our crazy travels, I started missing India where we had the luxury of something sweet often after dinner. It is also time to get back to my better ways too. So hung yoghurt is a good thing. It also helps to get back with nourishment as it is both protein and probiotic rich. 
I just need to have the sweetness sourced from some natural ingredient to have a perfect dessert, and may not serve it with pooris, rather as a dessert. So here is my new version.
Another staple to try with puffed poori is 
Aamras
Mixed fruit shrikhand -Fit for a king
The flavours of crushed cardamom and the sprinkling of rosewater are the key to give the dessert the deep sweet aroma. The seasonal fruits add up to the sweetness factor without the guilt. As an added treat, keep a small bowl of crushed palm jaggery on the side for the extra sweet-toothed one, but we rarely need it.
Try this version, it is surely addictive and perfect for summer. Don't miss to try it.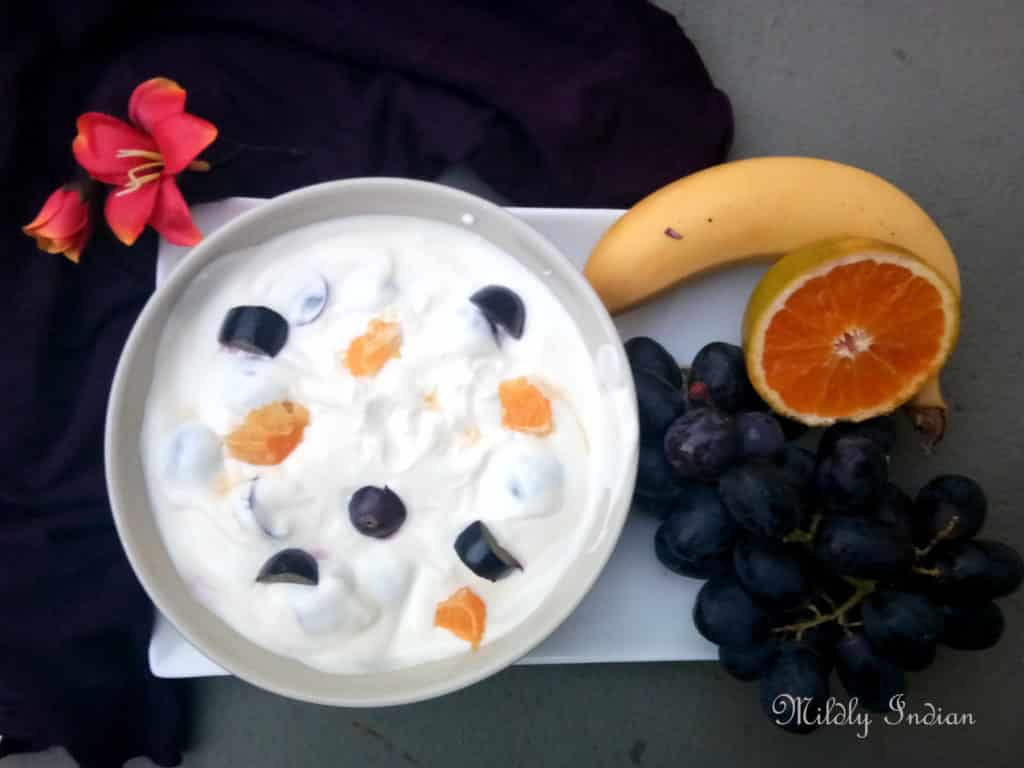 Talking about yoghurt you may also want to try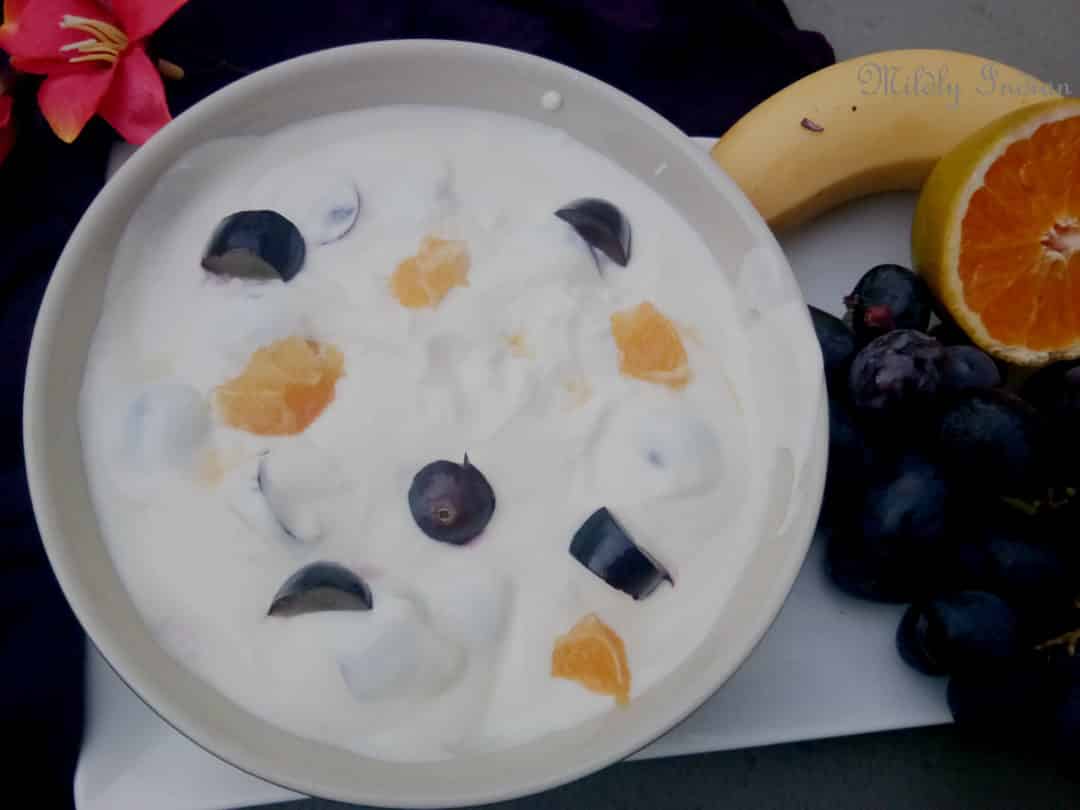 Mixed fruit shrikhand
No sugar added dessert.
Ingredients
spices to flavour
1

pinch

nutmeg

grated

1/2

tsp

green cardamom powder

1-2

strands

saffron

(optional)

1

tsp

rosewater
fruits to sweeten
1/2

cup

Banana

sliced or chopped

10-12

grapes

sliced

2-3

tbsp

pomegranate seeds

1/2

cup

mango

chopped or pulp

1/2

apple

cored and chopped

1

small

chikkoo

deseeded and chopped
garnish
1

tbsp

Assorted nuts

crushed
Instructions
Into a bowl place a large cheesecloth and measure out the two cups of yoghurt.

Now tie the ends of the cloth so as to allow it to form a knot and hand it somewhere cold so the whey can drain off.

After about two hours remove this suspension, untie the knot and scoop out the creamy thick hung yogurt.

Into the bowl of hung yogurt add, nutmeg, rosewater, cardamom and saffron and mix well.

Slice and chop a 2-3 fruitcombination of the prescribed fruits or seasonal fruits available.

Mix them and set aside.

Mix this fruit mix into the hung yoghurt and set to chill till serving

While serving top with crushed nuts if desired
Notes
Avoid using citrus fruits and pineapple as they tend to split the yoghurt and turning it bitter. However, topping it with a few bits of citrus just before serving and consuming within 30 minutes will not alter the taste.(that's what I have done)
The use of nuts is totally up to you it tastes perfect without it too.
As a short cut, I sometimes do a cheats way of using Greek Yogurt. This does bring in the taste factors perfect but is a tad bit thinner in consistency.
Nutrition
Sodium:
74
mg
Sugar:
19
g
Fiber:
2
g
Potassium:
205
mg
Cholesterol:
8
mg
Calories:
145
kcal
Monounsaturated Fat:
1
g
Polyunsaturated Fat:
1
g
Saturated Fat:
1
g
Fat:
4
g
Protein:
5
g
Carbohydrates:
25
g