The rice tempered with spices is a common one in Indian cuisine.
Rice is the staple in most states and the additional tempering provides second layer of flavour to the  otherwise  simple rice. Few among these are the jeera rice,  tadka  rice, bagara  rice, neichooru. These simple spiced rice are often accompanied with a heavy gravy style preparation and the combination  makes it heavenly.
The Bagara rice is an aromatic rice preparation, which follows up from the Hyderabadi cuisine / Deccan cuisine. This rich cuisine from the Nizams  have been heavily  influenced  by the Turkish and Arabian cuisine.  As opposed to fiery cuisine of the region and the very well known Hyderabadi  biryani the simple flavourful preparation is flavourful yet subtle.
The use of unique spices like cloves, cinnamon stick, bay leaves and Shah jeera (caraway seeds) makes the recipe aromatic  and inviting.
Surprise your guests  and family with  bagara rice  to go with a spicy Indian style gravy like  bagara baingan (brinjal curry) , mirch ka salan ( tangy chilli gravy) and some simple cooling raita (yogurt salad) ( try this one –
cucumber raitha
.)
It is a different version of this that my mom used to pack for me into my lunch box.  This season lasted all through my undergrad years. As I was making this, I remembered those lovely years we did open our lunchboxes during the mid morning class hours, much to the annoyment of the lecturer (yes we did carry our lunch boxes and happily ate it during class).
For my kids lunch box I do pair it up with steamed broccoli and thickened bean based gravy. Hope they are not opening their boxes during class too….
Now, off to the recipe,  Hope you enjoy making it.
Also,  check out some interesting lunch box friendly dishes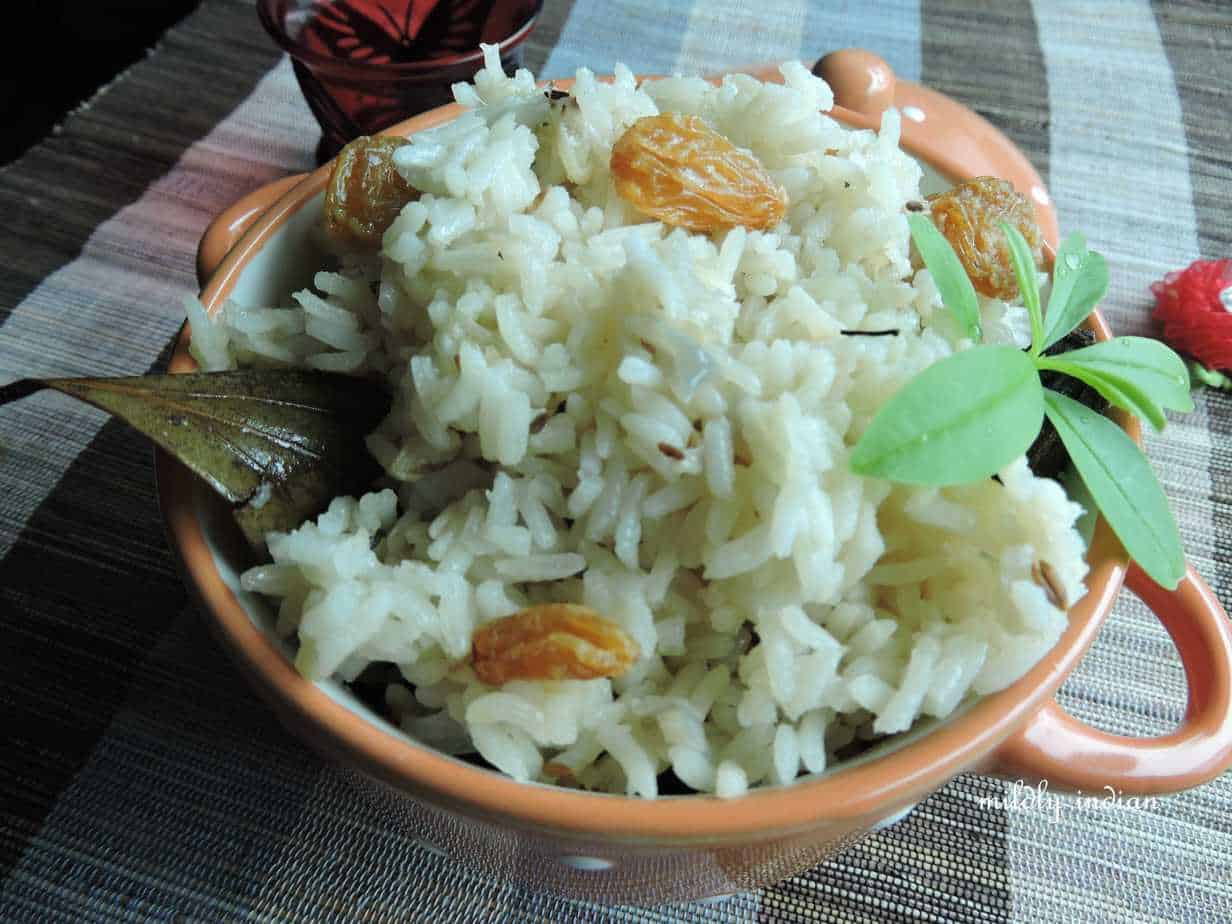 Bagara rice
from Deccan / hyderabadi cuisine
Ingredients
2

cups

rice

long grain / basmathi

2

tsp

cooking oil

or ghee

5-6

cloves

1

cinnamon stick

1

bay leaf

dry

1

tsp

caraway seeds

Shah jeera

1

medium

red onion

1

tsp

ginger

grated

1

tsp

garlic

chopped fine

salt to taste

10

golden raisins

mint leaves

a few for garnish ( optional)
Instructions
Wash the basmati / long grain rice and soak for a short while.

Clean, peel and slice the onion thin. Set aside

Into the pressure cooker ( or rice cooker / Cooking pot) add oil / ghee.

As the oil heats up add all the spices and fry for a minute.

Now add the sliced onions, garlic and ginger and fry till onions turn translucent.

Drain the rice and add to the mix and coat well with the oil and spices.

Add salt

Add 1.5 times water and pressure cook for one whistle.

When the pressure releases, fluff the rice and Add in the raisins and mint leaves.

Mix well and serve hot with spicy gravy and raitha.
Notes
While cooking in a rice cooker or open pan check the water quantity as required.