I grew up on my dads stories of abominable flavours of his birth place Monkompu, in Kerala. In addition, I also listened to my dads story of his rich uncle with his big silver bowl and silver spoon to have "paal kanji ." A rich man indeed left the  poor boy in my dad wanting to reach for this epitome of richness.
Talk about being born with a silver spoon… Ahah!!!
  My mom would offer me this "paal  kanji" on the days I was sick  as it is nourishing.  For me it meant a world of difference. It made me feel all so rich as if I was the queen of the house and often used to pretend that my tiny steel bowl was the  silver one my dad used to describe.  This left more strings attached to this recipe than ever before.
What is  Paal Kanji?
"Paal kanji"  is simply milk based rice gruel. " Paal"  is milk  and " kanji"  being the gruel  It is very popular in Kerala  and is served with  " cherupayar  payaru thoran" ( stir-fried green gram)  and " chutta  pappadam"  (grilled black gram  crackers). the poor mans version is just the rice gruel itself. with the addition of milk it becomes more nutritious. Nevertheless, it is not a dessert as it is not sweetened.
The rice variety  commonly used for this preparation is the broken parboiled red rice (Matta nurukku/podiyari). The preparation however is quite tasty with most forms of raw  red rice.  The most superior one however is  to be made with "Navara" rice. The variety of rice is highly superior in its Ayurvedic benefits. This Navara  rice is  endemic to Kerala and naturally sweet and hence the " paal kanji " itself tastes very pleasant.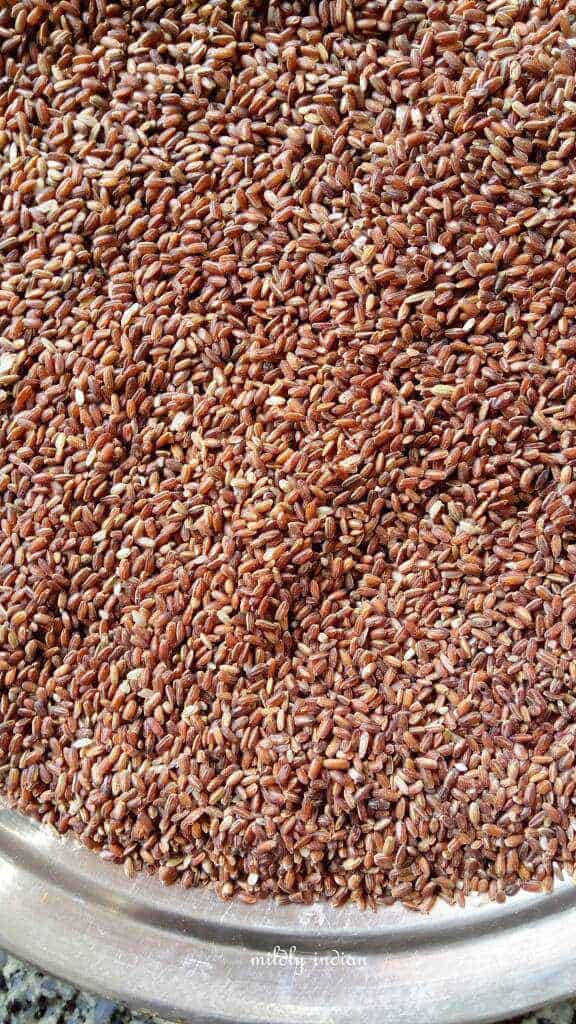 There is very limited demand for the Navara rice and  hence seen only in specialty shops or health online stores. You could check them out.
Paal kanji is a easily digestible for of food with enough water content to manage the tropical heat. It is a recommended food in post partum diet and to lactating mothers. it is highly useful recipe for toddlers and children who are not feeling very well.
The " paal kanji "   preparation is one which quickly reaches my breakfast table or when I really am tired as dinner. Typically this is made during the heavy monsoon season of"  Karkidakam"  (aadi  masam). It is a preparation suitable across the ages from toddlers to the old. This recipe is recommended dinner for lactating mothers in traditional  medicine as it boosts milk production too.  It's a great comforting bowl of warmth which just brings you down to humble earth.
Enjoy your bowlful today.. And don't miss to share.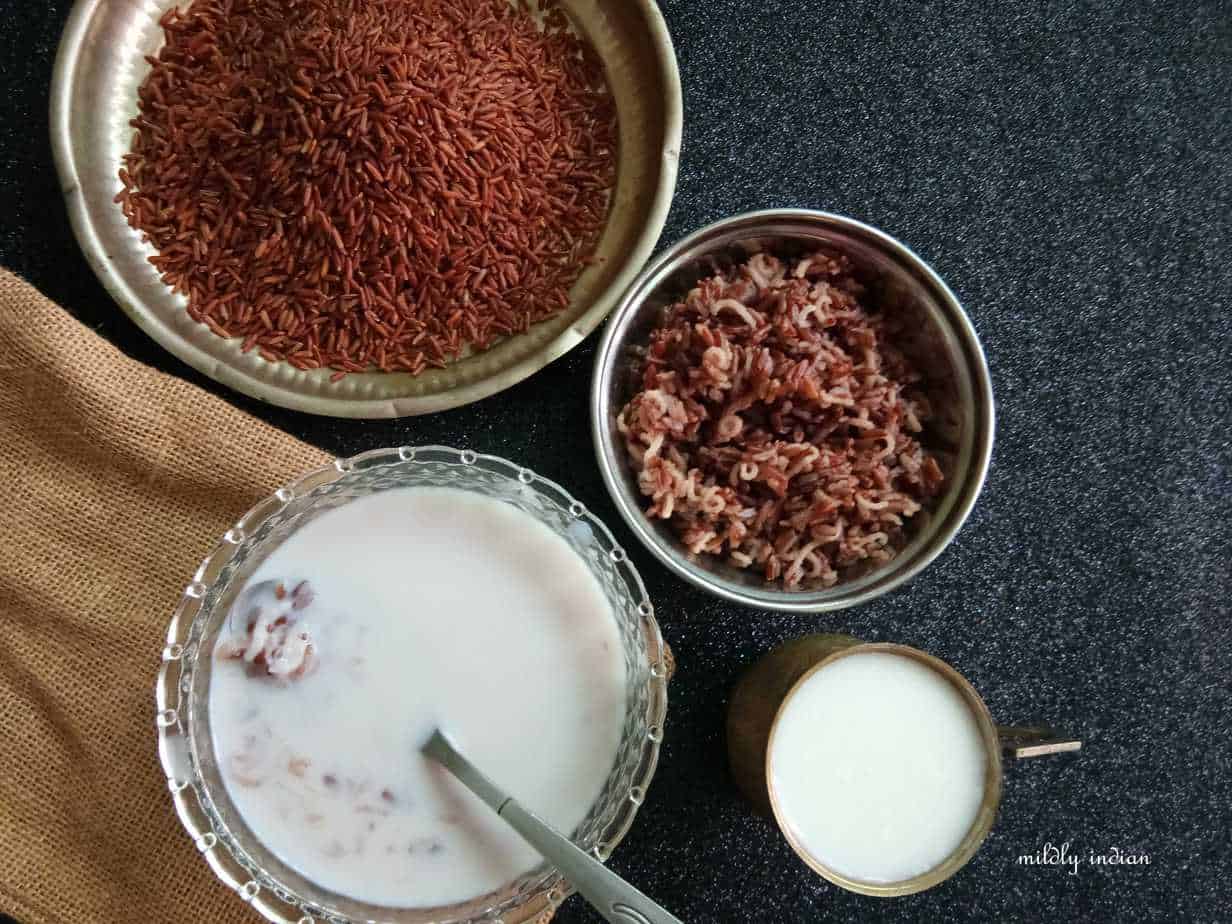 Paal kanji - the rich man's rice gruel.
Ingredients
1

cup

rice

red rice broken , navara rice, or matta rice

2

cups

drinking water

2

cups

low fat milk

1

tbsp

grated coconut

1/2

tsp

cumin seeds
Instructions
Wash the one cup of rice well.

Into the pressure cooker add one cup of washed rice, 2 cups of water and one cup of milk

Pressure cook for three whistles and simmer for 5 minutes.

Once the pressure is released open the pressure pan and stir the rice well.

Add the remaining cup of milk and boil to a pouring consistency.

Roast the cumin in a separate pan and add in the coconut. stir till the coconut turns aromatic.

Add this coconut cumin mixture to the milky gruel.

Stir well and serve hot.
Notes
When the spoon made of Jack-fruit leaves is used the aroma of the volatile oils from the leaf add another layer of flavor to the dish.
Nutrition
Calories:
229
kcal
Carbohydrates:
43
g
Protein:
8
g
Fat:
3
g
Saturated Fat:
1
g
Polyunsaturated Fat:
0.1
g
Monounsaturated Fat:
0.4
g
Cholesterol:
6
mg
Sodium:
56
mg
Potassium:
196
mg
Fiber:
2
g
Sugar:
6
g