Satiate your tastebuds with one of the popular Indian dessert recipes. Banana sheera is one of the softest desserts you can plan on making. Irrespective of the festival banana sheera makes it perfect. Try out this recipe for the fluffiest sweet treat.
Mum made tons of desserts, but when I was young I never bothered much to learn it from her! After my marriage,  my biggest pregnancy craving was banana sheera! Though I used to be icky about mashed banana texture, my firstborn loved bananas and I guess that was the whole reason for the craving! My mother-in-law was kind enough to make it patiently each time. Slowly, I learnt the tricks of making the yummiest banana sheera (banana kesari) from her. This is the recipe from her collection.
When to make banana sheera?
Banana sheera or banana kesari is made for most Indian celebrations as this is one of the fastest semolina a pudding g recipes you can make. Since rava or semolina , banana and ghee, are always found in Indian pantries the banana kesari dessert was one our mothers relied on to have without much thought.
As for religious functions, banana sheera is made during Sathyanarayana pooja as prasad While making the sheera for this puja, the measurements are specific. Check the details below the recipe card if you are making it for Sathya narayana puja.
Ingredients and substitutions
Banana sheera is that dessert that most of us with Indian tastebuds are happy even at breakfast. Just like aval kesari, the banana sheera calls for 4 main ingredients and the rest are flavours you can vary.
Semolina- rava or semolina is the grain base of this recipe. Rava in India comes in two textures, the coarse ground and the fine mix(chiroti rava). The semolina suited for this preparation is the coarse rava. Remember to dry roast the rava really well before. This helps in storage and also makes the sheera fluffy, not clumped.
Milk- you need twice the quantity of milk to the semolina to make this dessert. Oh! Please go full cream, the leaner versions don't really cut it. Anyway, it is not a dessert that you want to eat on dieting… atleast not the way my mother-in-law taught me.
Ghee- ooo, you can't think of sheera without ghee! That is a good part of the flavour and the texture. Good quality ghee makes the sheera stay good for a week or more.
Banana- the traditional bananas used in this recipe is elakki ones, the tiny fingerling bananas that are the sweetest. If you don't get them, plantains, sugar bananas or pisang raja will work well in the recipe. The standard yellow bananas tend to become mushy and slimy when cooked whereas the others stay good with texture.
Flavours –whenever I have seen my mother-in-law make this dessert it is always green cardamom that is added. However, saffron, cinnamon, a bit of clove and nutmeg each individually or in combination add so much flavour to this dessert. These additions are all up to you.
Nuts and seeds – if you love to bite into something as you have this dessert, try ghee roasted cashew or raisins in it. Here is one I love in sheera, roasted melon seeds. If you are adding this for nutritional value, crush them so you can add a bit more by trial and error.
Cooking methods and steps for each technique.
Open wok- the age-old method I have seen to make this dessert is the trusty kadai. The dessert should come out beautifully if you have a good thick-bottomed, seasoned kadai. If not a good crockpot is my next go-to. This is the method I have described in the recipe card below.
Instant pot- when making Kesari serve for later in the evening, it is easier to make in the instant pot than any other means. Therefore there is no batch cooking and lots of washing. Just one good insert pot to wash and you have a good batch of banana sheera ready.
To get the best batch in an instant pot, use double-roasted semolina.
Measure out the quantities needed.
Set the instant pot to saute mode.
Into the insert, pot add the milk (UHT), sugar and chopped banana.
Cover the instantpot and let this come to a boil.
Stream in the roasted semolina, and add the roasted nuts and seeds.
Cover the pot and leave it for 10 minutes.
Remove the lid after 10 minutes and fluff the sheera.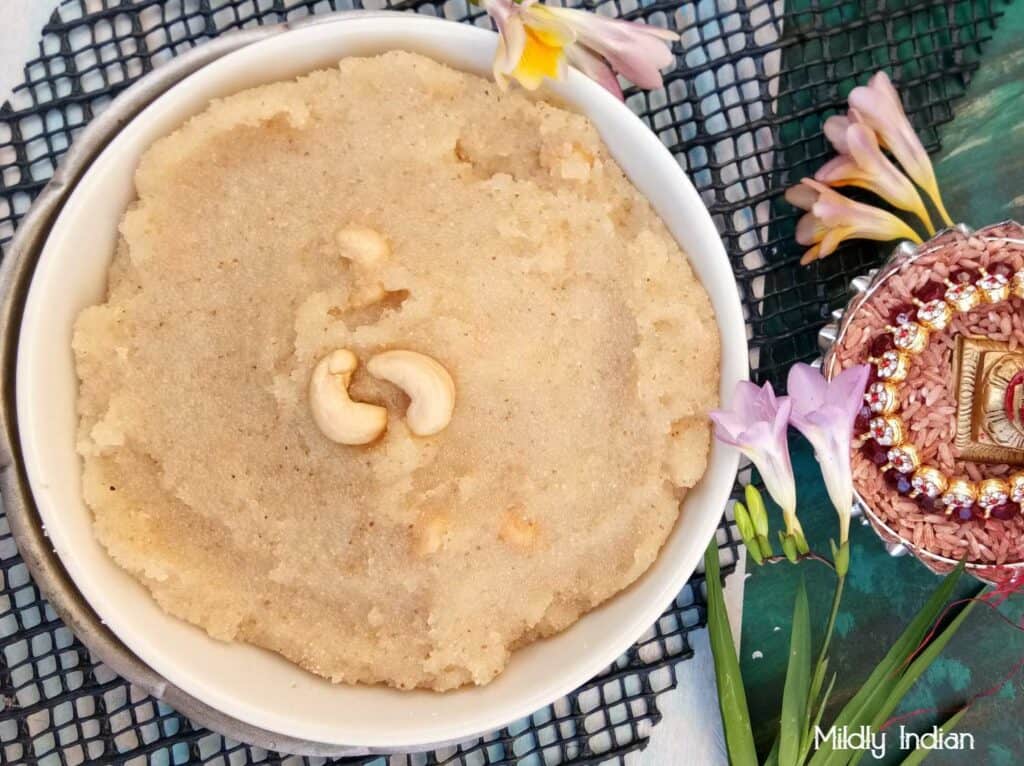 Banana Sheera
Ingredients
1 .25

cup

Semolina

rava or sooji

1.25

cup

ghee

1/25

cup

unrefined sugar

or jaggery

2.5

cups

full cream milk

2

small

Banana

fingerling banana

1/2

tsp

green cardamom powder

few

strands

saffron

8

cashew nuts

10

raisins
Instructions
Set a deep Khadai to heat gently.

Add the ghee and let it melt.

Into the ghee add the cashews, roast till they are golden. Remove and set aside.

Roast the raisins in the same ghee and set aside.

Roast the semolina in the remaining ghee and stir fry for 6 or 7 minutes and roast till golden.

Add the chopped bananas and stir.

Add in milk, roasted cashews and raisins. Stir well without any lumps.

Stir an cook on a low heat

let this cook for 5-6 minutes.

Add the sugar / jaggery. Stir well.

Cover and simmer for 5 minutes.

Add the saffron. Sprinkle the cardamom powder. Stir well.

Stir the mixture till the ghee leaves the pudding mixture.

The sheera is now ready
Nutrition
Serving:
100
g
Calories:
351
kcal
Carbohydrates:
59
g
Protein:
6
g
Fat:
11
g
Saturated Fat:
7
g
Polyunsaturated Fat:
1
g
Monounsaturated Fat:
3
g
Cholesterol:
26
mg
Sodium:
4
mg
Potassium:
206
mg
Fiber:
3
g
Sugar:
25
g
Key points to remember if making for Sathya narayana pooja.
Saapath is the name given to banana sheera made for Satyanarayana pooja. Firstly it is the pure flavours of milk ghee and sugar with the cooked semolina. cardamom, cinnamon etc as flavours are avoided. The nuts and raisins are not used too. The semolina, sugar and ghee are in equal measure. This is 1 &1/4 cups. If doubling, it is only the full cup measure that increases and the 1/4 stay as such. A double quantity of milk is used to cook the saapath. So that is 2.5 cups. Usually, the small fingerling banana is used to make this sheera. This is a varying quantity based on the size of the banana. Since the guidelines are clear, it is the same process to make this dessert.
Few other must-try Indian desserts
Meal prep this kesari
Except for religious functions, this banana kesari is wonderful as a weekday surprise dessert. Since it stays well in the refrigerator for about a week, save up some for that week where you need a happiness factor. An airtight food-safe fridge box will do fine.
Serving suggestions for kesari
Upma and kesari is a classic combination you will see in the southern states of India. Along with a cup of good filter coffee or masala chai the sheera is a lovely teatime pick-up. Add it as dessert to your thali meal, a dal chawal platter or even just a roti meal. Remember to use up the leftovers as stuffed dessert paratha, just the way we have done coconut and chocolate parathas.
Stay connected
There are so many different Indian desserts. Some of you may be a master of some new. If you are trying out one of our recipes don't miss to tag us @mildlyindian.