Pancharmirtham or Panchamrutham is a dessert offering made with five sweet food ingredients. This is made as a prasadam ( naivedyam) and offered to the deity during Indian festivals, especially Karthigai deepam, Navarathri, Thai poosam, Ganesha Chaturthi etc.
Panchamrutham from Palani
Palani the temple abode and one of the six famous among the ones for Lord Muruga, in India. One of the most famous offerings at this temple is the Panchamritham which is used for Abhishekam ( ritual bathing of the idol). During my childhood, it used to come in small canned tins. In the corner of my maternal grandfather's pooja room, there was always a secret stash of a few cans of this. One of which he will previously open special days for abishekam for his tiny Muruga idol. My grandfather only got this when someone came after the pilgrimage to Palani. So this was very precious. If we are extra nice that abhisekam day, we get more than a spoonful. This was my childhood association with the panchamrutham. 
What is Panchamritham?
When it comes to South Indian prasadam, panchamrutham and trimadhuram are considered Nectar of the gods. The panchamritham consists of 5 sweet elements that are offered together. The banana, dates, jaggery (natural cane sugar), honey, rock candy together forms a delicious dessert. This is slightly different from the dairy-filled panchamrit. This is the main offering at the muruagan temple at Palani as well.
Ingredients for the panchamrutham 
Once we move to Penang the Thai Poosam atop the Penang Murugan temple was the most revered festival. The whole island gets ready and people irrespective of their origin join to make it a memorable event. During this time people also carry a potful of panchamritham to contribute to the abishekam. This was what set me to work on this, no-cook, gluten-free panchamrutham recipe.
Bananas– the Palani prasadam uses the Virupachi hill bananas. These are sweet small sized bananas. Since we don't get them, I have used the regular yellow variety of bananas. The kind that mashes easily. 
Jaggery– Natural sugar, unpurified made by evaporating sugarcane juice is jaggery. Choose the lighter or the darker colour based on the availability. I have used the powdered darker one.
Dates – Among the sweet dry fruits, the most popular among the south Indian is dates. Hence it makes its way to this recipe too. 
Rock sugar – Rocksugar stays crystalized for a little while longer and this gives a bite to the re dessert. If you are keeping the panchamrutham for long the rock sugar will melt in.
Honey – The honey gives a unique taste to the temple prasadams. Dont skip the honey when you make this.
These are the key ingredients of the panchamritham . Since it is a fresh preparation and will get discoloured a small quantity of ghee is added to prevent quick oxidation. Adding rose water, cardamom etc are flavourants That you can change as per what you have.
Fruit variations – For the home-style Panchamritham, you can use apples, grapes, chikoo, jackfruit etc along with the banana. The taste and flavour of each are unique. 
Check the recipe card below for the quantities of the ingredients.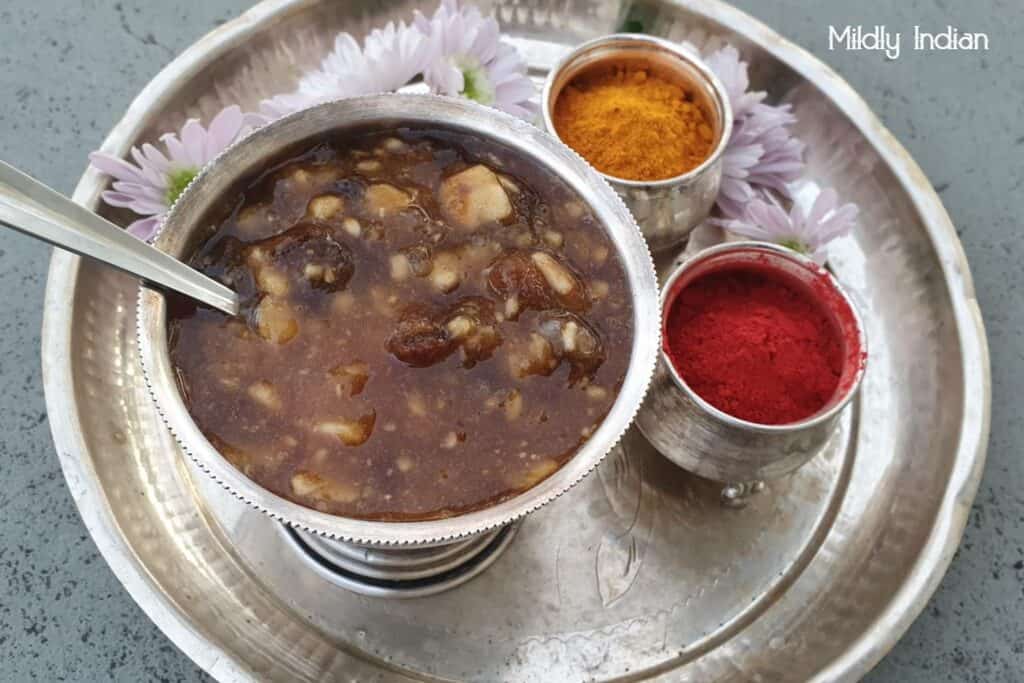 How to make panchamrutham.
South Indian Prsadam made with 5 sweet elements and offered to god during the Indian festivals season.
Ingredients
12

medium

Banana

yellow long variety

5-7

nos

Dates

Mejool

2

tablespoon

raisins

2

tablespoon

honey

2

tablespoon

jaggery

grated or powdered

1

tablespoon

rock candy

squares

1/4

teaspoon

green cardamom powder

1/4

tsp

rosewater

sprinkling, optional

1

tsp

ghee / clarified butter
Instructions
Peel the banana and slice them. Add this to the mixing bowl.

Pit and chop the dates and add this too to the mixing bowl.

Add the honey, crushed jaggery, cardamom powder, rosewater and raisins to the mixing bowl.

Mix the ingredients well.

Remove to a serving dish and brush the ghee on top.
Collection of South Indian prasadam.
There are very unique temple style prasadams that you see made in South India. Living far away from these temples, make me miss them at times. So I try to recreate them at home. Here are some of those south Indian prasadam recipe links.
Pillayarpatti Mothagam – a unique mothagam recipe made in the pillayarpatti temple. 
Aval nanachathu– a quick offering you often see on the banana leaf that you receive from Kerala temples.
Kovil Pongal – Tiruvananthapuram style kovil pongal.
Kerala paal payasam – a quicker version of the Ambhalapuzha payasam.
Paanakam- a general drink offering made in the temples
Connect with us.
Hope you enjoy making this panchamrutham recipe as much as we do. Hope you will stay by and try out some of these South Indian prasadam as well. Subscribe to our website to receive updates as we make more of these recipes. Tag us, @mildlyindian or #mildlyindiankitchen when you impress your family and post images on socials. We also have a youtube channel you may be interested in. Here is one of the links.
See you at the next post.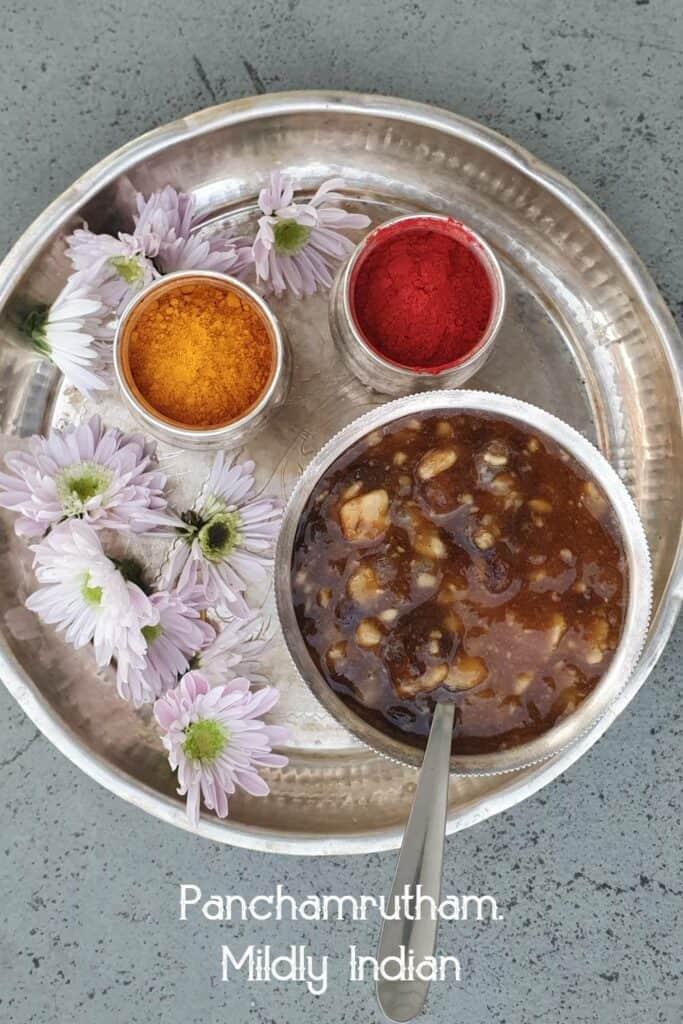 Linking this post
The original post was all about my relationship with my grandfather. Though this recipe always will be so, it was rightfully pointed out by a reader that it does not provide information. So, the content and photographs have been updated to accommodate this feedback. I am also adding this to the foodies redo old posts as they are a constant inspiration to get posts to reader alignment. Do share your feedback on our posts as it will be important to us to see what you like and think of these posts. 
Stay on and read more.