South Indians share the love for creamy melt in mouth, sweet Pongal or pongali. This version of sweet millet pongal had a gentle fragrance from a few added spices that are characteristic of a pongali. That sets it apart from the regular sharkarai pongal too. Enjoy this traditional bellam pongali for the upcoming makar sankranthi.
When to make bellam pongali?
Makara Sankranthi or Pongal is when we bring out these deliciously creamy, sweet lentil and grain dishes. Often prepared as a naivedyam for the Sun God. It is also a way of saying thanks to the natural forces who have supported a good harvest. Here is a good read about this festival –Thai pongal vazhthukkal.
Ingredients and variations
Once you start making Pongal you will quickly realise what a lot of comfort it is to scoop out a small bowlful and enjoy it. The best weather for it is winter or rainy. Most of the ingredients are basic pantry supplies from an Indian friendly kitchen or a quick visit to a nearby Asian grocery will satisfy the need.
Millets the tiny grain millets are the best gluten-free option that replaces most grains. The common varieties you find are the kodo millet, finger millet, the foxtail millet or the little millet. Across this blog, we have used a variety of these in our recipes. Click on highlighted by variety to lead you into the various millet recipes we have here. However, we don't have a huge sweet millet recipe and this adds to the list of sweet millet recipes. Today we have used banyard millet to prepare this sweet millet pongal.
Jaggery
Milk
Spices
Vegan bellam pongali
It is very easy to veganise the bellam pongali. There are just two ingredients you need to swap out. The ghee that roasts the nuts and the spices can be replaced by vegan butter or coconut oil. Then the dairy that is used to thin out the millet that is cooking is the one to change. The best alternates I have tested are coconut milk and soy milk. Avoid almond milk as it curdles with the jaggery syrup and loses the creamy texture.
Cooking methods
Open pot
The softest of the Pongal are the ones that are cooked in the traditional open pot method. The venpongal that we made with the recipe from my aunt is the open pot method that convinced me on this. But it also means, there is no delayed start option or a way to move away from it.
Instant pot Or Pressure cooker
This is perhaps the best way for people like me, once sauteed and shut with enough liquid, the cooker or the instant pot does the job. It also yields a decently soft consistency.
With a pressure cooker, the drip over of the milk is the only drawback. So only fill the contents less than halfway and not to the full capacity of the cooker or instant pot.
Tips
Washing the millets -the millets are always recommended to be washed and soaked for a while before cooking. This improved their digestibility.
Roasting the moong bean – the fragrant aroma of this roasted bean is what makes sweet millet pongal so tasty. It is not a long roast till it is a lot brown, which makes it hard to cool. Rather just till the raw flavour goes away.
Ghee -yes the ghee fragrant pongal are no doubt tasty but watch the amount you add. You don't want it dripping in ghee, rather be able to enjoy the bellam pongali.
Sweetness– this is certainly up to your tastebuds. My sweet millet pongal is only mildly sweet and not overpowering. If your sweet tooth demands here is a trick,  use a mix of jaggery and sugar. That heightens the sweet factor in this bellam pongali.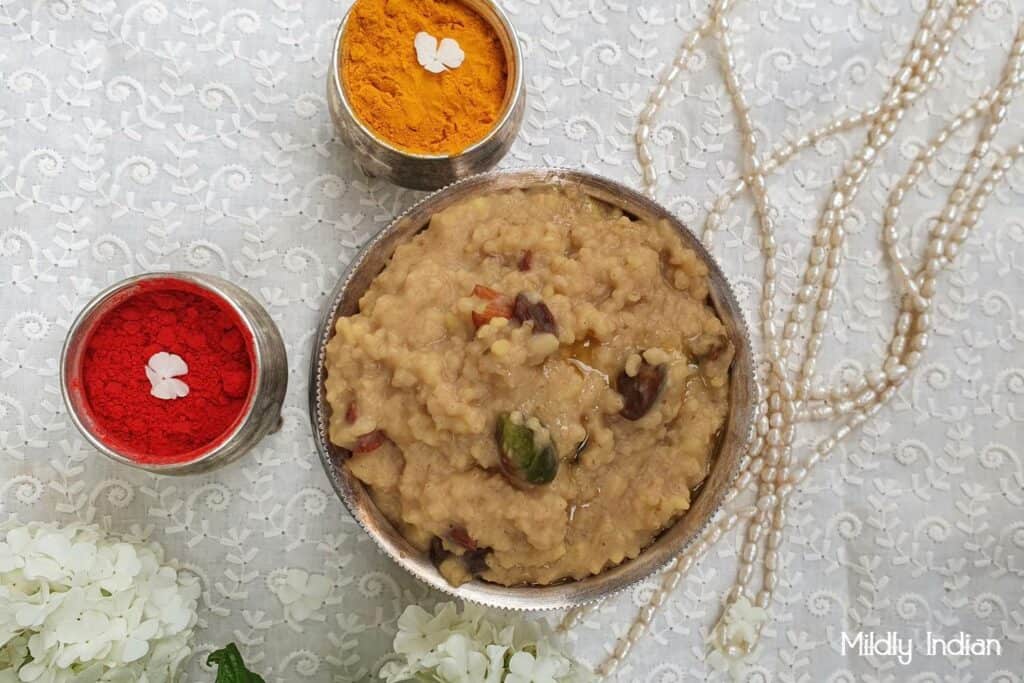 Barnyard millet bellam pongali.
Equipment
1 instant pot

or pressure cooker

1 ladle

1 measuring cups and spoons
Ingredients
For the pongali
1/2

cup

Moong dal

pasiparippu

1

cup

barnyard millet

1.5

cups

jaggery

crushed

2

cups

drinking water

1

cup

full cream milk
To roast and temper
3

tbsp

ghee

2

tbsp

pistachios

or cashews

2

tbsp

raisins

1

tsp

green cardamom powder

2

clove

1/8

tsp

nutmeg

8-10

strands

saffron
Instructions
Wash drain and set the millets to dry for a while.

Set the instant pot on saute mode.

Set on manual for 8 minutes.

When the pressure releases naturally, mash the moong dal and millets cooked.

Add the milk and bring it back to a boil on saute mode.

In a small frying pan, heat up the ghee and roast the nuts and raisins.

When the raisins puff up remove off heat.

Add the cloves, cardamom powder, and grated nutmeg.

Pour this mix into the millet dal and milk mix.

Stir in the jaggery, saffron strands and mix well.
A few others Makar sankranthi time
Nuts and seeds ladoos – date-sweetened nuts and seeds ladoos are the tastiest of sweet treats for this season.
Puli saadam – Mixed variety rice is often served with pongali. Here is the recipe for tamarind flavoured rice.
Kalkandu pongal – Just like Pongali, rock sugar flavoured pongal is a tasty mild sweet addition to the makar sankranthi platter.
Banana sheera – Sheera or kesari is semolina pudding and a quick and easy dessert option.
Mavinkayi chithranna – Dont forget to make some delicious mavinkayi chitranna to go with the first batch of mangoes that come in. 
Stay Connected
I hope you have subscribed to our blog to receive regular updates. We thank you for staying on with us and encouraging us at every step. We would love to have you visit the Youtube channel that we recently updated. Please subscribe, like and share these videos and let us know what you like and dislike about them. Stay with us on the blog as we attempt new recipes or try some traditional ones. Peek over to our travel section to see what we are up to at times. 
Wish you a happy Pongal or Makar Sankranthi!