I don't think I have ever woken up without the aroma of the plantains simmering in palm jaggery when I had Vishu mornings with my parents. There was always nedrapazham in the fruit basket. Then there was always lots of jaggery kind of it was no surprise. Over a period of time, I moved out, new traditions came in and the pazham nuruuku slowly got forgotten about.
Of late I do think, nostalgia creeps up faster coz I know I can be crossing borders that fast. So the pazham nurukku found itself back into my kitchen
Plantains vs banana
Here we are literally talking about two different textures, flavour profiles and starchy feels. The yellow banana that we are commonly used to having as such, in smoothies or as banana bread have a thinner peel and a softer texture. The plantains are much harder, not mushy, with tougher skin. The bananas are certainly sweeter,  taste more sugary. While eating the plantains you are going to taste the starchy elements more. It is this starchy feel that allows it to hold together when you steam or cook them. There is no doubt the plantain is sweet you will have to wait till the skin turns dark and then it becomes honey sweet. Nutritionally, both are excellent potassium sources and loads of healthy carbs. They have high sugar levels too as the starchy will further break down. In a nutshell, this is Plantains vs banana.
This year Vishu we are planning to have a bit of the pazham nurukku for breakfast. The children's actually loved it better than the steamed plantain bananas. This had a halwa kind of sweetness so I guess that went well. You can make this with frozen ripe plantains as well. Comes out a bit softer than the fresh ones. Serve it for dessert after dinner with a dollop of ice cream. Drizzle the leftover syrup on the ice cream. Tastes better than butterscotch.
Enjoy your Vishu and share with us what makes your celebration special. Stay with us on the next post.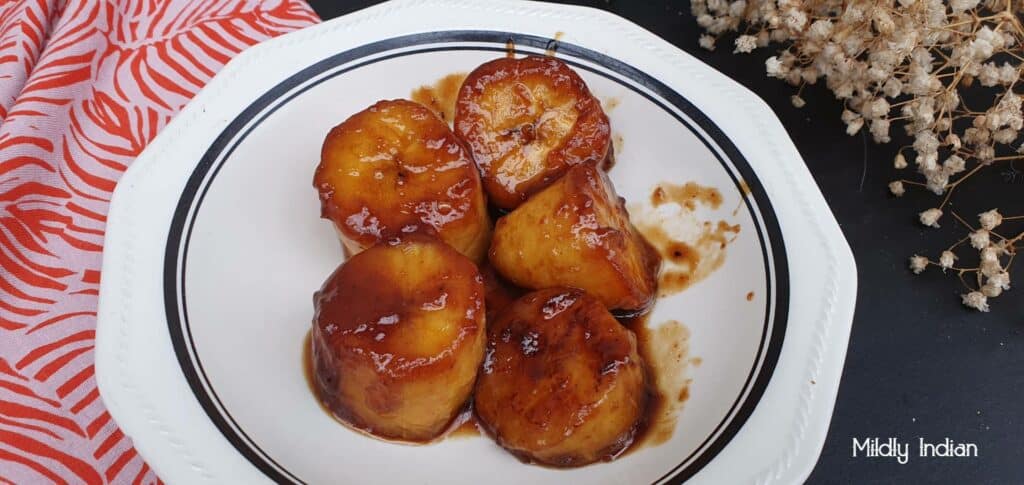 Pazham nurukku
Plntain banana in jaggery sauce
Ingredients
2

medium sized

plantain bananas

1/2

cup

jaggery

crushed

1/4

cup

drinking water

1/4

tsp

green cardamom powder

1

tbsp

ghee / clarified butter
Instructions
Wash and peel the plantains.

Slice it into 1/2 inch thick slices.

Add this to a hot frying pan ( nonstick better) and let it sear.

Add the water to it and set this to a boil.

As the water boils, add the crushed jaggery.

Let it simmer till the plantain is fork tender and the jaggery coats well on it.

Add the cardamom powder and ghee.

Mix well. Now the jaggery coating sticks better on the plantains.

Remove the slices into a serving dish and the dessert is ready to serve.
Notes
Purifying the jaggery
Some types of jaggery have a bit of dirt and sand in them. In this case, melt the jaggery separately with the water and use that with the seared plantains. 
Serving with icecream
This dessert tastes even more delicious when served with ice cream. Serve up a dollop of the vanilla or chocolate ice cream and top it up with these slices. Drizzle the cardamom-infused jaggery syrup ( leftover in the pan) on top of the ice cream. The dessert is instantly upgraded!!