Starting your day right makes most of your day happy. The fuller you are with proteins and vitamins, you don't have much reason to be hangry. Here is one such easy recipe you want to save.
The weather in Sydney is probably going through some form of PMS! I cannot find a better explanation. Torrential rains tore the region just a day ago, today it turns all bright and shiny!! A perfect day!  It is really tough to decide about everything on the days those days that go south. The weather sure does affect our moods, thanks to the serotonin.
It is particularly hard to decide how to eat and what on this kind of days. Over a period of time, I find berries and smoothies balance out my breakfast so I can work a bit better. Among the berries, you can easily see I love the mulberries coz most of my berry recipes are with mulberries like the yogurt parfait with stewed mulberries. So it is easy to see why I love this mulberry smoothie. Guess what it is better with, hidden spinach and you can't see it!!
During the mulberry season, I freeze the juiciest in a few packs. This season the flooding and the grey could just want me to pull them out and break out of the strange dark feeling. So here we are with a refreshing mulberry smoothie that hides some of the best ingredients, hidden spinach, flax, chia and more.
Use the colours of food to change your moods. Trust me it works well. As for nutrition, the smoothies keeps me full and concentrated at work. Hope you like it too, let me know if you do.
See you on the next post.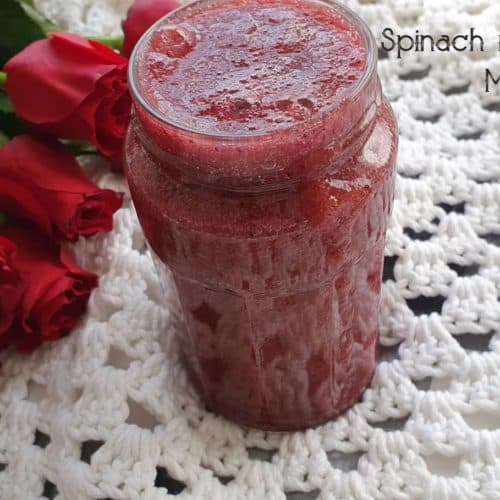 Spinach mulberry smoothie.
Breakfast smoothie with hidden spinach and refreshing mulberries are perfect for dull days.
Ingredients
1

cup

mulberry

1

medium

Banana

1

handful

Spinach

1

tsp

chia seeds

1

tbsp

flax seeds

1

tbsp

pumpkin seeds

1

cup

drinking water
Instructions
Pulse together the chia seeds, flax seeds and pumpkin seeds to form a powder in a spice blender or coffee grinder. You can do this in larger quantities and keep in a jar for a quicker morning.

To the blender add the frozen mulberries, the banana chunks, the spinach and the water into the blender.

Add a large scoop of the flax and chia mix and blend further till smooth.

Pour into tall cups and enjoy your smoothie.