The iconic Indian street food, "chaat" is not just a once in a way indulgence. Literally meaning "lick away" it is Sunday treat for many. A whole meal when you are living alone is at the nearby chaat stall. The whole idea of a flavourful explosion in your mouth as you spoon in the layers of crisp,  herb-laden,  sweet,  spicy and sour brilliance, rings in the uniqueness of this style of cuisine. It is the most looked forward item that tops our list when we plan a trip to India.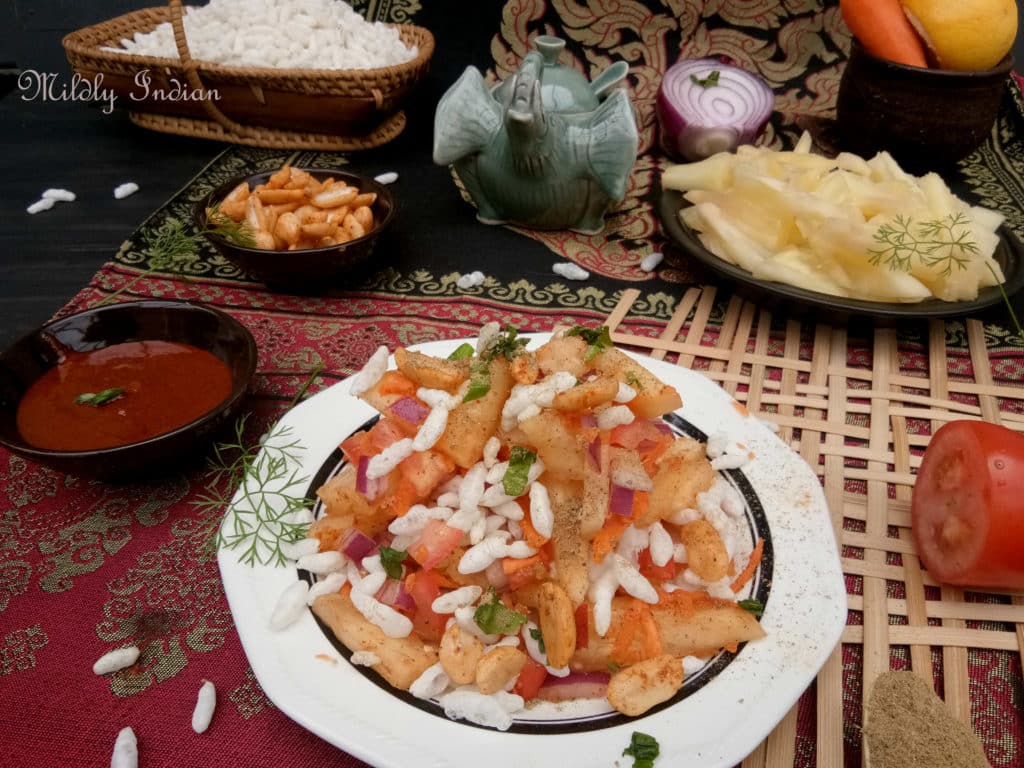 The pineapple chaat edition
The pineapple chaat was one of the absolutely salivating treats from the Bangalore University campus. The early days of my career at the university saw a bit of flexibility with the self-earned income. This meant an occasional pineapple chaat treat with the colleagues during lunch. So that was really lunch!!! The tangy, sweet, pineapple with the tossed in earthy grated carrots,  along with onions and tomatoes were perfect. Let alone the ample amounts of green spicy chutney to soak it all together.  Further topping of crunchy masala congress kadala ( spiced peanuts) and finely chopped coriander leaves made it all so perfect. The additions of crispy rice puffs (murmura) or an extra dash of sweet chutney happens after the hand over of the chaat. Yummy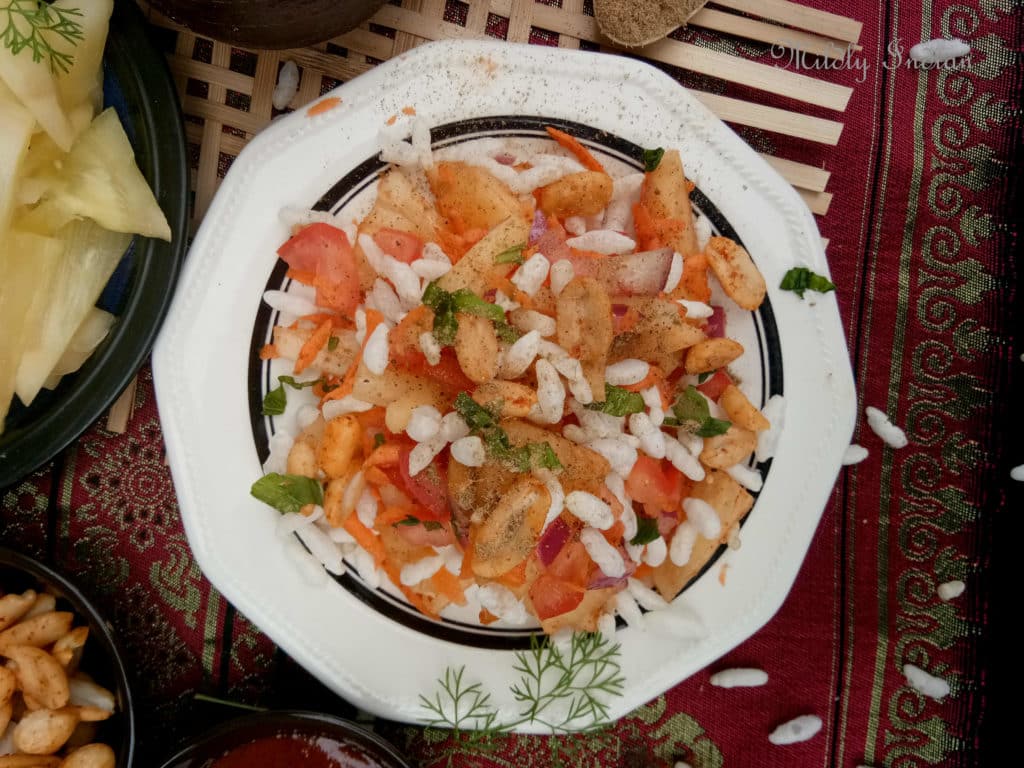 These images of pineapple chaat were so vivid that there was no way could stop from bringing it up to you. In addition, the lack of nylon sev (thin strands of crispy fried chickpea flour batter) in my pantry currently, steered me clear out of the region of sev puri or the well-known chaats.
Moreover, there was a uniqueness to this refreshing summer salad style recipe which doesn't come from the popular chaat capitals, like Mumbai and Delhi… it is from, Bangalore.
To make it Diwali style
This recipe is a part of the #chaatsfordiwali by @Masalachilli Vidhya, from the Foodiemonday Blog hop. Since we are all putting our heads together to set up chaat stations for the festival evening here is my suggestions.
Most Diwali get-togethers at our place always have a little chaat corner. Over the years the recipes have become quite elaborate that a person (me ) is needed to stay and plate up these. Tough jobs as that person are on her toes all the time.  So this time, I am going to set up a little self-serve station with the ingredients an labelled with recipe cards to make, try and take home…does that sound good? After all, it is a layering trick and all about a balance of flavours.  Don't forget to make it eye-catching good by adding layers (use your cake stands). This time I am going to swap the standard fruit chaat for this tangy pineapple chaat.
Scroll down to the recipe to see the detailed ingredients so you can quickly put together one.
Used in this recipe are these
You could set up a station for a mixed chaat too so your guests can choose their liking. Don't miss to add in some namkeen matris, pomegranate pearls, extra chutneys, spiced yoghurt and nylon sev.
Enjoy the flavourful pineapple chaat kick to this week's recipe. See you soon.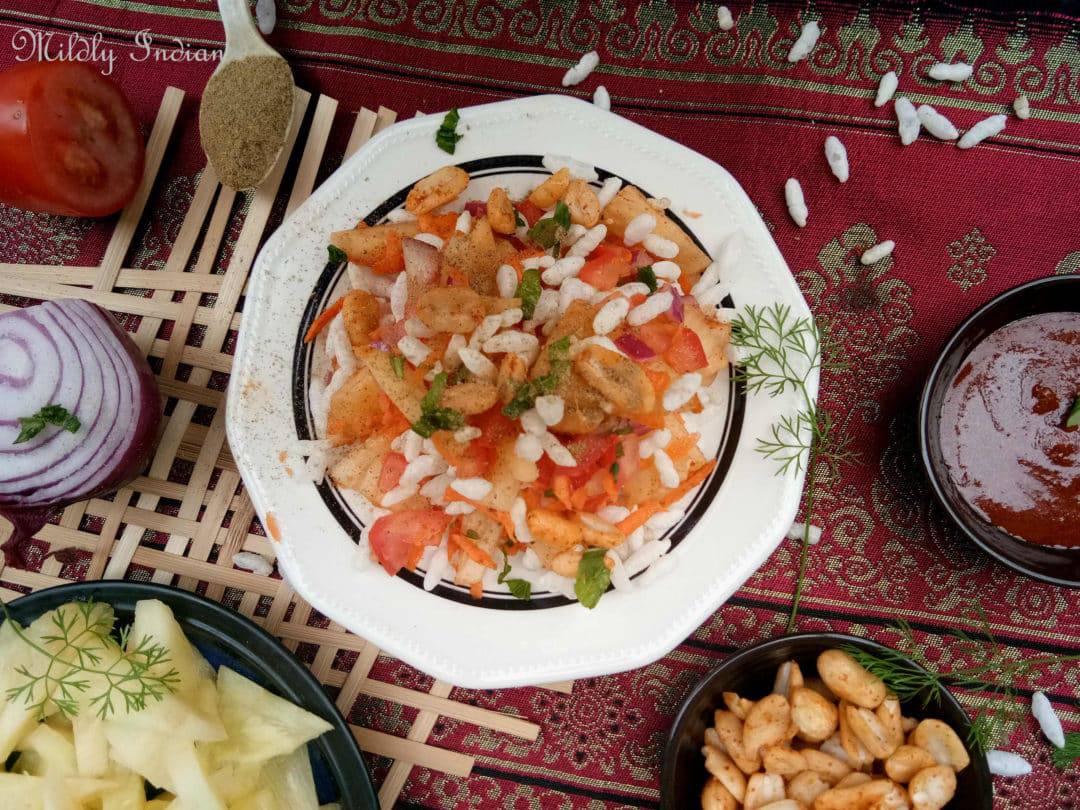 Pineapple chaat
Bangalore style masala chaat
Ingredients
Vegetables
2

cups

Pineapple

chopped

1

cup

carrots

grated

1/4

cup

Tomato

chopped fine

1/4

cup

Onion

chopped fine

2

tsp

Lemon juice

2

tbsp

coriander leaves

chopped
Masala podi and chutney
1

tsp

chaat masala

or Indori jeervan masala

1/4

tsp

red chilli powder

(optional)

1/4

tsp

roasted cumin powder

salt to taste
Crunchy toppings
1

cup

murmura

rice puffs

1/2

cup

peanuts

pickle roasted
For tamarind sweet chutney
2

tbsp

tamarind

extract thick pulp

1

tsp

jaggery

crushed

1

pinch

roasted cumin powder
Instructions
For the prep
In a pan slightly roast the murmura and keep the aside.

Slice the pineapple into small pieces.

Grate the carrots to get one cup

Chop the onion, tomato, chillies and coriander into a fine dice

Keep the green chutney ready, Indori jeervan masala and pickled peanuts ready.
for the tamarind chutney
For the imly chutney, blend the tamarind paste, salt, roasted cumin powder and crushed jaggery together.

Set aside.
to prepare the chaat
Into a mixing bowl add the carrots, pineapple, tomatoes, chilles, onion with a squeeze of lemon and a pinch of salt.

Add the green chutney, imly chutney , murmura, peanuts and the masala powder to the salad mix. Add red chillies if spicy is preffered. Mix well and transfer to a serving plate

Top with more murmura, coriander leaves and coriander leaves chopped.

Add a bit more sweet chutney and green chutney and serve immediately.
Nutrition
Calories:
917
kcal
Carbohydrates:
156
g
Protein:
20
g
Fat:
32
g
Saturated Fat:
5
g
Polyunsaturated Fat:
9
g
Monounsaturated Fat:
15
g
Sodium:
942
mg
Potassium:
1080
mg
Fiber:
13
g
Sugar:
39
g